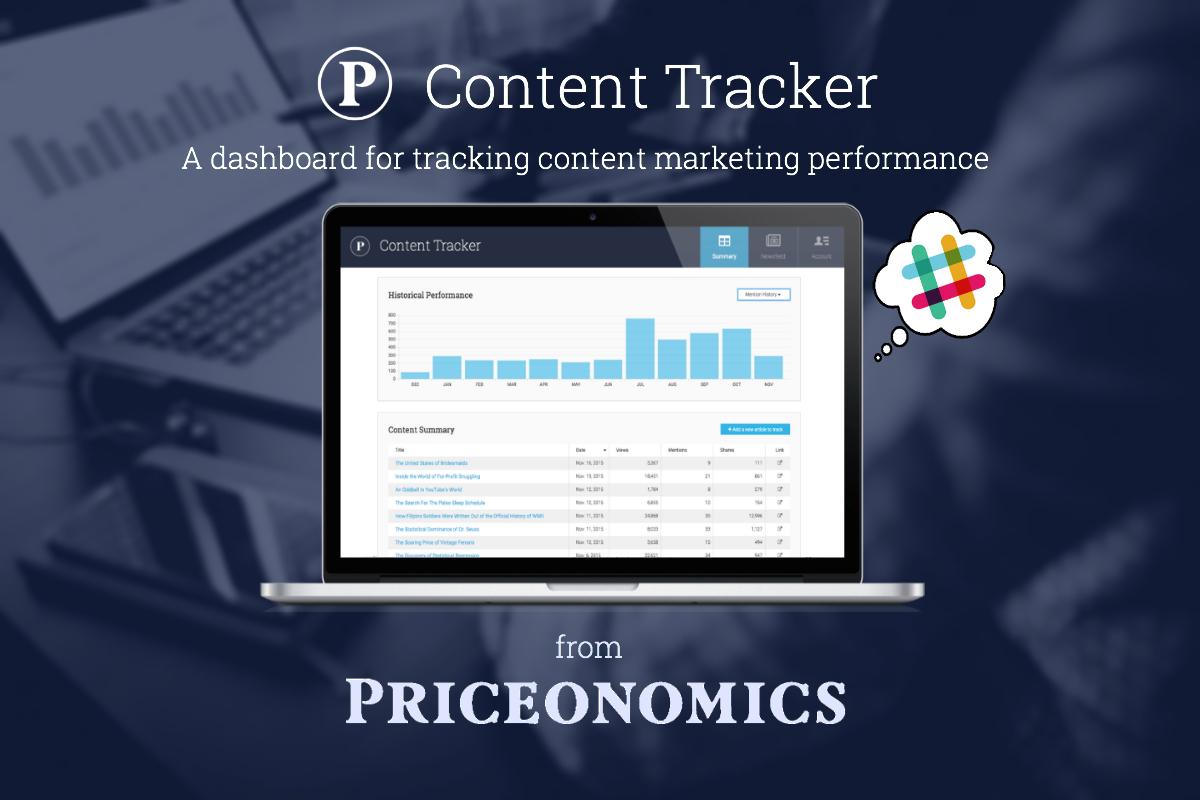 At Priceonomics, our crown jewel is a dashboard we built to measure the performance of our content marketing. It's called Tracker, and starting today, you can use it too.
When we publish content, we measure what happens obsessively. Does an article result in press mentions, conversions, traffic, social sharing? Our business is built on this blog, and Tracker is how we measure the effectiveness of every Priceonomics article.
Tracker is a scoreboard that forces us to make our best content. It also announces awesome milestones in Slack so we can celebrate them. Making great content is addictive when you see the results.
A few months ago, other companies started using Tracker too. Companies like Reddit, Thumbtack, and Segment now use it to measure the success of their content marketing. Every company that has a blog should measure if the content produces results, so today we're making Tracker more widely available.
We have about 100 slots open in this beta. If more than 100 people sign up, we'll likely create a waitlist and gradually let people in. Tracker is free for beta users.
Here's the link to sign up.
***
The essence of Tracker is a dashboard that shows whether your content is successful (generating media mentions, traffic, shares on social media, goal conversions), or unsuccessful (nothing happens).
Tracker adds accountability to the process of content creation. You should expect good things to happen when your company produces great content, and Tracker is a dashboard that enforces that accountability.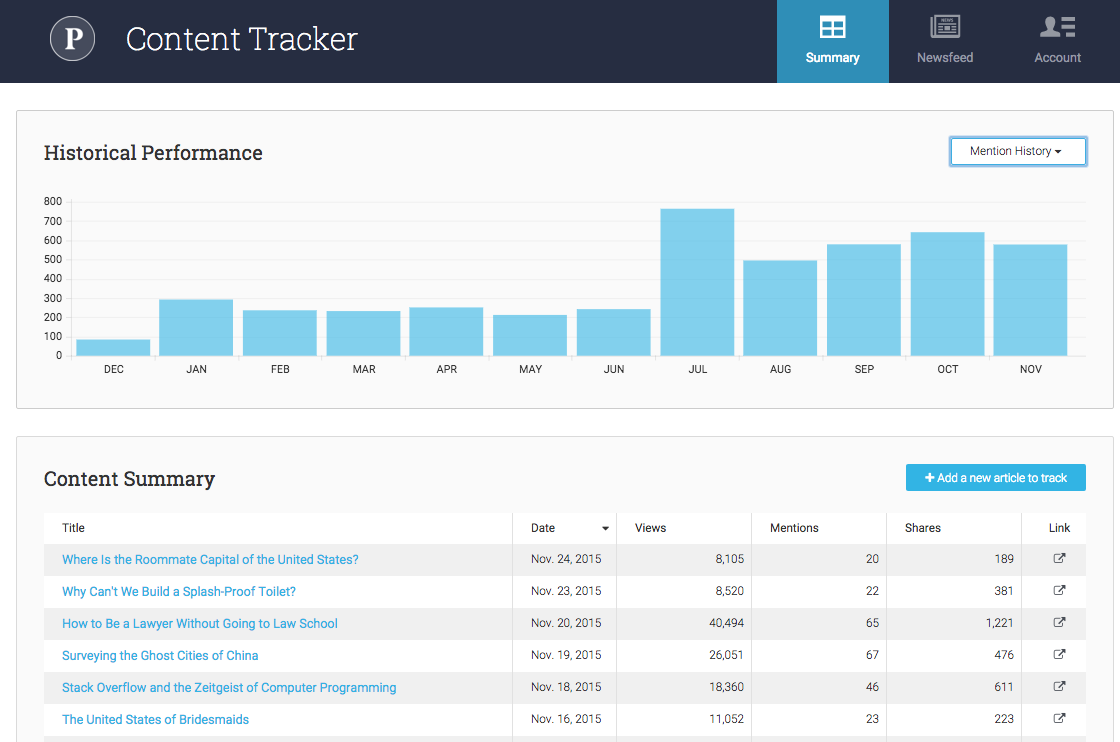 Tracker is a mashup of Google Analytics + Priceonomics web crawlers + social APIs.
We are fortuitously a content company that also happens to be a web crawling company. For every article you publish, in near real time, we crawl the web and detect the inbound links that it generates. Tracker is mostly built on top of our API.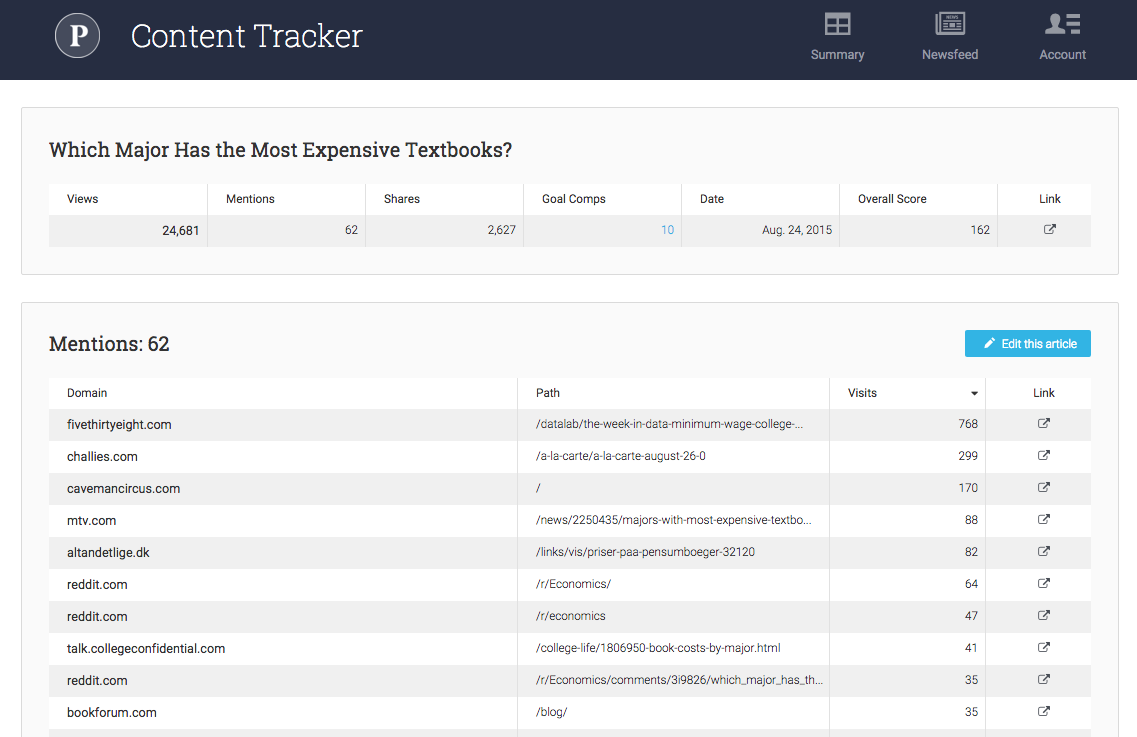 Here's the best part: Tracker integrates with Slack and notifies you when awesome stuff happens. If The New York Times just referenced one of your articles, Tracker will let you know!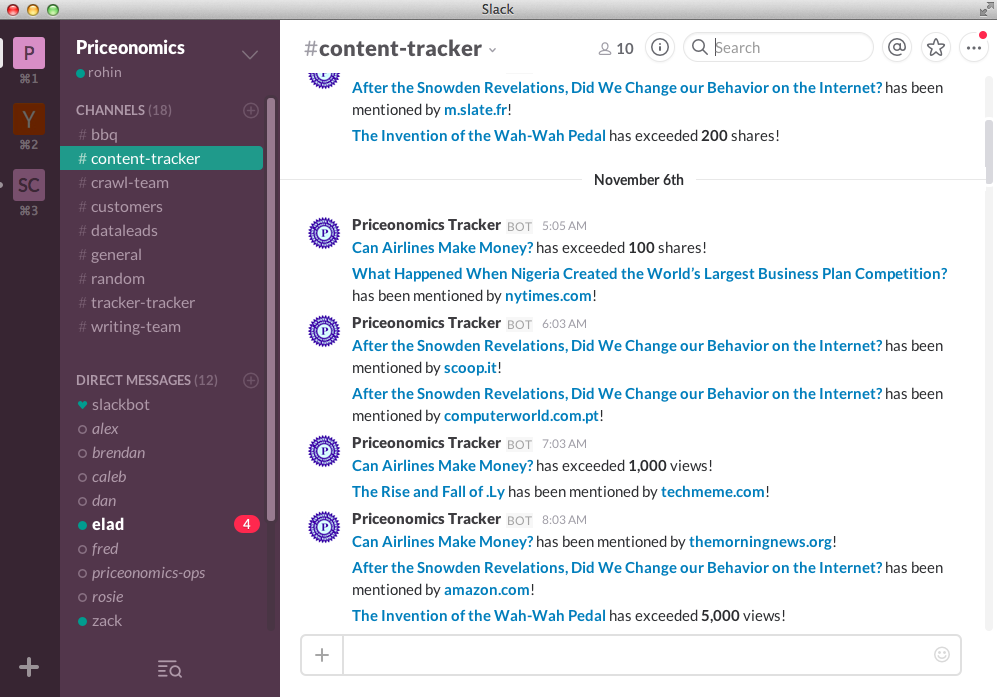 If you don't use Slack, you can also get email updates about content milestones. But we really recommend the Slack integration -- analytics delivered via Slack notifications obviates a lot of the need to remember to use the website.
How Do you Set it Up?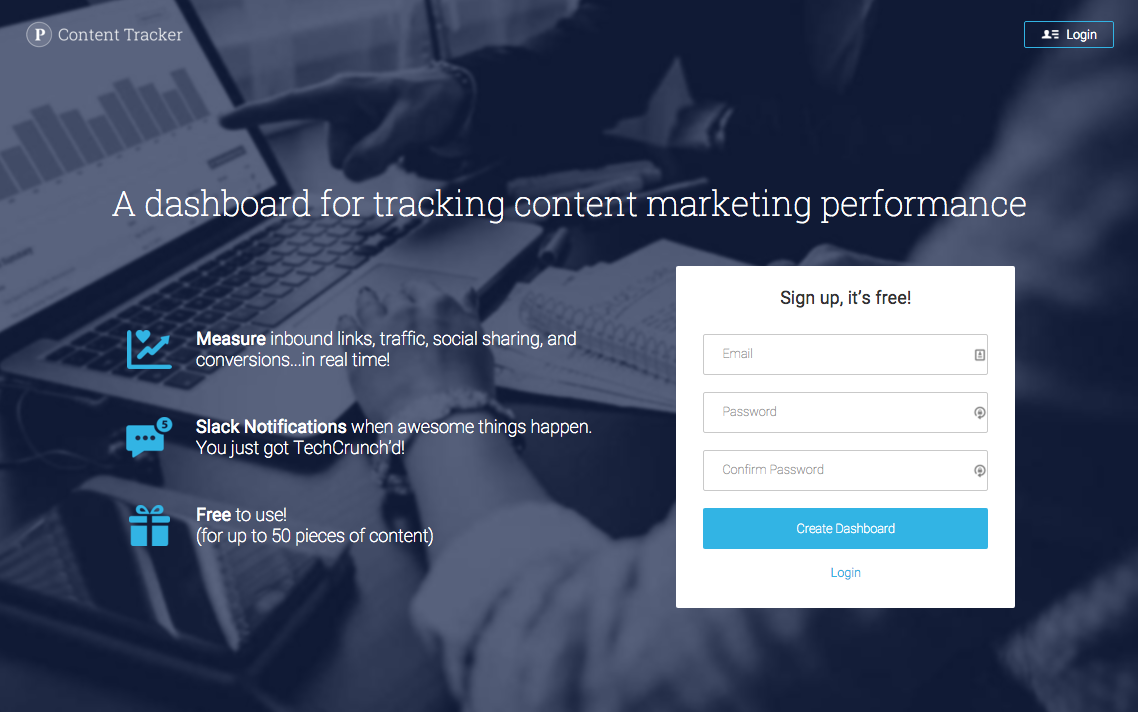 Getting started with Tracker is easy. You create an account, sync with your Google Analytics, and input a sample URL from your blog. That should do the trick.
Tracker then crawls the page and detects if you have an RSS or Atom feed (most blogs do by default) and imports past blog posts. Future blog posts will be automatically added as well! If your blog doesn't have a feed, you can manually input the URLs. There are also some advanced import settings in your Account.
How People Use Tracker Already
We're thrilled lots of companies we admire use Tracker already.
Companies that work very hard on their blog content like Thumbtack, Segment, and Zapier use Tracker to measure what happens after they publish something. Codementor.io uses Tracker to see how their code tutorials are getting traction.
Segment, an analytics company, has an awesome blog as well as an exquisite Analytics Academy resource. Andy Jiang at Segment describes how his team uses Tracker:
"The Slack integration is great because it helps us find articles that link back to us in real-ish time; we then like to promote those articles on our social media. The web view is great for high level overview of views, shares, and mentions (we spend a lot of time in the per-article view)."
When Sam Parr started using Tracker at his media startup, The Hustle, before we had a way to reset passwords, he sent us this frantic message: "Hey, what's my password and username for Content Tracker? I accidentally logged out. Congrats...you have me addicted to your product."
Frequently Asked Questions
How much does it cost?
Our beta users will be able to track up to 50 pieces of content for free.
It's pretty hard to publish 50 pieces of content (it took us almost a year), so almost any startup can use Tracker for free. If you need more user logins, customized notification settings, publish tons of content, or need other advanced features, that will be covered by the paid tiers.
Because we crawl the web to find sites linking to your content in *almost* real-time, Tracker is somewhat resource intensive if you need to track lots of content. If you need several hundred pieces of content tracked, it will cost about $99 per month (to give you a rough sense of pricing after the beta).
What do you need to use Tracker?
You just need a blog and Google Analytics.
It's nice if you have an RSS or Atom feed on your blog (most do by default). It's even better if you use Slack.
There is nothing new to install that will slow down your website. No cookies, pixels, or tracking code.
Why are you releasing this?
It's hard to overstate how much we like Tracker and how important it is to our approach to making content. If you make content, you should measure it, right?
When your company publishes a blog post, things should happen! Newspapers should write about your reports, people should share your content, and customers should find you. This doesn't happen by accident. It requires coming up with good ideas, creating great content, having a distribution plan, and measuring the outcomes.
Our strategy at Priceonomics is to fund great content by selling things, mostly to businesses. We fund our content by selling data, books, and now even the software we use in the production of our content. We're already making significant revenue from early customers of Content Tracker, so its financial success will mean more Priceonomics Blog.
Can media companies use this? Or is just for content marketers?
Bloggers, newspapers, and media companies can use this to track the performance of their content and get analytics in Slack. One early user of Tracker is a media company that uses the dashboard to show the performance of their sponsored content to advertisers.
Reddit uses Tracker to measure the performance of its recently launched media site Upvoted. That's pretty crazy to us, even writing it now: Reddit, one of the largest sites in the world, is using Tracker to measure what happens after it publishes something.
The Beta
We hope you like Tracker. Since this is a beta, we'd love for you to try it and appreciate any feedback you have. If your company has a blog, or if you have a personal blog, you'll likely get value out of Tracker.
Here's the link to signup.
Tracker is a tool that reflects how we think about content at Priceonomics. We think writing, creating content, and publishing your best work has tremendous commercial and social value. But if you invest in making content, it's a good idea to measure what happens.
***
This post was written by Rohin Dhar. Thanks to Brendan Wood, Fred McDavid and Elad Yarom for their long hours and incredible work building Tracker.
---
Published Nov 30, 2015
---