Last year, we published The Content Marketing Handbook, our 30,000+ word exposition on the "Priceonomics way" of writing about information and making it spread. You should give it a read—or at least scan the 6 page summary version.
Most companies have access to interesting data and information that is valuable to other people. The Handbook makes the case that instead of marketing your company with self-promotional and boring content, you should turn that data and information into stories and reports that entertain people and provide real value. Our approach can be summarized with this phrase:
Write about information. Make it good. Have a plan for how it will spread.
In The Handbook, we announced our new content marketing agency, the Priceonomics Data Studio. We think every company should turn their data into content, and we can help. We're so confident this approach works that we charge for this service mostly based on performance.
We only turn a profit if the content we help you produce generates significant traffic and press. Not only that, but we also provide you with the software we created to measure the performance of your content marketing.
We have a variety of customer examples that you can see here.
Companies that want to work with the Priceonomics Data Studio should send us a message here.
How It Works
First, we talk on the phone or in person about your company's data. You likely have access to tons of information and have ideas of how to use it as content marketing. Where we can help is in identifying your best ideas. This is the expertise we've developed by consistently writing about data on Priceonomics; we have good instincts for whether an idea will succeed or not on "The Internet."
After we all agree on a promising idea to pursue, you send your data to a Priceonomics writer/analyst. The writer analyzes the data, does secondary research, and sends you a finished product two weeks later. Or, if we pick a topic that doesn't require any of your company data, we get started after the topic is selected. Either way, we get back to you in roughly two weeks.
The blog post we send you will be a polished piece of journalism. The people who work at the Priceonomics Data Studio are the same people who work on the Priceonomics Blog. So, you can expect a finished product that is the same quality as an article on Priceonomics.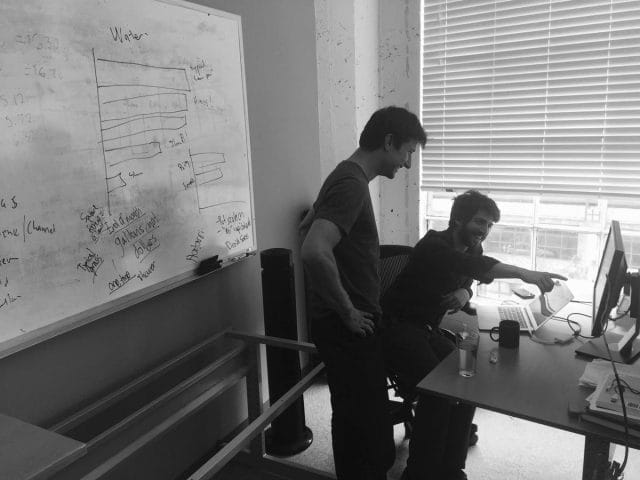 Two of the writers from the Priceonomics Blog, Dan and Alex.
The finished product includes the blog post, all accompanying charts and graphics (in customizable formats), and any raw Excel data we used to craft the piece. You're welcome to edit the writing to fit your company's voice and modify the charts to make them fancier or fit your internal style.
The piece is then yours! You can publish the content on your company blog or wherever you want (Medium, LinkedIn, etc). But your content marketing campaign is not done: you need to promote it! That means sending the blog post to journalists and promoting it on social channels. We'll provide tips on the most effective angle for pitching the piece and the types of outlets that might be interested.
If we think that piece is a good fit for our audience, we will ask to syndicate it on the Priceonomics Blog. When we do, we'll attribute your site and disclose that you are a customer. Syndication on Priceonomics can help your data-driven content spread, and it showcases our chops to potential customers. We think it's a win-win.
What Kinds of Content?
The bread and butter of the Priceonomics Data Studio is data that reveals an interesting variation. This post of ours, The San Francisco Rent Explosion, describes an interesting trend (rent is going up) and an interesting variation (the prices by neighborhood vary wildly).
All companies have interesting data and information. The trick is to figure out the interesting angle and the best way to present it. The data that companies have is valuable to other people, and that's why this approach works. This post on rent prices did really well. As you can see below from our internal Content Tracker dashboard, it generated over 130K views and 107 press mentions:
You can also work with the Priceonomics Data Studio to produce longform content and analysis about interesting topics in your industry. With these kinds of topics, it's important to ask: what do you know that is valuable to other people? What about your industry do people want to know? Who are the people we can talk to who have newsworthy stories?
We believe we can tell interesting stories about any topic. That's why you'll find popular stories on our blog like an analysis of credit card networks, a profile of the inventor of the Aeropress, and a discussion of how ant colony behavior resembles TCP/IP networking protocols.
How Much It Costs
We have a unique pricing model because we know this approach works: we charge mostly based on performance.
We'll help your company create awesome content, and we do it at cost. If the piece hits 5 PR mentions, we charge an additional success fee. We only turn a profit if the content is successful, so our incentives are aligned. We're also confident our approach works!
We track the performance of the piece using Content Tracker, our dashboard for measuring the performance of content marketing based on PR mentions, traffic, social sharing, and goal sharing.
Content Tracker is a tool created by Priceonomics and used by thousands of companies to measure and optimize their content marketing performance. You don't have to become a customer of the Priceonomics Data Studio to access it. If you want to use Tracker, you can learn more here.
Working with Us
Companies that want to work with the Priceonomics Data Studio should send us a message here.
We'll follow up and chat! It will be fun to talk about your data and figure out how to turn it into awesome content. Seriously, we like doing this stuff!
To us, talking about data, analyzing it, and turning it into content is the most interesting job in the world. Companies can make great content and become expert publishers about their industry, and we can help.
---
---