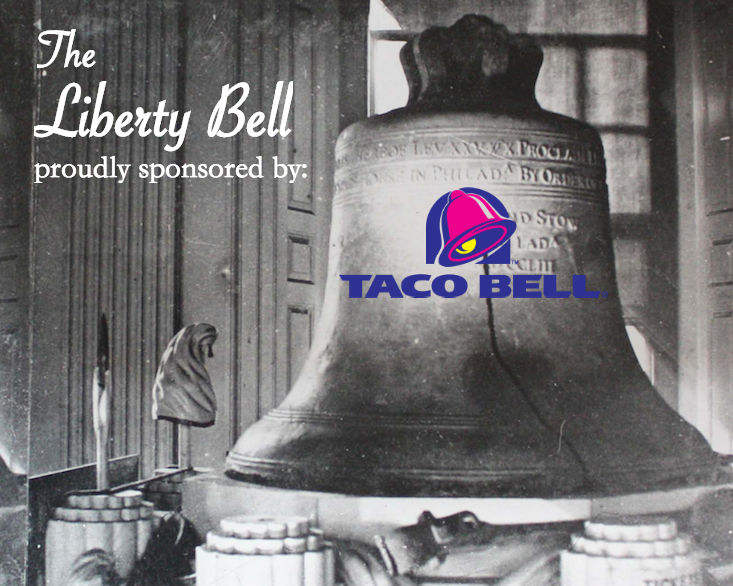 Since its founding in 1962, Tex-Mex fast food chain Taco Bell has employed some truly creative marketing gimmicks.
In 2001, for instance, the company built a large target, wheeled it out into the Pacific Ocean, and announced that every person in the United States would get free tacos if a piece of the returning Mir space station struck it. Then, there was the time that the chain promoted its new $2 menu by petitioning the Federal Reserve to produce more two-dollar bills. For its advertisements, the company has enlisted everyone from Gidget (the tiny, Spanish-speaking chihuahua of 90s commercial fame), to Billy Mays (sadly, he passed away prior to filming in 2009).
But in the mid 90s, Taco Bell exacted its most outlandish ploy ever, sparking national outrage and securing the company considerable quarterly profits in the process.
***
A few weeks prior to April 1, 1996, several Taco Bell executives sat in a conference room trying "to find a way to play an April Fools joke on America." Jonathan Blum, Taco Bell's Vice President of Public Affairs at the time, had an epiphany: the prior year, a federal budget impasse had led to the closing of several national landmarks to the public, including Philadelphia's Liberty Bell (a 2,000-pound bell supposedly rung on Independence Day in 1776). "Let's sponsor it," Blum told the other execs, to stifled laughter.
So, in mid-March, the company's PR agency, Paine & Associates, designed a full-page newspaper ad announcing Taco Bell's intent to purchase to Liberty Bell. On March 30, two days prior to publication, the agency sent the ad to six prominent newspapers: The Philadelphia Inquirer, New York Times, Washington Post, Chicago Tribune, Dallas Morning News, and USA Today. Paine was such a well-respected PR firm that none of the papers actually reviewed the ad before it went to print; on April 1, they collectively published this spread: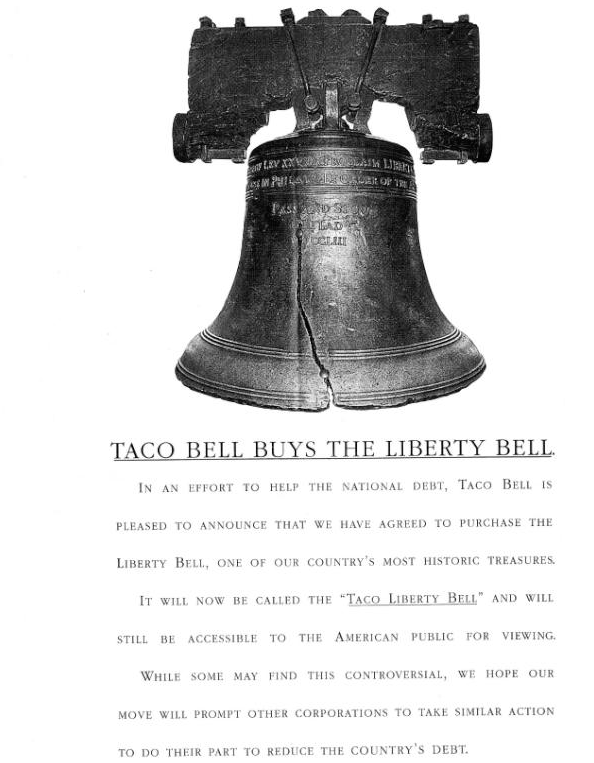 Taco Bell accompanied the ad with its own press release, likening their purchase to corporate highway adoptions:
"We're just going one step further by purchasing one of the country's greatest historic treasures. Taco Bell's heritage and imagery have revolved around the symbolism of the bell. Now we've got the crown jewel of bells."
At noon, Taco Bell released another statement admitting the whole thing was a hoax, but it was too late. Hundreds of irate Americans swarmed Taco Bell franchises in protest, and thousands -- including two United States senators -- called the National Park Service (who oversee the bell) to lodge complaints. "It was a complete shock," a park spokeswoman told the press. "I was drinking a cup of coffee, opened up the paper, and there it was. I believe I started hyperventilating.''
The public's collective response was so intense that the NPS had to call a mid-morning press conference to announce that the Liberty Bell was, in fact, "not for sale;" in the ensuing chaos, Taco Bell pledged $50,000 toward its upkeep.
The entire hoax set Taco Bell back about $300,000 ($41,958 for the six ads, $50,000 for the donation, and about $200,000 charged by the ad agency) -- but the company saw a much greater return. Paine & Associates later tooted their own horn, claiming that the incident had earned Taco Bell "about $25 million" in free publicity.
More than 650 print outlets and 400 broadcast outlets covered the story, exposing over 70 million Americans to Taco Bell's brand. The following morning, an AP photo of the company's CEO dressed as a founding father posing with the Liberty Bell was circulated in hundreds of newspapers internationally. During the week of April 1st alone, Taco Bell's sales bumped about $600,000, as compared with the previous week.
***
Prior to the hoax, the Liberty Bell had been used in advertisements for decades, its likeness displayed on butter, cosmetics, beer, board games, and insurance company logos. But Taco Bell's use of it struck a bad chord with the bell's fans. "Nothing is sacred anymore," one park goer told the Inquirer. "They shouldn't be using it for advertising. I mean, the Liberty Bell belongs to the country; it belongs to the people.'' Others were furious with the mere prospect that the bell would be commercialized -- most notably this Washington Post columnist who simply couldn't fathom the joke:
"To appropriate one of the cherished symbols of our national heritage and use it as part of some cheap, thoughtless advertising ploy is totally disgusting. To use this sacred symbol as part of some silly game is an affront to generations of proud Americans who have fought and died for this country's freedom - so proudly represented by the Liberty Bell . Apparently this doesn't matter to Taco Bell officials - or maybe they just don't get it."
But the company's executives thought otherwise. "It's been a great day," Blum, the executive mastermind behind the campaign, later told reporters. "This has been all about good-natured fun and tomfoolery."
This post was written by Zachary Crockett. Follow him on Twitter here, or Google Plus here.
---