This post was written by Daniel Mrdjenovich. Follow him on Twitter or Google Plus.
Cannondale's popularity in the US is due in large part to its durable line of mountain bikes. As with any other brand of mountain bike, you'll want to focus attention on wheel diameter when shopping for your first Cannondale. Why is this so important? From personal experience, members of the Priceonomics team have suffered from poorly suited bikes after impulsively landing the first ride that looks awesome. We hope you learn from our mistakes and view this post as a guide to arguably the most important feature on your bike.
The 29er: Confidence to Hit the Trail
In recent years, the 29" has emerged as the ideal option for beginning riders. A larger tire diameter results in more grip and traction on trails. This ultimately translates into an increased confidence in handling for riders. In addition, larger tires also guarantee more momentum once rolling. As a result, riders require less effort on uphill and downhill tracks. Finally, lower air pressure in larger tires allows 29ers to tackle any type of rough trail without the danger of completely busting your rear end. If you're looking for a smooth and confident ride, the 29er is your bike.
However, there are some concerns to consider with a 29er. Riders will find themselves pushing hard out of the gate because it is far more difficult to gain momentum than to maintain it with larger tires. Also, 29ers will seem significantly more heavy than 26ers. If weight is a concern, you should reconsider.
29″ Cannondales to Consider: Trail SL 29er & Flash 29er.
The 26er: More Fun, More Risk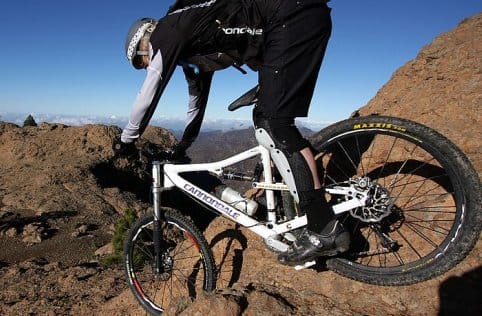 More hardcore enthusiasts will praise the 26ers for their ability to make any trail a delight. Smaller wheels allow for sharper and tighter turns along trails. According to a Mountain Bike Action study, riders also experience greater forward momentum with each pump. In other words, you have complete control over your ride. If you're into the thrill of the trail, we highly suggest a 26er.
Despite this thrill, there are a few issues we should point out with the 26er. If you're new to the trails, you'll probably experience quite a rough ride on any sort of bumpy terrain. In addition, riders will find 26" less stable at higher speeds, a fact that may or may not prove a dealbreaker.
26″ Cannondales to Consider: Scalpel & Trail.
Oh yeah, Priceonomics is hiring engineers!

Get the latest from Priceonomics on Facebook, Twitter, and Pinterest.
---
---