We're so excited to have Priceonomics contributor and bike enthusiast Paul Carroll profile Aegis Shaman cyclocross bike for us as part of our Aegis Bike Price Guide. Hope you like it!
Aegis Shaman carbon fiber cyclocross bike review
I'm pretty much a roadie, but the "winter" commutes in the Bay Area get pretty wet. So I wanted a winter commuter bike that could handle the wet and grimy roads and not worry about A) slipping and falling or B) the damage that not cleaning my precious road bike every day would mean.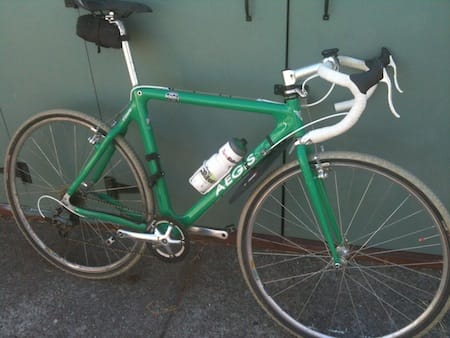 The Aegis Shaman 'cross bike has been more than I hoped. Yes, it's got knobby tires on 700c wheels, so it's not as slow or clunky as a mountain bike on the pavement. Yes, it's built to handle grit and mud and water. But it's so much more! The toothpaste- green carbon fiber stands out; so if you're into being a little "stand out" this bike is for you. It also does just fine on fire roads and trails. Better than fine, in fact since it's road- like geometry and light weight means it climbs and rolls faster than it's 26 inch cousins.
Finally, it's just fun! It wants to be taken for a ride, hopped over curbs or stumps, skid down hills, and other things you just don't do on a road bike. Aegis is a Mom and Pop carbon boutique shop out of Maine. Known mostly for tri-bikes, the experience I have had with the Shaman has been a great one. Heck, I've even gone through the Headlands of Marin on my way home from work instead of just sticking to the roads.
Oh yeah, Priceonomics is hiring engineers!
Get the latest from Priceonomics on Facebook or Twitter.
---
---