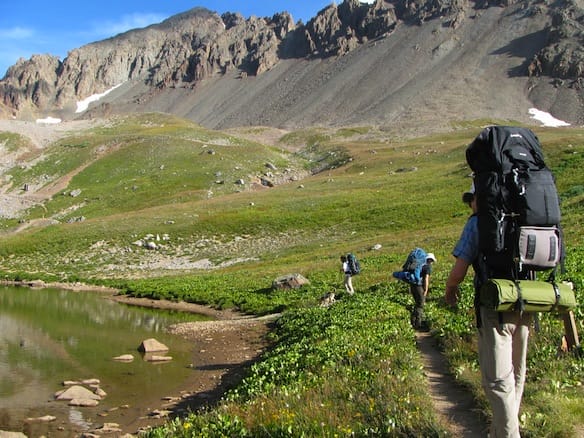 Image credit: New_Backpacker.

A Backpacker's Buying Guide
By Valerie Farabee
Picking a backpack can be a daunting task. The variety of makes, models and sizes can be confusing, especially if you're new to the world of backpacking! The right backpack will stand the test of time and heavy use – you're looking for a pack where the buckles won't break and the stitching won't come undone after only a few uses; these babies should stand up to unexpected falls, rainstorms, falling into a body of water, and any other fun or crazy thing that might happen on your backpacking adventures!
You Get What You Pay For
Solid youth backpacks can be had for around $100. Adult packs start at $130 and top out at $550. Buy the best that you can afford because this pack will likely be with you for at least another decade of wear, tear, and hardy use. It will also keep stored nicely for your kids, if you are a one-use buyer, so pony up and buy a quality bag! If you don't have $500 to spend, you will absolutely be able to find a quality, mid-range pack for between $150-$200.
Fill 'er Up
Whether you're thru-hiking the Appalachian Trail or backpacking through Europe, you want to make sure that you have enough room in your pack for all of your gear, and maybe a little extra for any souvenirs you choose to bring home with you. Overloading your pack by clipping extra bags to the outside of it is not the best solution as it throws off load and mass distribution, a super important part of ensuring that your backpack fits and can be carried for a month or more. A pack ranging from 35L – 50L is more than enough volume for everything you need with you for a month: tent, sleeping bag, stove, food and the varied accoutrement of overnight backpacking and camping, but there are some light campers who skate by with a 25L volume – I say it's best to be prepared, and go ahead and buy a pack with a little extra space.
Fit that Shxt!
The fit of your pack is of paramount importance. It may be the most important thing to consider when buying your pack. Imagine, if you will, a potato sack hanging limply over one shoulder as you huff and puff up a slippery trail or through a crowded Bangkok market. Sound like fun? Didn't think so. A slightly better potato sack will have some shoulder straps, and after you spent all that time lugging the first one around over your now sore shoulders, a potato sack with shoulder straps seems like an attractive choice – not so, my friend. The fit of your bag makes all the difference.
A backpack should sit on your hips to take the load off your shoulders. It shouldn't sag, or sit so high it squeezes your kidneys, either! A good pack will come in a couple of different sizes. Cheaper bags are generally one-size-fits-all, which can be a problem if you are shorter, taller, or wider than the general population. The best packs offer different sizes of hipbelts and shoulder straps – wider hipbelts to match the flare of a woman's hips, and shoulder straps wide enough to disperse a load better than, say, a potato sack.
Once you've narrowed down your choices to one or two packs, go to the store and try them on! Load as much weight as you intend on carrying in them, and walk around the store for awhile. A knowledgeable salesperson will help you personalize the fit so you know that you are carrying a backpack that fits your frame specifically. A fitted backpack will reduce strain, injury, and annoyance as you hike over the river and through the woods to grandmother's house – or any other place in which you choose to preposition.
Are You a Material Girl?
Yes, there are material girls and guys and we live in a material world – we've all heard the song. When you're backpacking, materials matter! It's best to prepare for the worst possible weather and moist conditions, and most good packs will be made with a water resistant material. If you are hiking in the rainforest or along the coast, you'll want to shell out a little extra dough for a waterproof pack cover. These should not cost any more than $60! The bigger your bag, the more the pack cover will cost.
Internal vs. External Frames
Internally framed bags are industry standard, though external frame packs can still be found for the die hard anachronist. A bag with an internal frame is necessary if you will be adventuring via an airplane, and the fact that the frame is inside reduces the number of times you'll be caught on branches and overhangs when you're hiking a trail. These are great if you are hiking rugged trails where you need the pack to be more closely fitted to your form. Most price points in this article reference internal frame bags because of their ubiquitous nature in the industry.
For an externally framed pack, a backpack is attached to a large aluminum frame with space to attach gear on the outside. These are hard to find on the shelf in stores, so look in your parent's basement or a specialty catalogue if you are set on this kind of pack. These are the best choice if you are hiking mostly very well groomed trails and carrying lots of weight. Added bonus: they are about half the cost of an internally framed bag! A full frame + pack package will cost you around $175, and you can buy a frame by itself for less than $100 in many places.
The type of bag you choose will depend on your needs and where you'll be hiking. Please try each type on in the store, load it up as if you were out on the trail, and walk around a bit, because really this is a choice best made on personal preference and intended use. This will help you decide if you want to spring for the internal frame or special order the external frame.
Simplify or Specialize?
If you are choosing a pack for hardcore mountain treks, you might want to look at packs specially made for mountaineering. These packs will have ergonomic solutions for the storage and easy retrieval of things like pickaxes, crampons, and climbing ropes. Bags that offer these solutions are still well within the $200-$500 price range. Some bags include hydration systems where you can drink water through a tube over your shoulder instead of grabbing your bottle from a pocket at the side of the pack. Hydration systems like this are important when you are mountaineering and using your hands for other things – like not falling off of a mountain or down an icy slope – and still need to drink water. If your pack doesn't come with it, you can add a good hydration system for about $50.
Bringing it All Home
Remember: you get what you pay for when buying a backpack. Go with a pack that has at the very least a 1 year warranty, make sure it feels right and fits well according to the specifications given by a professional and knowledgeable salesperson, and that it has enough room for your needs! Have fun and be safe!
Happy hiking!
---
---