Bianchi bicycles have a special place in our hearts at Priceonomics. The first product we ever built a price guide for at Priceonomics was a Bianchi bicycle. One of our co-founders (the author of this article) rides a 2009 Bianchi Imola. He bought this bike used on Craigslist, but could only figure out if he got a good deal on it after Priceonomics was invented (he did!).
So, here is our price guide for Bianchi bicycles. We built this guide by examining how much people try to sell their used Bianchi bicycles for on secondary markets. We then analyze that data and calculate the median price that the bikes are available for used. On the right hand side of this page, you can browse the prices of most popular Bianchi bicycles. You can also use our search bar to price out just about any Bianchi every made. If you are looking up the price of other bikes, you can access our comprehensive bicycle price guide here.
Without further adieu, below we profile some of our favorite bikes made by Bianchi. As mentioned earlier, this author is extremely biased, but Bianchi bicycles makes absolutely gorgeous rides!
Bianchi Super Pista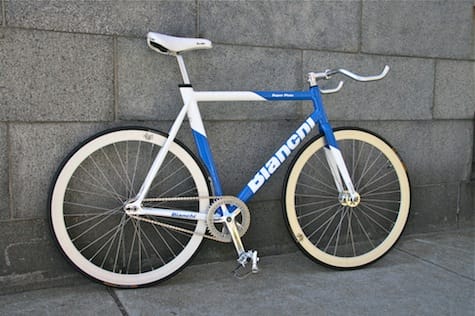 Image credit: Superb Bicycles.
Bike around any major city and you'll be sure run to encounter the Bianchi Pista. It's a beautiful and utilitarian fixed gear bicycle that is reasonably priced. Want a lighter and faster fixed gear bike though that is available in some sweet colors? If that's the case, the Bianchi Super Pista is for you. Bianchi only sells the frameset, but you can pick up a fully assembled one off Craigslist or eBay. Fair Used Price (frameset only): $650.
Bianchi Imola
Low and behold, the above picture is the 2009 Bianchi Imola ridden by this very author! The Imola is a steel framed road bike that is ideal for navigating through the pothole-ridden streets of a major city. The frame is a little on the heavy side but it can take a bump in stride. The 2009 version came with a Shimano Tiagra groupset. Need a more advanced groupset? Upgrade to the Vigorelli. Fair Used Price (2009 model): $850.
San Jose
Image credit: Social Trail Riders.
One of the more popular bikes on Priceonomics is the single speed urban commuter bike, the Bianchi San Jose. Only made in 2009 and 2010 the San Jose is one of the least expensive ways to enjoy riding in Bianchi style. Moreover, no need to worry about learning how to ride a fixed gear bike! As you can see from the above picture, you can even soup it up with cyclocross tires for adverse conditions. Fair Used Price: $450.
Eros
Image credit: Pedal Room.
Named after the Greek god of love, Eros, you'll be sure to fall in love with this sweet road bike! Okay, our apologies for that corny joke. Bianchi does not still currently manufacture this bike, but it was made from 1993-2007, making the Eros a mainstay of the used markets on Craigslist or eBay. Best of all, you can often times find this bike in Bianchi's signature celeste green color. Fair Used Price (varies a lot by year): ~$500.
Oltre
Image credit: Italian Cycling Journal.
While the team at Priceonomics usually cruises on bikes around the city, we recognize some of you are hard core cycling enthuiasts in need of a performance machine. One of Bianchi's most beautiful and high performance bicycles is the Oltre. This bike is race quality and can set you back $5-10K new and isn't very often available used.
Conclusion
In this author's humble opinion, Bianchi bikes embody the beauty and power we've come to expect from Italian industrial design. They are both very pleasing to look at and effective bicycles for urban commuting, extended road races, or more adventurous conditions. While it's true these bikes do not come cheap, you can use Priceonomics to pick up a used Bianchi at a fair price. We think you'll like it.
This post was written by Rohin Dhar. Follow him on Twitter here. Get the latest from Priceonomics on Facebook or Twitter.
---
---