This post is from SwitchUp, a Priceonomics Data Studio customer. Does your company have interesting data? Become a Priceonomics customer.
***
With university campuses closed across America and the fall quarter still uncertain, many current and prospective students are balking at the idea of paying $40,000 a year for what might simply end up being an online education. Students from established institutions like Stanford and Wharton have requested tuition refunds for Spring, and even if some colleges say they will open in August, it could all change by September.
Because of this disruption, some students are choosing to defer their higher education and are looking for an alternative that is both economical and able to get them into the workforce more quickly.
Coding bootcamps, which are intensive, accelerated programs that teach job-ready skills, offer an appealing option. These bootcamps are an effective, efficient, and affordable way to expand someone's practical skills and career potential.
Coding bootcamps have strong success rates. According to a variety of surveys conducted over the past few years, both students and employers have favorable views of coding bootcamps. Indeed found that, "72% of employers think that bootcamp graduates are just as prepared and likely to be high performers as candidates with computer science degrees." While bootcamps differ from a computer science degree, they are a lower-cost option that teaches foundational and practical skills that are in-demand in today's job marketplace. Bootcamps also take less time than a traditional degree, which holds an appeal for many students.
To help prospective students make informed decisions about tech bootcamps and whether it's the right choice for them, we analyzed our bootcamp review data1 to answer questions like "what kind of jobs are students getting after graduating from these coding bootcamps?" and "how do bootcamp alumni feel about their experience?"
On our site, we found:
The most common job title held by reviewers is "Software Developer," which makes up 19.3% of all reviews.

The top 25 job titles reviewers hold after graduation are overwhelmingly technical and make up 64.7% percent of all reviews.

Most reviewers rated their bootcamp experience highly, although reviewers who noted they were "Unemployed" or found themselves in non-technical roles like "Marketing Manager" rated their experiences lower.
Below, we broke things down further to answer questions about satisfaction, what kind of jobs you can get after coding bootcamp, and what can make the bootcamp experience better.
How satisfied is the typical reviewer with their technology bootcamp?
The majority of people who attended coding bootcamps and left reviews are very satisfied with the experience. 86.9% of reviewers gave their bootcamp a 5-star review, and 96.2% percent of reviewers rated their programs either 4 or 5 stars.
Chart 1 shows the distribution of scores with 1 being the lowest and 5 being the highest.
Chart 1: Percentage of reviews by rating score. (E.g. 86.9% of reviewers gave an average overall rating of 5.)After attending a coding bootcamp, what kind of jobs do people have?
The top job title held by bootcamp reviewers upon graduation is Software Developer, which makes up 19.3% of the reviews. The top 5 positions are each some variation of a developer, and combined, they comprise 41.8% of the reviews. Among reviewers, there is a high concentration among certain job titles; the top 25 positions make up 64.7% of all job titles among graduates.
Chart 2 shows the most common job titles of people who review the bootcamp they attended:
Chart 2: Most popular post-bootcamp job titles. Based on percentage of reviews left on Switchup.org.
Who is satisfied with their bootcamp education?
Graduates who have secured technical positions or become entrepreneurs report the highest satisfaction levels with their bootcamps. The most satisfied bootcamp reviewers are JavaScript Developers, which are followed closely by Senior Developers. Job titles associated with entrepreneurship such as Founder and CEO make up a small percentage of reviewers but also rate highly, as does the Freelance Developer Position.
Unsurprisingly, the least satisfied set of bootcamp reviewers are ones who were unemployed at the time of their review. While comprising just 0.3% of total reviews, they rate their experience 2.1 stars on average. Other job titles that report lower satisfaction with their bootcamp experience are Business Developer and Marketing Manager, which are both non-technical positions. However, they still rate at an average of 3.9 out of 5, which means they likely felt their bootcamp experience provided some value.
Chart 3 shows the job titles with the most and least average satisfaction with their programs:
Chart 3: Average rating of bootcamp by job title.
Taking a Closer Look at Bootcamp Satisfaction: What Made the Bootcamp Experience Better?
In addition to scoring their overall experience, bootcamp reviewers rated the bootcamp's job support and curriculum. These factors influenced their bootcamp experience and whether it was satisfactory.
As part of their programs, bootcamps often offer mentorship, mock interviews, resume help, and more in order to increase graduates' chances of landing a job. Graduates have gotten hired at notable companies such as Microsoft, Amazon, and Google.
Again, reviewers who have obtained technical or entrepreneurial positions upon graduation report the highest satisfaction with the career assistance provided by their bootcamps.
Chart 4 shows the average job support satisfaction rating by job title, segmented by those that are most and least satisfied: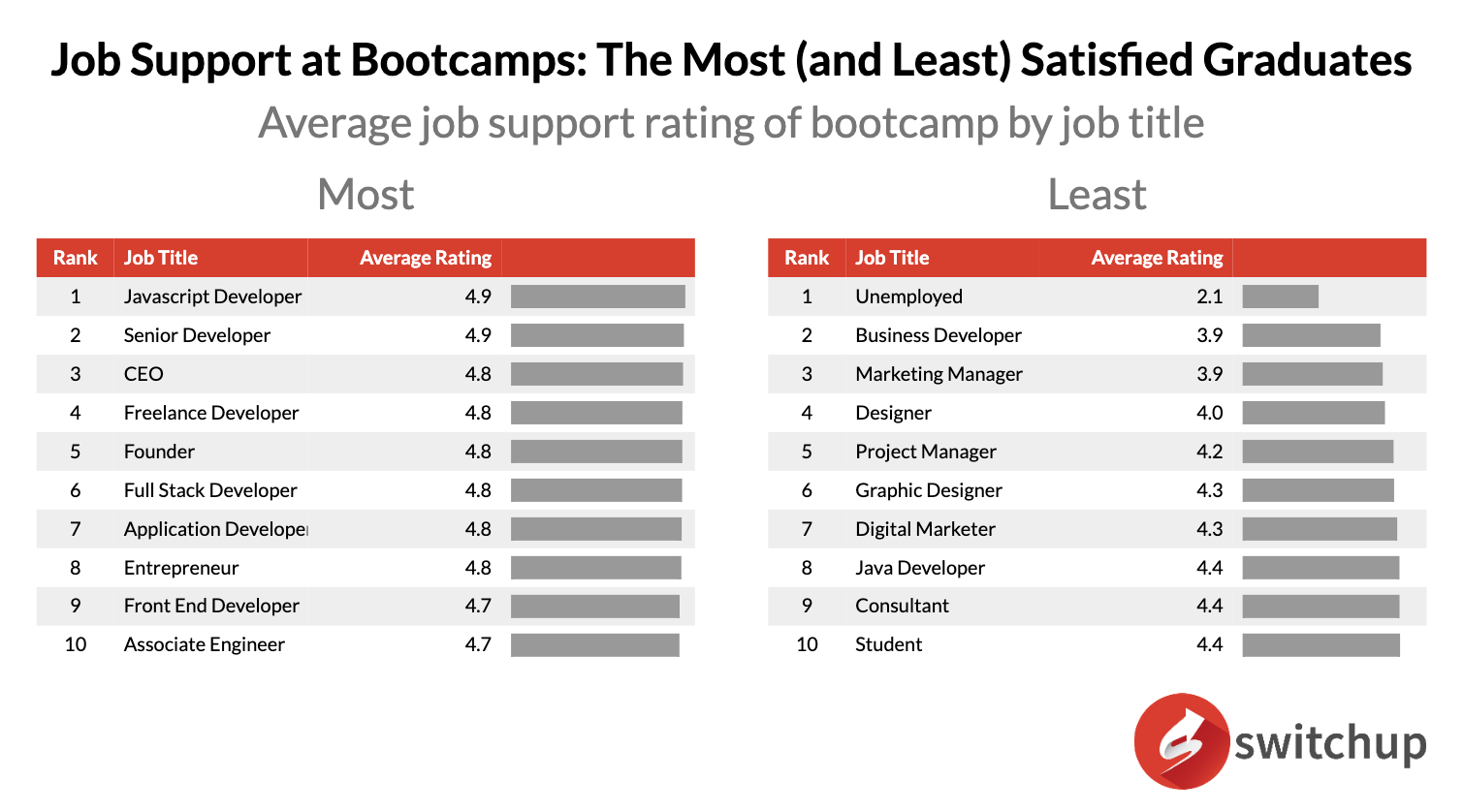 Chart 4: Average job support rating by job title.
We also found a correlation between curriculum and satisfaction. Again, those who rated their bootcamp experience highly also felt positively about the curriculum. For example, JavaScript Developers were the most satisfied with their experiences overall and with their curriculum.
However, looking at the chart, bootcamp alumni rated the curriculum highly across the board. Most students rated their program's curriculum an average of 4.6 stars or higher, except those who were unemployed or were marketing managers or designers.
Bootcamps pride themselves on having a comprehensive curriculum that teaches students in-demand skills. One student who took a Java course said, "Java technologies are such a wide environment that you can easily get lost by yourself…But CodingNomads has a great curriculum that gives you the essential technical skill to develop and deploy a Java project. Most valuable is you will have the ability to learn and master any technology you want by yourself!"
Another reviewer, who is now a data scientist, shared about Galvanize's Data Science program, saying "The curriculum covered a great breadth of data science topics, but we still went into the depth of the math behind algorithms which I felt gave us good grounding on the justification of what we were learning. I also enjoyed the collaborative atmosphere of the daily assignments and group projects. Most importantly though, I really appreciated the career services they offered throughout the program, up to the final weeks, and even past graduation. I felt they really prepared me for navigating the job search and connecting with people."
Chart 5 shows which job titles are most and least satisfied with the curriculum and what they learned in bootcamp: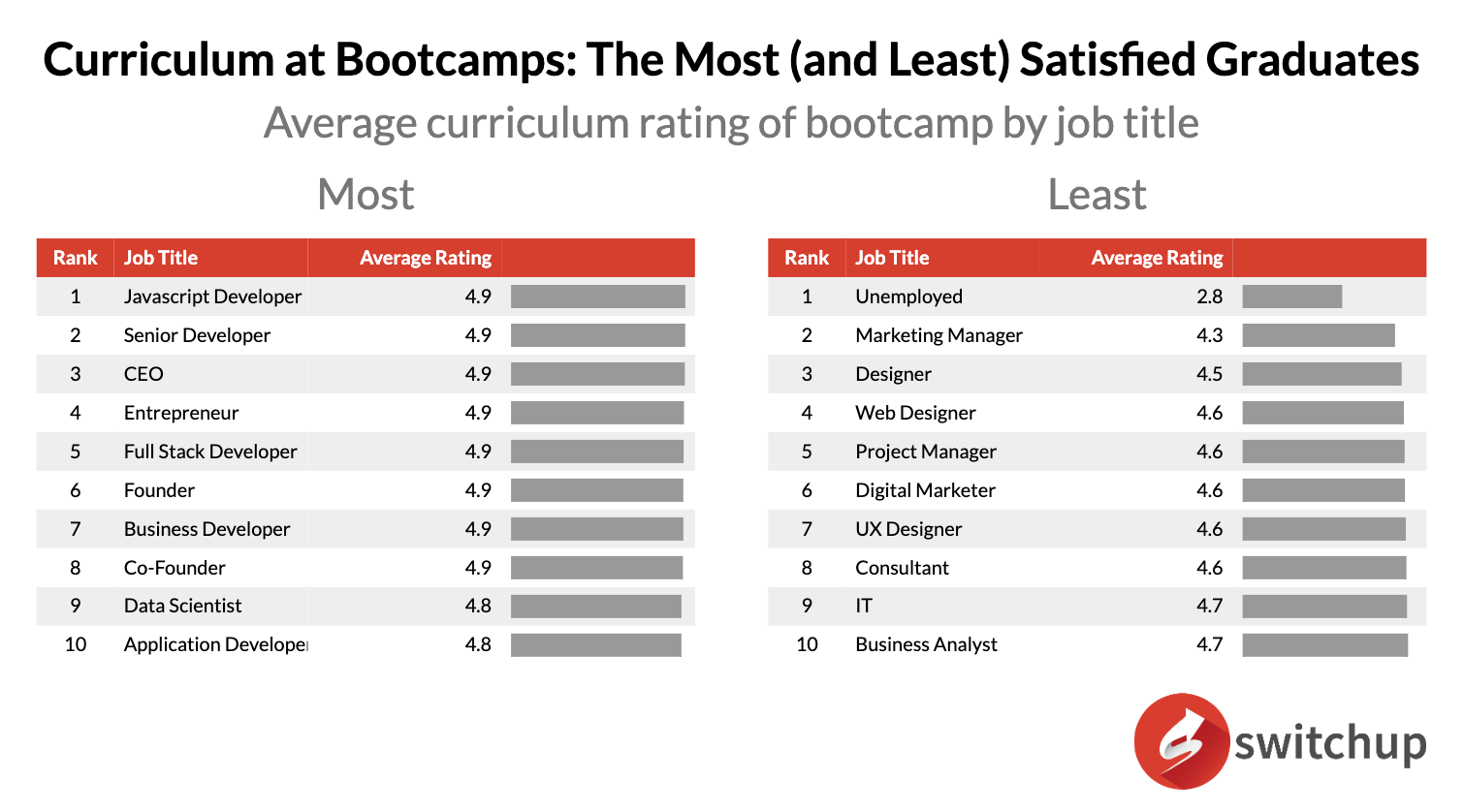 Chart 5: Average bootcamp curriculum rating by job title.
Bootcamps: Overall Impressions
Our data indicates that bootcamp graduates are satisfied with their experiences. Those most satisfied also felt the curriculum and job search support were beneficial. Reviewers who gave high ratings ended up in the tech field in jobs that resulted from the skills they learned in bootcamps.
Jobs you can get after a coding bootcamp include developer, associate engineer, data scientist, UX designer, project manager, and application developer. Other bootcamps can lead to jobs in digital marketing, cyber security, marketing, and web design. There is always the option to go freelance or become an entrepreneur.
Our conclusions also confirm how important it is to enroll in a bootcamp that meets your needs and build skills in the field you're interested in. You can do this by asking yourself what your goals surrounding bootcamps are, and which type of bootcamp will be right for you.
A good way to select a coding bootcamp is by looking at what programming languages you want to learn based on the career you're interested in. Some bootcamps will cover several programming languages, while others will have a more singular focus. Another thing to consider is whether curriculum offers career support, which may include how to search and apply for a job, write a resume, build a portfolio, or have interview practice.
Its essential to do your research when making a bootcamp decision. Here is a list of resources we've put together to help you get started:
All in all, attending a technology bootcamp is a great alternative as we navigate these uncharted waters. They have the great potential to equip you with in-demand skills, boost your career potential, and lead to many positive job outcomes.
Our dataset and methodology
SwitchUp is a leading site for reviews and information about the best campus and online technology bootcamps. Thousands of former bootcamp students have left reviews on our site about popular coding, web development, data science, and cyber security bootcamps.
Here's our methodology: Within each of our alumni reviews, users score their overall experience, the job support, and curriculum, as well as share identifying information such as their current job title, what specific course they were enrolled in, and the year they graduated. For this specific analysis, we looked at an anonymized dataset of job titles to see which ones were most common and how they correlated with review scores.
---
---