Welcome to the price guide for Cinelli bikes. Just type in the name of any Cinelli bicycle into the search bar and we'll instantly tell you the fair market price for a used Cinelli bike.
We're excited to have Bay Area bike pro Garrett Vincent write about his Cinelli Mash Histogram so that you have a sense of what kind of bikes Cinelli makes. As you can see, it's a beautiful ride!
Cinelli Mash Histogram by Garrett Vincent
The frame of the Cinelli Mash Histogram looks different. It is so different that you might look past it because it doesn't look like a very versatile bike frame.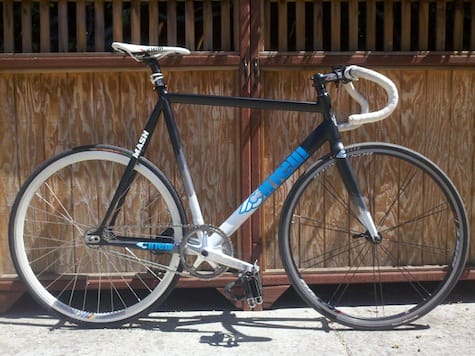 But looks can be deceiving. It is always so important to read and understand the geometry of a bike frame when in the market for a bike. Pursuit style frames are frames where the head tube is very low and the seat tube is very long. This usually puts the lowest possible saddle height much higher than the head tube. This style frame has always been flashy and awe inspiring for the simple fact that it looks so strange. Cinelli encompassed this perfectly in the Mash Histogram frame.
However, a first ride on this frame proves that this is not your ordinary pursuit geometry. It is made out of 7005-T6 Airplane Supersection aluminum. The rear end of this frame takes on a life of its own in the streets. While it is very forgiving over bumps or cobblestone, when it comes time to put the pedal down, the power transfer is instantaneous and the rear triangle completely stiffens up.
Cinelli stocks this frame with a Campagnolo spec headset and a Columbus Straight Carbon fork. The carbon fork really does its job nicely by reducing much of the road vibrations and keeping your wrists pain free. This is especially handy because the frame is designed with a 75 degree head angle which is steeper than almost all road bikes. Combined with the 75-76 degree seat angle (depending on size), it is also ultra efficient while pedaling. This bike will go any direction you point it without a quiver. The steering is very aggressive and precise that will be a great advantage whether fighting hectic traffic in the streets or sprinting to the finish in the velodrome.
Oh yeah, Priceonomics is hiring engineers!
Get the latest from Priceonomics on Facebook or Twitter.
---
---