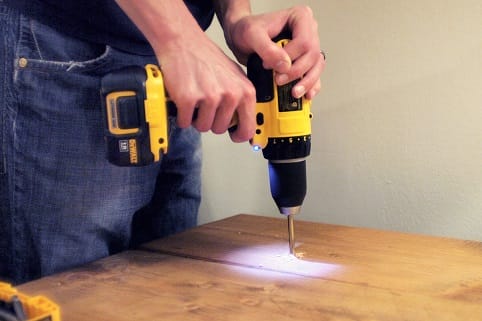 This post was written by Daniel Mrdjenovich. Follow him on Twitter or Google Plus.
As we set out to hack standing desks for the Priceonomics office, we realized we needed a cordless drill to get the job done. Based on recommendations from coworkers, we quickly decided on a Black & Decker SS12C 12V driver. Although this model propelled our DIY ambitions, we decided to investigate what distinguishes the top cordless drills from the overhyped ones. Based on our findings, we compiled the guide below for your next trip to Home Depot.
Main Purpose
Before you set out on a home improvement spending spree, honestly assess what type of work you plan to do now and in the future. Are you taking care of simple furniture assembly or attacking multiple heavier jobs around the house? This assessment will determine which specs you'll want to target below.
Image credit: Curbly.
Power
For cordless drills and drivers, power is measured in battery voltage. Essentially, the higher the voltage, the more torque present to overcome any resistance while drilling. Unfortunately, more power also results in a heavier drill so choose wisely. While a max voltage of 12V will satisfy everyday projects around the house such as furniture assembly, a 18V model is more adequate for serious home remodeling tasks that involve heavy woodworking 24V models are typically recommended for plumbers and electricians. Only choose power based on your needs or else you'll end up paying quite a premium.
Recommended:
Dewalt DC742KA – $75 (12V)
Dewalt DC730KA – $119 (14.4V)
Hitachi DS18DSAL – $90 (18V)
Speed
As you'd expect, speed refers to the RPM of the drill bit. Some of the more basic models have two settings: a lower speed for screws and higher speed for drilling holes. While these basic models might save you money in the short run, the frustration you'll experience in the long run will definitely cost you. We recommend a cordless drill with a variable speed motor. These type of drivers come with a pressure sensitive trigger that adjusts speed as you need it.
Clutch
If you've ever accidentally stripped or broken a screw, you'll want to pay special attention to this feature. The clutch is designed to disengage the drive shaft when it hits a preset level of resistance. Basically, even though the motor still turns, the drill bit stops. This protects your drill motor when a screw or bolt meets a ton of resistance. Look for a drill that has at least 24 clutch settings since this will allow you to fine tune the power.
Chuck
This refers to the part of the drill that holds the bit. Pay attention to whether the drill's chuck requires a key to change drill bits (keyed v. keyless). While keyed chucks offer more stability, keyless chucks allow you to switch out bits far more easily. Look for either a 3/8-inch or 1/2-inch chuck to get most jobs done.
Battery
Since you'll be dealing with a cordless drill, you'll definitely want to check up on how long each charge holds in amp hours. Models with at least 1.5 Ah should be adequate for most jobs around the house. In addition, some models come equipped with two battery sets, a feature that allows you much more flexibility from charge to charge. If these batteries are lithium-ion, you'll have be set to attack any project.
Recommended:
Dewalt DCD760KL – $167 (2 lithium ion batteries)
Oh yeah, Priceonomics is hiring engineers!
Get the latest from Priceonomics on Facebook, Twitter, and Pinterest.
---
---