As we set out to build the definitive price guide for bikes and just about everything, here we introduce our price guide for Devinci Bikes. On the right hand side of this page you can see the most popular used Devinci bikes we've analyzed at Priceonomics. For a more rare bike, just use our search bar to discover its price.
We're thrilled to have Priceonomics contributors Paul Carroll and Garret Vincent profile their Devinci bicycles here.
2000 Devinci Autobahn Comp by Paul Carroll
That's right, it's old but it's elegant! I love this bike and that's why I still have it after a decade. Made in Montreal by Devinci (perhaps better known as a mountain bike company), the aluminum frame is held together by robust fillet-braze welds that are visible through the bright red paint. I don't mind seeing the welds – it makes them more tangible and gives me confidence that the frame is strong. And stiff. The bike climbs well and loses little in the transfer of power from the pedals to the wheels. On descents it is rock steady and gives the rider a consistent feel for the road without the bone chattering that came with early aluminum frames. It helps to have a carbon fork and forgiving saddle.
Today Devinci offers a range of road bikes that should satisfy any rider from a curious rookie to a veteran racer. They spec their frames with Shimano or SRAM components, and Easton wheelsets for the higher end aluminum frames. They also offer carbon road bikes.
I like the fact that here in the U.S, when I do a century or group ride, it's pretty much a safe bet that my red Devinci will be fairly unique. I didn't see any all day at this year's Death Ride or Marin Century. That and the fact that after ten years of 3,000-plus miles a year, that aluminum frame is still as responsive as ever.
2012 Devinci Dixon by Garret Vincent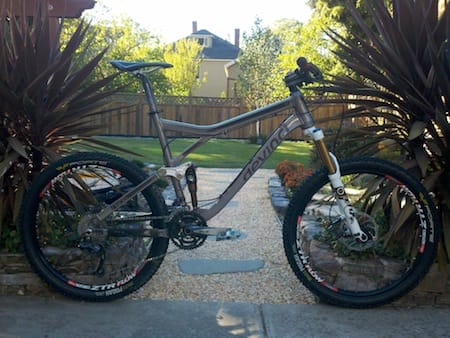 The 2012 Dixon is Cycles Devinci's new all mountain/ trial bike. With 145mm of split pivot rear wheel travel, the bikes suspension feels almost bottomless. Lets jump straight into riding the bike. My first ride on this rig was astonishing to say the least. There was little to no time needed to adjust to the feel of the bike. Everything about it was very comfortable. The frame has two adjustable concentric pivot "keys". By simply unscrewing the allen bolts from either side of the upper pivots' swing arm and flipping the key, you can adjust the bikes geometry to either a more or less slack design. The bike supports anywhere from 140mm to 160mm fork at an adjustable head angle of 67.5 degrees for a more cross country oriented rider, or a 67 degree head angle for those riders who want to take their downhill abilities to the next level.
The Dixon is hand built in Canada by Devinci's highly skilled and rigorously tested welders. This boutique level bicycle is the most versatile bike i have ever ridden. Coming off of a 100mm cross country rig, i found that this bike actually climbs just as good, if not better, than my previous bicycle. I have been riding faster than i thought possible on my local trails and the bike handles like a miniature downhill bike in the most technical of downhill sections.
With 424 to 426 mm chain stays, the bike allows a rider to stay in a very aggressive position over the top tube when climbing, descending, or when air born. The bike feels very well centered when completely built up. Not being used to chain stays so short, I hit my first jump and almost looped out on the landing because my weight was used to being so far back. While on the topic of chain stays, an innovative design of this bicycle is that the chain stay is completely separated from the seat stay by a beefy x12 concentric thru axle. The rear brake is a post mount directly on the seat stay which allows the suspension to remain completely active even under braking forces. One specific outcome of the Split Pivot design is that pedal forces are also isolated from the suspension. A rider must be careful while pedaling on this bike. It may roll out right from underneath you!
At a price tag of $2000, you are definitely getting all of what you pay for. The top SL frameset comes stock with a Fox RP23 shock, Devinci shock pump, star nut, cane creek 40 series headset, and an unheard of lifetime warranty. The Dixon has the capability of going head to head with all top mountain brands in its all mountain/ trail.
Get the latest from Priceonomics on Facebook or Twitter.
---
---