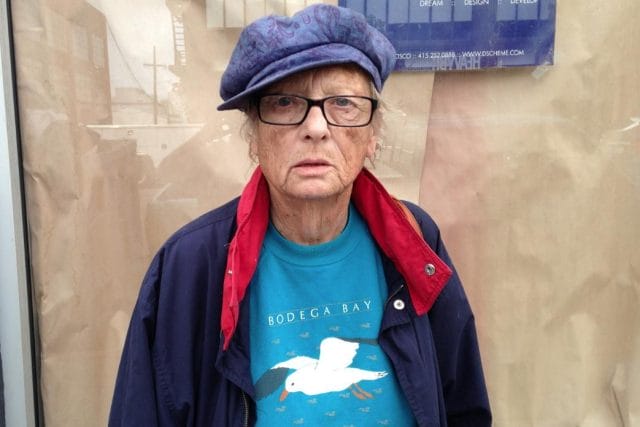 Two months ago, 75-year old Inge Dhillion was evicted from her San Francisco residence; her possessions were forcibly moved into a storage unit, and she was left without a home. She now sleeps in a brown 1997 Volvo station wagon with her cat, Queenie, parked in front of her old home in the Mission District. She steals ice from motel machines to chill her daily insulin shots, and relies on the goodwill of social workers to help her through daily life.
Within a few weeks of the eviction, the landlord put the property on the market for $1.4 million; it's a good time to sell, considering he bought the place for $627,000 in 2002.
What follows is the story of one eviction in San Francisco, as recounted by both Inge and her landlord.
A Free Spirit
Inge Dhillon was 24 years old when she snuck on a cargo ship in Rotterdam and embarked on a 10-day journey bound for the United States. She'd fallen in love with a beautiful woman, and decided to go find her in Philadelphia.
She grew up in post-war Germany, working odd jobs to get by: delivering flowers to prostitutes, hostessing on a first class train across the countryside, butchering hogs in dingy back rooms. With the promise of a better life, she had set her sails to the sea.
When she arrived, the Philadelphia love affair didn't pan out — her mistress had "gone straight" — and Inge made a second impulsive decision: she'd embark for San Francisco to find the "dyke that dreams are made of." When she arrived, she recalls being popular with the ladies — "I was passed around like wildfire!" — but also remembers a fairly hostile recognition by the police as a gay woman in the 1960s:
"I used to go to this little bar somewhere on Harrison Street. It'd be packed with women, and the police would operate these 'queer raids.' You'd hear a blaring noise, and the warning light would flood the room. They'd round up the broads and throw them in the paddy-wagon."
She joined the International Brotherhood of the Teamsters and drove a Yellow Cab around the city for the next 27 years, holing up in a variety of rooms and apartments. In 1994, she settled in an illegal in-law unit on Rosemont Street: she'd call this home for 20 years.
Her living space was quaint: A 350 square foot illegal in-law unit attached to a garage, with a small kitchen and a half-bath. For a retired taxi driver trying to cut it in a tough San Francisco housing market, a $480 monthly rent was hard to beat.
Illegal In-Law Units in SF: A Brief Note
An in-law unit is a small additional dwelling to a main property. There are three stipulations that may make an in-law unit illegal in San Francisco: no separate PG&E bill (gas and electric bill is shared with or paid by landlord); ceiling height is lower than 7'6"; and, most commonly, the unit has no independent front entrance, or secondary egress (for example, a unit where the only entrance/exit is through a garage).
Usually, illegal units exhibit at least two of these tendencies; in Inge's case, her unit exhibited all three. She paid no gas or electricity bill, lived in a unit below mandated size, and had to enter and exit through the main unit's garage.
Inge's illegal in-law unit, to the right, with gray roof; Source: Vanguard Properties
City officials estimate that there are over 40,000 illegal in-law units attached to San Francisco properties, and they account for about ten percent of the city's housing stock. Most of these units were constructed during World War II, when workers flooded to the Bay Area to take wartime industrial jobs; today, property owners often choose to rent them to lower-income tenants under the table. Historically, San Francisco has had a "don't ask, don't tell" policy regarding illegal in-law units; when they are reported, the city takes serious action.
Leading up to Inge's Eviction
Inge began renting the illegal unit on Rosemont Street in 1994, from "an old German man" who'd owned the property for years and was willing to help out a fellow national. When the current owners, the Withrington brothers, purchased the property in 2002, Inge came with it.
In San Francisco, a landlord can't evict a current tenant just because they are selling or buying the property; by the time the unit was purchased, Inge had already been living there for ten years, and she had no intention to go anywhere. Since Inge's unit was illegal, her landlord had even fewer options in the way of legal recourse.
"Pretty much everyone we talked to advised us not to buy it," says Jon Withrington, with a defeated chuckle. "We probably should've listened." What ensued was a drawn-out sticky situation that pitted him against his senior citizen tenant.
At first, Withrington accepted Inge's presence; her unit was fairly disconnected from the main two-story unit. He and his brother, who had co-invested in the property, each occupied a floor with their respective families. But over time, he came to realize that Inge was a destructive tenant and "came across as a victim, but was her own worst enemy:"
"I could send you transcripts of a phone message where she said she will burn the house down if we didn't fix the leaking roof. Or show you the rent increase letter that was returned to me unopened and defaced with 'Fuck You' written on it. We tried to help her."
He also claims that Inge made enemies with many neighbors over trite things like "turning the sprinklers on near her cat." In December 2011, one of these conflicts led to an anonymous report filed with San Francisco's Department of Building Inspection (DBI), in which someone "ratted on" Inge's illegal unit. Since the claim was completely anonymous, it technically could've been made by anyone — including the landlord.
Initial complaint filed with the SFDBI; Source: San Francisco DBI
In the following weeks, the DBI contacted Wingrington, told him the nature of the complaint, and conducted an inspection of the property, deeming that the unit was illegal. The DBI offered the landlord a choice: he could either retrofit the in-law unit to make it legal (this would require him to rip out the garage and extend an independent entrance, at a cost of around $150,000), or he could remove the unit (this would entail converting the unit into a workshop at a cost of about $4,000). He chose the latter.
But in order to convert the unit into a workshop, Wingrington would have to do two things: acquire the necessary permits to do so, and then evict Inge.
He described the eviction process as "hellish." To convert the unit, he had to get electrical, plumbing, and building permits; he started with the building permit, but Inge — with the help of social workers and lawyers — appealed it. He took the matter to the Board of Appeals, but Inge made the compelling case that she was elderly, sick, and had nowhere to go; a hold was put on any construction work for three months, and Inge was ordered to make a concerted effort to find alternative housing.
In San Francisco, there exist a number of housing resources for seniors facing eviction. Openhouse, a housing service specifically for LGBT (lesbian, gay, bi/trans-sexual) seniors like Inge, helps community members find affordable housing by providing resources in weekly housing clinics and by setting them up with services for eviction defense, housing rights, employment, and mental health counseling. The program also plans to open a 110-unit apartment complex with rooms ranging from $589 to $1000 per month, or 30% of a tenant's income (usually social security, SSI, or disability pay).
The problem, according to Inge, is that most housing options like this have extremely long wait lists. Ellyn Bloomfield, Openhouse's social service manager, confirms this:
"On any given day in San Francisco, there are about 15,000 elderly looking to be placed in affordable housing. The average wait list time is five years; for many, this is just too long. They need something more immediately."
Bloomfield, who was a gerontologist before going into social work, also says that eviction is a common dilemma faced by San Francisco's elderly. She adds that laws like the Ellis Act — which makes it legal for landlords to evict tenants as long as they don't rent the property for five years afterward — are especially painful for tenants to go through, and that landlords often single them out as high-maintenance roadblocks:
"Older people are forced into exile by their landlords, under a variety of eviction laws — almost like post-war refugees. Many actually even have post-traumatic stress disorder. What other business exists where there is an adversarial relationship between a client and a manager?"
There are other options, like single room occupancies (SROs), which are often used to house the homeless community as well. But in San Francisco, the majority of these are in the Tenderloin (one of the city's most dangerous neighborhoods), and for an elderly woman, this isn't the safest environment.
Hotel Hugo, famous for its defenstration, was once one of San Francisco's most well-known SROs
According to Inge, she pursued some of these options, but was turned off by the no-guarantee nature of the wait-lists, and felt she was entitled to stay where she was. Withrington says the tenant was "in denial of the impending eviction," and, despite his efforts to set her up with resources, Inge did little in way of seriously considering outside options.
"I personally went out and found stuff — my own mother personally went out and found stuff. We put Inge in touch with multiple social workers and housing agencies. The problem is that a lot of these places come and check where you're living and only take you in if you meet their standards. Inge is a hoarder, a smoker, and has a cat. The smell in her unit was absolutely…just…unbelievable. That didn't work out well for her."
Over the years, Inge's rent had gradually increased from $480 to $560 per month; in late 2012, in the midst of the permit debacle, she decided to stop paying rent altogether. Withrington says he "couldn't do a damn thing about it," since he was renting an illegal unit. In addition, Inge refused to contribute to gas, water, and electricity bills. Inge's landlord says that, in all, this cost him over $10,000 in utilities and lost potential rent.
The landlord was caught in a legislative catch-22: he faced immense fines from the DBI if he didn't remove the illegal unit, but the Board of Arbitration wouldn't grant him the necessary permits to do so. But removing the legal unit would also prove to be a loophole to legally evict Inge and pave the way for a more lucrative property sale (properties with 'squatters' don't sell for nearly as much).
In early 2013, after the three month stay on construction was up, Inge and Withrington were summoned back to the Board of Appeals; this time, Inge didn't even show up. By default, the landlord got the permit. To begin converting the illegal in-law unit into a legal workspace, he'd need to evict Inge.
The Eviction and Aftermath
Source: Steve Rhodes (Flickr)
Under Rent Ordinance section 37.9(a)(10), once a landlord has obtained the applicable permits to "demolish or otherwise remove the [illegal] rental unit from housing use," the tenant can be legally evicted. Armed with the necessary paperwork, Withrington began the eviction process but, according to him, Inge was still in denial of the process:
"I told her, okay look Inge, we're going to start this process now. Are you going to find a place to live? She essentially told me to [stick it where the sun doesn't shine]."
First came the arbitration hearing, where Inge's lawyer and the landlord's lawyers tried to strike a deal to avoid any type of elongated legal dispute. This ended somewhat peacefully: WIthrington agreed to pay Inge a settlement of $14,000 in resettlement fees, and she signed a contract agreeing to vacate the property within 60 days. The first eviction notice was issued.
The 60 days came and went, and Inge was still occupying the property. A second eviction notice, known as an "unlawful detainer," or the act of occupying property without legal right, was issued. This time, Inge had five days to appear before the Board of Appeals to argue her case. Again, she failed to show up.
Then it got ugly: a third eviction was issued — a "Sheriff's notice." The Sheriff posted a "notice to vacate," and gave Inge five days to leave; when she failed to, she was forcefully removed, and all of her belongings were taken out of her unit and placed in a storage unit. "It took three truck loads to get her stuff out," recalls Withrington. "And the help of a whole team of social workers."
With the unit successfully vacated, the landlord proceeded to convert it into a workshop. This consisted of ripping out the kitchen, and converting the full bath into a half-bath, at a cost of $10,000, according to a building report filed with the DBI. In total, Withrington estimates he spend upwards of $40,000 on remodeling, lawyer's fees, permits, lost rent, and utilities.
Only a few months after the eviction, he listed the property for sale. Inge's once-illegal in-law unit was now advertised as a "legal work studio." Less than ten days of being on the market, an offer "considerably higher than the asking price" of $1.4 million was made. Though it would've been difficult to sell the property with Inge squatting in it, the landlord claims the sale was not premeditated, and had nothing to do with the recent eviction:
"My brother, who was a co-investor and resident in the main property, had just had a baby with his wife, and they wanted to sell and find a more suitable place to raise a family."
The sale is currently pending.
It's a Good Time to Be Bornstein & Bornstein
Bornstein & Bornstein legal team (Daniel center, with goatee); Source: Yelp
Throughout the eviction process, Withrington was represented by Daniel Bornstein, one half of the highly controversial Bornstein and Bornstein law office. For 20 years, Bornstein has been evicting tenants on behalf of landlords in San Francisco, and has become the heralded leader in this space.
He even runs a free "Eviction Boot Camp," in which he rallies up disgruntled landlords and coaches them on how to appropriately (and legally) remove unwanted tenants. One client expresses why she prefers to use Bornstein in dire straights:
"If my gentle persuasion does not work, Daniel provides the big stick. An eviction is a failure, and he's brilliant. He can stand up and [claim] that we're going to be throwing someone out on the street."
The lawyers' Yelp page overflows with positive reviews from landlords who've successfully ousted a variety of tenants — "rent controlled freeloaders," "illegal dwellers," and "asshole renters" alike. But the lawyers' ethics have come into question on multiple occasions; last month, Bornstein was fined $12,069 for "deceptively undermining the integrity for judicial proceedings" — a charge that "indicates gross professional misconduct."
But WIthrington "wasn't thinking about ethics" at the time of the eviction — he just wanted the problem resolved, and when it comes to resolving tenant issues, Daniel Bornstein reigns supreme. The landlord recalls his impressions upon first meeting Bornstein:
"I thought, 'he's just a lawyer doing lawyer stuff.' It wasn't really until later, during the appeals process that I realized he was a detested character. The Board nearly dismissed me from the room just because I was associated with him. There's quite a lot of hatred for that man."
Nonetheless, it's a good time to be a Bornstein in San Francisco: in the past year alone, Ellis Act evictions have risen 170%; since 1997, there have been 3,811, and that number is constantly rising. Fifteen years ago, evictions were, in general, reserved for extreme cases of tenant misconduct; today, they are commonplace, and are often used to the benefit of landlords in the high-demand housing market. Bornstein has been the man behind the curtain, orchestrating tenant removals with practised precision.
Ellis Act evictions in San Francisco over the past 15 years (each point represents an evicted tenant); Source: dabrownstein
For his part in Inge's case, Bornstein charged the landlord $300 per hour; all said and done, his services came with a $10,000 bill.
Living in a Volvo With Queenie
And what became of Inge? Following the eviction, the landlord helped her relocate to a nearby hotel. "It was filthy," she recalls:
"There was no toilet paper, and they refused to resupply it; there was a smashed-in window in my room, and the draft was so cold, I had to bury myself in a sleeping bag to stay warm. It was cash only, and everything was shady and under-the-table. It was one of the few times in my life where I didn't feel safe."
After a few nights, she couldn't bear to stay there any longer. She got into her Volvo station wagon, drove back to Rosemont Street, parked outside of her old unit, and spent the night in her car.
A look inside her Volvo is enough to curdle a stomach of steel: trash bags are piled high in the back seat, open packages of food topple into a litter box full of cat feces, door-sides are crammed full of half-smoked Pall Malls and prescription painkillers.
Queenie, a seven-year-old cat Inge purchased through EBay classifieds, is relegated to the tiny foot space beneath the glove compartment. "She's a very strong-willed cat," Inge tells me from beneath her sleeping bag. "It took me about a year and a half to really bond with her. Now she's my best friend." Queenie survives on organic cat food donated by a "young hipster woman" who lives in the neighborhood.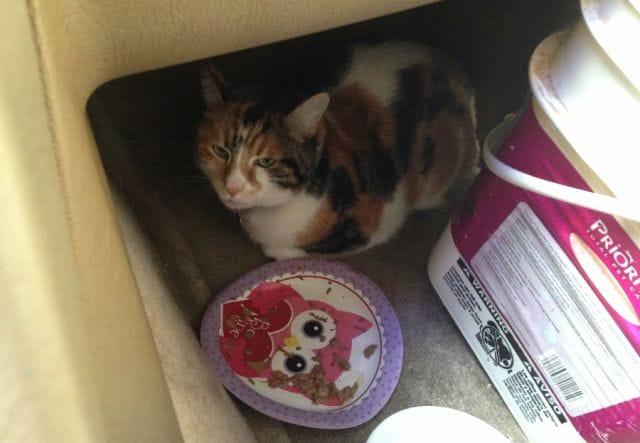 Inge has an amalgam of health issues, the most serious of which is her high glucose levels. She has to take daily insulin shots, which must be chilled on ice.
"It's not the type of environment I can take my medications in. I have to keep the damn things chilled on ice, so that's a problem. Sometimes, a young lady down the street brings me ice. Other times, I have to go by Safeway or a hotel and raid an ice machine. I don't know how I'm surviving. I'm losing so much weight."
Luckily, when Inge was a Teamster taxi driver all those years ago, she opted to take a pay cut to qualify her free health coverage through Kaiser; today, she still enjoys that benefit. In addition, she receives about $1,300 per month in disability and social security pay, and has "about $3,000 in quarter rolls" tucked away in a safe at her friend's apartment. But she claims this isn't enough to find a market-rate apartment that caters to her needs as a disabled elderly woman, and cover her other expenses. Her settlement money comes in small increments, so it is difficult for her to save up.
She usually stays parked on or around Rosemont Street in the Mission District, and receives street sweeping tickets on a weekly basis (these aren't cheap, as we've previously revealed). She pays about $46 per month for her car insurance, and also pays $300 per month for the storage unit that has housed all of her belongings since the eviction, but she can't remember where it's located.
Occasionally, she'll splurge for a night at a the Civic Center Motel Inn, where she can capitalize on a free continental breakfast, and clean herself up (when we met her, her nails were two inches long and black with grime from cleaning her cat's litter box). This runs her about $80 per night.
With an eviction on her record, Inge is convinced she won't be able to find a suitable place, but has social workers "begging away on computers" for her. We accompanied her to one resource center, Episcopal Community Services, where she was promptly told her only option was a shelter for the night. With Inge's health issues, a shelter is not ideal; she makes this clear in a voicemail left with a friend:
Her landlord's actions weren't intentionally evil; Inge was by no means a perfect tenant, and even trended toward destructive at times. For years, the Withringtons cooperated with her, and they offered every resource they could during the eviction process: legal assistance, housing leads, and social service contacts. When we spoke with them, they were sympathetic and kind.
The Way Things Used to Be
Inge remembers the day she first moved into her place on Rosemont 20 years ago:
"I had just settled my things, and I was exhausted but very happy. I had this little record player, and I put on my favorite album. It was this little number by a Brazilian singer named Simone — she's a trip, I'm just nuts about her — called 'Bye Bye Brasil:'"
Eu só ando dentro da lei [I just walk within the law]
Eu quero voltar, podes crer [I wanna go back, believe]
She listened to the album for hours, flipping it from side to side, reflecting on life. "Of all the things I've got in that storage unit," she says, "the only thing I care about is my box of old records — the songs of escape, as I call them."
Since the eviction, Inge has been contemplating her own escape. Still a citizen of Germany, she has the option of repatriating to her homeland, which has a free program for nationals wishing to relocate. She'd be able to get off the plane, connect with social services, and get subsidized housing and medical coverage. But for 50 years, she has built a life for herself in San Francisco, and that's something she doesn't want to give up.
Inge drives from a social service center back to Rosemont Street, where she parks her car out in front of her old home. Queenie leaps up from the floor of the car, navigates through the mountain of trash on the passenger seat, and presses her paws against the window like a puppy.
"She remembers it," says Inge, "she wants to go dance in the garden."
This post was written by Zachary Crockett. Follow him on Twitter here, or Google Plus here.
---
---