When graphic designer Dorie Herman launched an Instagram account for her 9-year-old rescue Chihuahua, Chloe Kardoggian, more than two years ago, she had no idea that the hobby would ultimately spur a cult following.
At first, the account was simply a way to keep in touch with Chloe's previous owner and family. But it's now ballooned to well over 90,000 followers. Chloe's been featured on the Today Show and has teamed up with brands like Swiffer and Clorox for paid gigs. In her spare time, she helps raise awareness for other senior rescue animals. Sure, her miniature frame – she weighs about 3 lbs – and her comically oversized tongue play a role, but it's her personality that's launched her into the pet influencer stratosphere.
"I definitely think people come to her because of the personality," says Herman. "She's a little sassy, a little Mae West."
Social media has suddenly given rise to a glut of celebrity pets – from Grumpy Cat to Esther the Wonder Pig to Toast the toothless King Charles Spaniel – and that can spell big business. Top tier pet influencers can attract tens of thousands of followers on social media, if not millions, garnering book deals, calendars and coveted marketing partnerships in the process. That's in addition to the potential payout from YouTube ad revenue.
When they pop up on our feeds, these animals evoke an emotional reaction. Often, the captions paired alongside the photos of these famous pets help create a sense that they are human-like characters, and the juxtaposition grabs our attention. Not to mention, they're owned by regular people just like us.
Done right, the rise of the celebrity pet provides "incredible territory for marketers" looking for new ways to grab our fractured attention, says Tessa Horehled, vice president and group director of social strategy at DigitasLBi.
But the celebrity pet trend – and our desire to make these animals just a little more human – is more than a hundred years old, a seeming consequence of the isolation of modern life.
Seeking Connection
As humans, we've always anthropomorphized the world around us – imbuing volcanoes and rain gods with special powers – though the instinct to do so with specific animals is somewhat of a modern occurrence. When animals were seen more as tools (or threats) to our survival, there was less of a need to try and get inside their heads, according to Kurt Gray, a professor of psychology at the University of North Carolina.
Anthropomorphism is all about "using our own minds as a way of understanding other minds," Gray says, and is more closely associated with pet culture, as opposed to, say, animals we are about to eat.
Some argue that the habit has increased as people more frequently move away from their hometowns and families to live alone. Nearly two-thirds of American households contain a pet, and folks spend more than $60 billion on those animals every year.
"People are much lonelier than they used to be," says Gray. "So what do they do? They get a pet, or if they can't, maybe because of their landlord, they spend all their time on YouTube looking at other people's pets acting human."
Indeed, celebrity animals are like an "electronic pet," says Susan Nance, a history professor at the University of Guelph in Canada's Ontario province. Tamagotchi for the digital age – with even fewer responsibilities.
"It's a collective delusion or group fiction that we all create together to imagine that this animal exists out there somewhere and that he somehow knows he's famous, and that he likes the attention," says Nance.
The trend of singling out animals for fame may have begun in the 19th century, when individual elephants and horses began to build a following, Nance says. Take Horatio, who was shipped from India in 1819 – one of the first elephant transplants to America. His Connecticut investors marketed him as a "natural curiosity," before he fell to his untimely death when a bridge collapsed.
Horseracing also rose to prominence around this time, after the lifting of a Revolutionary War-era ban. The horses were often portrayed "as courageous individuals with unique histories and lineages who mirrored their elite owners by striving to triumph in competitions," according to Nance. A number of horses, including Miss Woodford, Firenze and Imp, dominated races in the late 1800s, with Imp crowned by the New York Times as "Queen of the West."
Elsewhere, "wonder animals" that could purportedly solve math problems and read made the rounds with traveling showmen. Clever Hans, a German horse that could, according to lore, count and solve math problems, was the subject of a breathless New York Times profile in 1904. (Sadly, the myth of Clever Hans has since been debunked. It turns out the horse sussed out the right answers not through reason, but by carefully reading the body language of the questioner – a feat that is not entirely unimpressive in itself.)
Soon, the rise of photography and film provided even more opportunities for popularizing and anthropomorphizing animals. Thomas Edison's movie studio may have filmed the first cat video – kittens with boxing gloves – in 1894. The project was an early experiment with the inventor's motion picture device, the kinetoscope. The boxing kitties were part of a trained "cat circus" led by a man named Harry Welton. It traveled the country, and also featured the animals riding bicycles and doing somersaults. The video may have been a promotion for the act.
Meanwhile, Harry Whittier Frees made a career of photographing animals in costumes for postcards and books in the early 1900s – and their effect is either creepy or adorable, depending on your tastes. He once described kittens as "the most versatile animal actor" and the stubborn pig as "the most difficult to deal with." His efforts to photograph animals in poses that suggested a personality would feel familiar to smartphone-toting pet owners.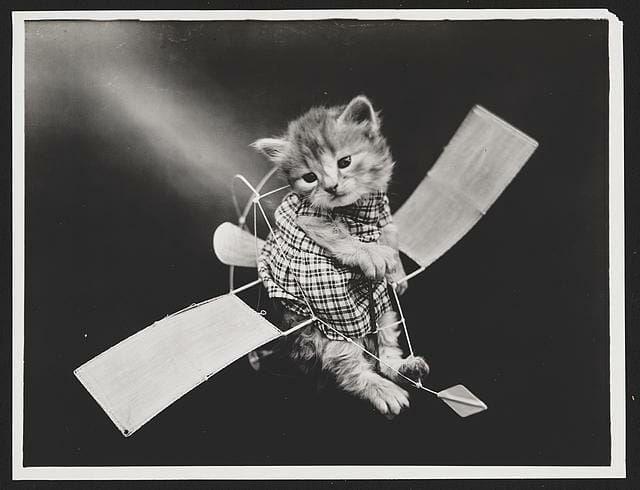 Photo by Harry Whittier; available thanks to the Library of Congress
The rise of television created more opportunities for celebrity, including of the animal persuasion. But at that point, the emphasis was often on the characters the animals portrayed, rather than on the pets' distinct personalities.
First there was Rin Tin Tin, the German Shepherd rescued during WWI, who appeared in more than two dozen films before he died. Lassie began as a novel and then a movie, before the concept was formulated into the long-running television series. The title character, a collie, was played by a number of dogs. Mister Ed, the talking horse in the eponymous early 1960s comedy, was portrayed by a palomino named Bamboo Harvester. In the mid-1960s children's show Flipper – otherwise known as the "aquatic Lassie" – the star was represented by several dolphins.
Today's Instagram-famous pets have a distinguished lineage.
Peak Influencer
Nowadays, marketers hope to take advantage of our urge to connect with charismatic animals. The Geico gecko, for example, has proven very profitable for its parent company. And the Aflac duck is "a rock star in Japan," where it's driven billions of dollars in revenue. Still, the shtick doesn't always work, and the Taco Bell Chihuahua was shelved after a multi-year run. "Yo quiero Taco Bell" is a pop culture relic, but it failed to turn around lagging burrito sales.
What's interesting about the latest generation of animal influencers is that they're used to sell products after they're famous, rather than rising to fame as the result of an ad. Pets like Tuna, the Chihuahua-Dachshund mix with an extreme overbite, and Chloe, a mini French bulldog, have attracted millions of fans in aggregate. They're famous in their own right for their looks and the personalities their owners have crafted for them. Authenticity – or at least a credible facsimile of it – sells.
"If you're genuine in your effort, it's attractive for marketers," says Randi Priluck, a professor of marketing at Pace University.
That's crucial for simply gaining fans, too. Take Pugsley Kitty, an exotic shorthair with nearly 35,000 followers on Instagram. Pugsley is a puff of fur with big, blue eyes you could get lost in, but his owner Emil (who prefers not to be identified by his full name in the press) says that captions are still "at least 50% of the equation."
He also points to Pugsley's brother Pazzo, who was born in January, but is already a rising star on social media. While Pazzo has under 2,000 followers on Instagram, each photo garners hundreds of likes and dozens of comments. The captions are designed to be somewhat endearing, edgy or even smarmy, and Emil will sometimes use questions to spur engagement.
"It all adds up to the right kind of audience being developed," he says. "As the summer goes on, photos will get better, we'll start him being a bit more visible, and it'll grow and grow and grow."
Those in the business have suggested that marketing deals start to materialize once your pet hits the 30,000 followers mark. "It's a whole other world" once you crack the millions, Loni Edwards, Chloe the mini Frenchie's owner and managing partner of The Dog Agency, which serves pet influencers, said last year.
Payouts for media appearances or "influencer marketing" – where a famous pet shares a photo with a certain product on their feed – remain all over the map, depending on the brand, the animal's following, and other factors. Social media stars can reportedly command as much as $2,000 per job once they've hit 100,000 fans, a figure that might also be a good rule of thumb for pets.
Boo, a pet liaison for Virgin America, subtly serves up a shout-out to the airline. Photo by Buddy Boo Blue
Still, some of the most prominent Internet-famous humans are demanding far above that amount – to the chagrin of marketers who have concluded they still have no idea how to measure the impact of teaming up with an influencer.
"Brands are going to start realizing the amount of followers you have doesn't mean shit," proclaimed one disgruntled marketer this past spring.
For those looking to crack the ranks in the animal world, it's worth noting that BarkBox already maintains its own "handpicked group" of 500 to 700 dogs that have amassed a following on social media.
But despite the vast number of owners already aspiring to gain fame for their pups, kitties, lizards and the like, the beauty of social media is that anybody can give it a try. There's a sort of "American Idol" effect, in that the effort is participatory and seemingly democratic – regular people can help vault an animal to fame with their adoration. And you never know, maybe your pet could be next.
"It used to be that the famous were foisted on us," technology writer David Weinberger wrote in 2012. "Now fame is something we do– we the audience, we the people on the Web."
Tessa Horehled, the social strategy guru, says we're still in "early days" when it comes to using celebrity pets in marketing, and she predicts that there are "sharper, more engaging partnerships" to come.
That means that there's still time to entice your own fluff ball to strike a pose, and for you to arm them with a clever caption. We've admired famous pets with human qualities since the days of Lassie and Thomas Edison's first cat video. There's no reason to think that obsession will subside now.
Our next article looks at how Korea's Kimchi Institute tries to capture the hearts and minds of foreigners through their stomachs. To get notified when we post it → join our email list.
Want to write for Priceonomics? We are looking for freelance contributors.
---
Published July 22, 2016 by Victoria Finkle
---