Editor's note: This personal account from D Rossi was written for the Priceonomics Freelance Writing Program
Imagine a night out with friends at an upscale pub. A sitter is watching the kids, and the guys are getting beer recommendations from someone called a cicerone. While they debate the merits of pale ales, you and your girlfriends decide to try Girl Scout Cookies—not the kind your daughter has to hawk every year, but a cannabis strain that the budtender has recommended.
As a resident of Indianapolis, I've never bought weed at a pub. America's heartland doesn't have budtenders. But with the momentum marijuana legalization has gained, they might not be far off. In the pioneering state of Colorado, where recreational marijuana has been legally available to anyone 21 or older since 2014, restaurants are already pairing weed and $20 entrees.
Although I have only been able to obtain pot sparingly from medical permit–bearing friends in California, I believe buying marijuana should be as run-of-the-mill as picking up a bottle of wine for dinner. Since Colorado legalized marijuana use, the prospect of leisurely shopping for weed has excited me.
In early September, I decided to head west to Denver to experience the future of marijuana in America. I wanted to see if buying pot in Denver would be as easy, safe, and sophisticated as I hoped.
My Personal Case for Legalization
Opponents of marijuana legalization (particularly for recreational use) have a simplistic and false idea of why people want weed. Saying that someone smokes pot "to get high" is analogous to saying people drink wine "to get drunk." Many Americans enjoy a few glasses of chardonnay for the taste and the light buzz that accompanies it, and the same goes for pot.
I've suffered from occasional, debilitating depression and anxiety since my early teens and have been on prescribed (arbitrarily condoned as "legal") drugs for many years. But just as an asthma sufferer who takes regular asthma medicine sometimes needs an emergency inhaler, I find that marijuana is a tremendous emergency aid for calming my mind when it gets out of control.
The proponents of medical marijuana are increasingly vocal, with anecdotal evidence and scientific research (albeit frustratingly limited in scope) to back their claims. Change.org has featured petitions from patients and patients' parents pleading for the legalization of the medical marijuana that has helped them deal with conditions like cerebral palsy, PTSD, epilepsy, and Crohn's disease. NPR recently interviewed a University of Pennsylvania associate professor of medicine who wrote a book titled Stoned: A Doctor's Case for Medical Marijuana.
From a recreational perspective, the relative safety of marijuana for adults when compared to alcohol and tobacco has been fairly well established: overdose fatalities are unheard of; high-profile doctors like Sanjay Gupta have reversed their opposition; and many studies compiled by California NORML, an advocacy group, suggest that weed is a safe drug when used responsibly.
In other words, the standard objections made to the legalization of marijuana are just the ordinary, day-to-day downsides associated with any drug or mind-altering substance.
A Budding Cannabist in Denver
I last visited Denver 20 years ago, during a solo road trip from Indiana to California. I vividly recall going for a walk with no planned destination and ending up in an unsavory neighborhood. I abandoned my habit of random walks after that.
Denver has changed considerably since my visit, as my chatty airport shuttle driver told me. Downtown Denver is now eminently walkable, and Lower Downtown (LoDo) is a pedestrian paradise. 16th Street Mall is a mile-long, tree-lined straightaway with lively shops, eateries, and a pedestrian-only center lane featuring fountains, a botanical garden, and chess tables. When I strolled around LoDo, I saw young men in grunge-wear and an old man in a fedora playing colorful pianos that are placed strategically along the mall.
All pictures are the copyright of D Rossi
Who'd have thought marijuana would be available for purchase in a family-friendly place like this?
The storefront for Euflora, a cannabis dispensary, is on 16th Street Mall between a 7-Eleven and a sports apparel store. A souvenir shop is one door down, which means that in one block, you can buy a Peyton Manning jersey, a cowboy hat, and perfectly legal weed.
Euflora's storefront is tucked away under the "GO BRONCOS!!!!!" sign
The store's muted neon sign was easy to miss. Its "GO BRONCOS!!!!!" message was much more visible than the Euflora name. I eventually found the shop, passed through an automatic sliding door, and descended a dingy stairwell. Both the stairwell and the basement it led to had dull, concrete walls and dim lighting.
Uh-oh: was fine weed shopping not so much like fine wine shopping as I'd thought?
Another automatic sliding door, simply displaying the Euflora name, greeted me in the basement. When I passed through that door, a security guard requested my ID to verify my age and state of residence. (Colorado residents can buy more weed in a single visit than out-of-staters.)
Inside the shop, I breathed a sigh of relief. Euflora's website refers to the shop as "the 'Apple Store' of Cannabis"—and that was indeed what I was reminded of.
The shop was sparse, with considerable open space for the handful of customers browsing on the Thursday morning I visited. Four black oval tables featured a half-dozen strains apiece, and several had "Sold Out" signs displayed.
Clear containers allowed me to see and smell each strain, and a tablet computer beside each container provided detailed descriptions. Prices were taped to the table. Everything I looked at was $20 a gram, which isn't bad compared to street prices—until you add in the multiple taxes: state, local, and a special marijuana tax, which combined come to roughly 21%.
The two women working the store could have easily passed for pharmacists. They dressed conservatively and packaged Euflora's product in pharmaceutical-like vials. When they explained the differences between strains and directed me to a variety that best met my needs, their tone was low-key and professional.
The other customers looked a lot like me: men and women in their 40s or 50s dressed like they just came out of Old Navy or an outlet mall.
As an out-of-stater, I could only buy 7 grams per visit. But edibles don't count toward the limit. I bought 6 grams of a strain called Cannatonia—Euflora errs on the side of selling less than the ¼ ounce limit rather than risk being over—and an edible. Most weed shops are cash-only, because many banks won't work with dispensaries as long as the federal government continues to view weed as illegal. But I remembered to bring cash, and I saw an ATM inside the store.
A single-gram vial and a package of edibles from Euflora.
My first marijuana purchase was as simple as that. Yet I still felt skittish. Would every shop be as straightforward and drama-free?
*****
I chose a second shop to visit based on its proximity to my hotel. The Health Center is a standalone house nestled in the tree-lined, residential and business area of Downing Street and 18th Avenue. It was cozy and neighborly, and not at all like buying weed in a back alley.
The Health Center is located to the right of the "PARKING IN REAR" sign on this inviting roadway
I walked to the back of the house and entered a small, minimalist, not-terribly-inviting foyer. (Judging by photos on The Health Center's website, its second location in the University Hills has a more welcoming, comfortable layout.)
The shop was tiny and staffed by two casually dressed men who looked like they belonged on a college campus. The back of the store offered additional merchandise: standard paraphernalia along with t-shirts and other branded weed memorabilia. The Health Center reminded me of a head shop you'd find in the bohemian neighborhoods of most cities. The vibe was very different from Euflora's Apple Store atmosphere, which illustrates the spectrum of customers buying marijuana in Denver.
The reusable, $2 envelope that The Health Center requires customers buy to package weed in. The zipping mechanism is intended to be childproof.
The salesmen stood behind glass display counters—the shop was too small for customers to look at strains on their own. As the sole customer, I had the full attention of one of the budtenders. He listened to my requests, brought out several jars for me to sniff and consider, and sold me two strains: Space Cream at $14.75/gram and Ultra Sonja at $16/gram.
*****
My final stop was the Ballpark Holistic Dispensary on Larimer Street between 21st and 22nd. I assume the historic Ballpark District is lively on game days, but it was deserted during my Friday afternoon visit.
The shop had drawn me in with a 20%-off coupon in the Colorado Cannabis Tourist Map, which I picked up from my hotel's brochure rack. Entering the shop reminded me of a mini convenience store in New York City. I felt like I should be picking up milk, bread, and a lottery ticket.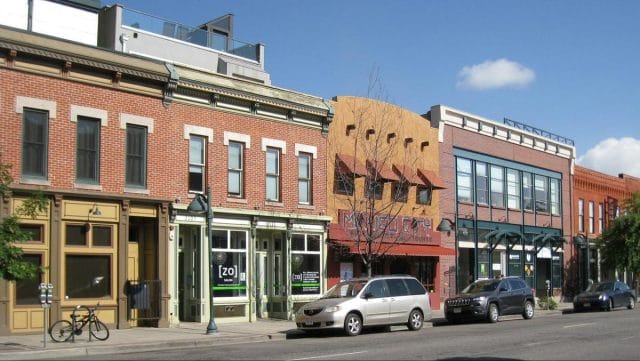 Ballpark Holistic Dispensary is located to the right of a Mexican restaurant and lounge in one of Denver's historic districts
I didn't see much of the store, as I conducted my transaction at a glass counter just past the entrance, though I did see a few browsing customers. They looked like guys you'd see drinking Budweiser at a baseball game.
On this visit, I decided to buy a vape, which is comparable to an e-cigarette, instead of dry herb. I already knew a little about pros and cons of vaping versus smoking—a topic of lively debate among marijuana enthusiasts—including the fact that vaping reduces the amount of smoke involved. My budtender, whose full beard and wool skullcap made him look more like a stereotypical stoner, sold me a disposable vape pen that cost just under $40 after applying my 20%-off coupon.
The Humdrum World of Legal Weed
The marijuana sellers of Colorado are ordinary business folk. They know their product, and they're friendly and helpful. The buying experience resembles wine shopping, with a similar spectrum of local neighborhood shops to upscale boutiques—although the upscale-marijuana staff are less snooty than the upscale-wine staff.
Colorado's legalization still has many critics. In my opinion, the media overemphasize the opponents' point of view. (I'm looking at you, CNBC!) Given the tax-induced, high cost of legal product, I'm not surprised that the "black market" still has a foothold in the marijuana business. The existence of illegal outlets for an expensive commodity is no more unexpected than it is for counterfeit Rolex watches and Gucci handbags, but we don't ban Rolex and Gucci.
With respect to concerns about overindulgence, particularly of marijuana-infused edibles, I'll say this: In the past, I've downed too many sweet alcoholic drinks before I felt any effects. (Oh, those evil Cosmos…) The same thing can happen with edibles, since you won't feel a buzz for as long as an hour after eating.
I once ate too many edibles without realizing their potency, and the result was extreme fuzziness and a loss of concentration. But I didn't feel nearly as lousy—or use nearly as poor judgment—as when I was blind drunk.
The standard objections made to the legalization of marijuana are serious, manageable, and no more concerning than those relating to any drug. Give me marijuana over alcohol any day.
Denver, I'll be back next year.
Our next post is about the economics of developing a new, male contraceptive technology. To get notified when we post it → join our email list.

This post was written by D Rossi for the Priceonomics Freelance Writing Program. You can follow her on Twitter at @drossicitizen.
---
---