Zapier was one of the first customers of Priceonomics Content Tracker, our dashboard for tracking the performance of your content marketing. This is an interview with Danny Schreiber, marketing director at Zapier.
Tracker is in beta and free to try out. You can learn more about it here.
***
1. Can you give us a little background on your company? What do you do? Why is your product/service awesome?
Started in 2011, Zapier exists because we believe that there are jobs that a computer is best at doing and that there are jobs that a human is best at doing.
We offer a workflow automation tool called Zapier that allows anyone—without coding skills or IT knowledge—to easily connect the apps they use so they can get them talking to each other.
For instance, a marketer might rely on Zapier to connect a "Contact Us" form with his or her email marketing software, CRM and database. So, when new visitors fill out the contact form and indicate that they want more information, their email is automatically added to MailChimp, their contact information is logged in Salesforce, and all their details are added to an Airtable database.
2. Why does your company invest in making content? What's the strategy behind it and what are your goals?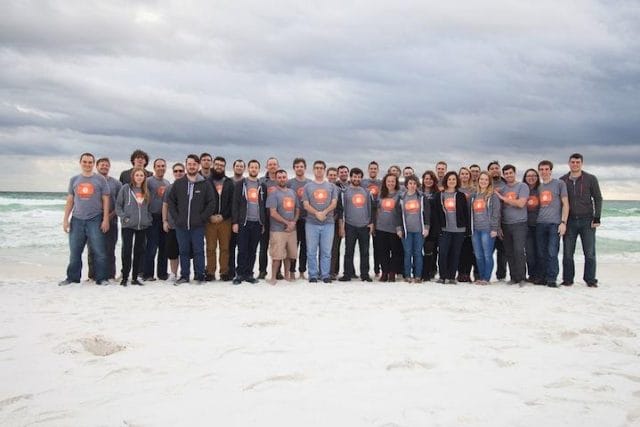 We say that Zapier gives people "Internet superpowers" so that they can work faster, smarter and better. But if you're not yet signed-up for Zapier, how will we convince you that Zapier delivers on that promise?
That's where content comes in. Our aim is to always help our audience by offering tutorials, guides and roundups that provide app tips, uncover a business practice or review apps. Zapier content always has two elements: show and tell.
We first 'tell' readers about a business app or practice that we believe could help them, and then we 'show' them why it works, prove that it works with examples and offer a short guide to getting started. We want readers to come away feeling empowered—just as they would if they were to sign up for Zapier and set up an automated workflow.
3. Can you tell us about a piece of content you made that you're particularly proud of? What was the piece about? How did it become popular?
This blog post is an in-depth look at one of the most crowded app categories today—task management apps. Writing this was on our to-do list for nearly a year, and then we finally teamed up with a freelancer to write it. It involved 40+ hours of trying out apps, gathering art, links and prices for each, and then organizing everything in a format that was both easy to read and easy to digest.
We promoted the piece by asking those apps mentioned in the post to share the article (many of which did) and then posting a slimmed down version of our findings to the productivity subreddit.
The piece has since been mentioned by dozens of blogs, which has kept traffic to it consistently high.
4. Why does your company use Priceonomics Content Tracker? Any nice things to say about it?
We were in a daily routine of checking a Google Analytics dashboard to look at the number of unique pageviews our content received and then visiting the post itself to see share counts. Priceonomics Content Tracker brought those two stats together with a simple dashboard. Best of all, relevant Slack notifications alert us to trending posts and highly visited or shared posts.
The Slack #content-tracker channel keeps our marketing team—and every other department, for that matter—highly vested in our evergreen content.
When a post passes 100,000 uniques, for example, we get a notification in #content-tracker in Slack, and a round of high-fives and celebratory GIFs occur. We like the #content-tracker channel so much that we built an internal tool that mimics it but instead tracks site sign-ups. Appropriately, we call it #signup-tracker.
***
The Priceonomics Content Tracker is in beta and free to try out. It tracks the inbound links, social sharing, traffic, and conversions generated by your content marketing. You can learn more about Tracker here.
---
---