Image credit: Social Sierra Hub.
This post was written by Daniel Mrdjenovich. Follow him on Twitter or Google Plus.
Since Priceonomics is based in San Francisco, most of the team either bikes or rides public transportation to the office. From our own experience, we've found hybrid bikes by far the best solution for city commutes. They're durable for any rough patches you might hit on city streets and lightweight so you can zip from place to place. Based on our bicycle price guide, we've outlined some of the best deals on the used market for Trek hybrid bikes in this post. Enjoy!
Why You Should Consider a Hybrid Bike
Before launching into specific models, it's probably best to understand what the hybrid bike was designed to accomplish. In short, it's the best of both road and mountain bikes. The tires are wide like on a mountain bike for increased stability and durability. At the same time, the higher air pressure within the tires, a feature seen on road bikes, allows the bike to travel faster by reducing rolling resistance. In addition, the frames are made of lightweight aluminum or steel, a material that adds to speed. Finally, hybrids come with a wide range of gears that can rush allow you to climb uphill and coast downhill. Basically, you shouldn't have any issues zipping through the city with confidence.
Trek 7000
Image credit: Wilderness Photographer.
If you're looking for a comfortable and reliable ride to get you from point A to point B, this is your best bet. As Trek's lower end hybrid model, it won't wow you with its performance but it certainly doesn't disappoint at all. Fair used price: $250
.
Trek 7100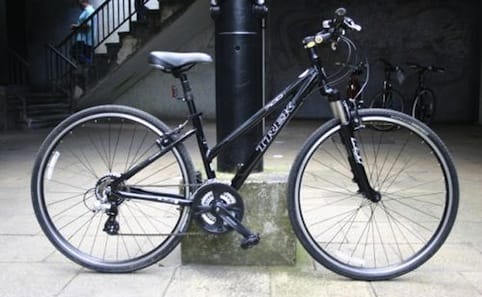 Image credit: Jake's Bikes.
Let's face it, not everyone who rides a bike takes long tours and races in his or her spare time. Many of us just want a reliable casual ride around the neighborhood or to work. Be thankful there's the 7100 for that. Fair used price: $250
Trek 7300
Image credit: Bike Forums.
The 7300 takes us to the mid-level models of Trek hybrids. Compared to the 7100, this model offers puncture resistant tires, higher quality gear shifters, and a lighter frame. Fair used price: $275
Trek 7500
If you desire performance as much as comfort in your hybrid, the 7500 is the way to go. It features lockable front suspension, puncture resistant tires, and a lightweight frame. Fair used price: $360
The Benefits of Buying Used
If you're in the market for a hybrid bike, you're probably looking for a durable and comfortable ride at a decent price. If this description suits you, go ahead and take a stab at the used market for bikes. We compared data from our price guide to new values listed on Trek's online store. Turns out, you receive on average a 53% discount when buying used versus new. Since even the lowest end models are priced around $500, this represents a savings of a few hundred dollars. That's definitely nothing to scoff at!
When buying a used hybrid bike, there are a few things you should note. First, unfortunately Trek does not transfer warranties from the original owner. So while it's easy to transfer Apple Care protection from one Apple product owner to the next, you probably won't find a warranty or protection plan on the used market for a bike. Next, there is a chance that the used bike will have a broken chain, missing brakes, or any other sort of damages.
Despite these risks, we completely recommend testing the used market, but with caution. The hundreds of dollars you save on a used hybrid bike outweighs the potential value from a warranty. In order to make sure you don't end up with a lemon, inspect the bike in person. Take it for a test ride around the block before agreeing to purchase it. All these extra precautions are worthwhile to land your top notch daily commuter ride.
Oh yeah, Priceonomics is hiring engineers!

Get the latest from Priceonomics on Facebook, Twitter, and Pinterest.
---
---