Inside an inconspicuous-looking storefront on a tree-lined street in Portland, Oregon, Samantha Hess prepares to cuddle with a stranger.
"Big spoon or little spoon?" she asks the man, who is in his mid-50s. Instead, he opts for a more ambitious position. Hess leads him into an outer space-themed back room, and the two crawl into bed. Beneath an aurora borealis ceiling, they intertwine into a complex human pretzel and lay still.
After an hour, the man rises, emits a delighted sigh, and pays Hess $60.
"That was wonderful," he says. "I'll see you next week."
Hess is the owner of Cuddle Up To Me, one of America's growing number of "professional cuddling" businesses. Here, clients pay top dollar for the privilege of platonic, non-sexual human touch. Though "cuddling" is not scientifically recognized as a form of therapy, Hess contends that Americans will soon "see the light." She claims to have helped clients — mostly middle-aged men — battle their innermost demons. Yet, it is an industry rattled by skeptics who call it a front for prostitution.
What is it like to be a professional cuddler? Who are the men and women running these businesses? And ultimately, what does the industry's existence say about America?
A Brief History of Paid Snuggling
Reid Mihalko (lying down, center), with some cuddle clients; via Juicy Enlightenment
Though pay-by-the-cuddle businesses have recently become something of a trend in the United States, a charismatic entrepreneur named Reid Mihalko spawned the concept more than a decade ago.
After graduating from Brown University, Mihalko dipped in and out of various professions — soap opera actor, karate instructor, bartender, ordained minister — before self-proclaiming himself a "sex and romance coach." Lacking the credentials to dispense psychological or medical advice, he decided to pioneer a new field of touch therapy.
In late 2003, he began organizing cuddle parties in Manhattan. For a $30 entrance fee ($20 with his "Endless Summer Spooning Special" discount), customers gained access to a pop-up location full of mats and beds where they could cuddle with anyone else in attendance (with consent, of course). Throughout these sessions, Mihalko would offer tips and soothing words of encouragement. He had a mission: to encourage "touch positive behavior," intimacy, and non-sexual, platonic contact.
"I get now what my life's been leading up to," Mihalko told a Washington Post reporter in 2004. "We all want touch in our lives, but nobody's telling each other."
Four years later, independently of Mihalko, another man had a cuddling catharsis.
Travis Sigley, male stripper/cuddler extraordinaire; via Gary Bowden, Cuddle Therapy
Sporting an illustrious mane of hair and chiseled abs, Travis Sigley had ventured to San Francisco and found work as a stripper. One night, in 2008, a man approached him in the club and purchased a lap dance. When the two entered a private backroom, Sigley was taken aback by the man's demand.
"He said, 'I'd rather just cuddle and talk for a while,'" recalls Sigley.
In the weeks that followed, a number of customers made similar requests: in lieu of anything sexual, they wanted a genuine moment of human connection. Realizing the great need for a "nonsexual intimacy and affection service," he launched Cuddle Therapy, with the stated purpose of helping those who lacked physical closeness or connection in their lives.
At a rate of $60 an hour, Sigley nuzzled clients on memory foam mats at a location of their choosing. All contact, he contends, was strictly platonic — nothing sexual, nothing scandalous. And business boomed: people of all races, orientations, genders, and creeds sought his services. "Even straight men," he adds.
Before long, Sigley's efforts caught the attention of mainstream media; within a year, similar operations began popping up around the country.
Life as a Professional Cuddler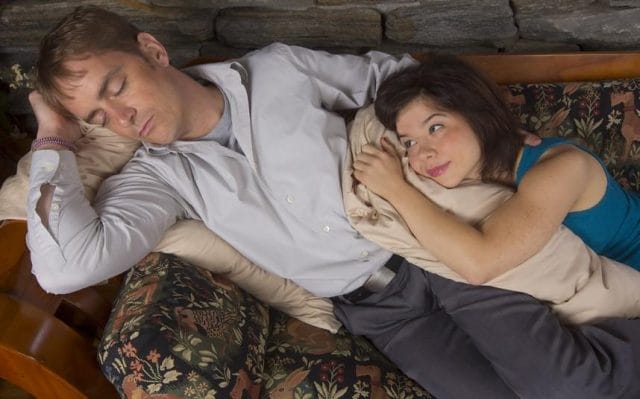 Today, more than 20 professional cuddling businesses operate in 16 states. Among them is The Snuggery, a New York-based retail location.
Jacqueline Samuel, its founder, decided to enter the industry after coming to an epiphany overseas: "I'd travelled all over the world, interacted with all these diverse cultures, and found that, compared to other places, Americans were really closed off with the idea of non-sexual touch," she tells us.
In 2012, while wrapping up a master's degree in social work, the attractive 29-year-old recruited a friend and began seeing clients in a family guest home in Rochester. When neighbors complained that the business attracted "unsavory characters," she moved her operation into a commercial space.
Today, her team has grown to three women, who cuddle at a rate of $55 per hour. An "overnight session", which constitutes 8 hours of uninterrupted snuggling, runs $425. While she reports clients ranging in age from 22 to 70, she says the vast majority are men in their mid-50s. Though strict boundaries are discussed with clients before each session (chiefly, no inappropriate touching), uncomfortable situations have, quite literally, arisen.
"When a man gets an erection, I change positions," she unabashedly admits. "If it becomes distracting to the point where it's a major inconvenience, I end the session."
The Snuggery, and cuddling businesses at large, are constantly met with skepticism. While Samuel and other owners contend to be interested in solving intimacy issues through strictly platonic touch, local government officials and community groups have denounced them as covert prostitution rings.
The Snuggle House, an outlet based in Madison, Wisconsin, had to close its doors just three weeks after buying a retail location, in early 2013. When city attorneys learned of the company's business model, they repeatedly delayed the shop's opening, citing "grave concerns" over its true intentions. Legislation was drafted that targeted snuggling enterprises, and public officials rallied the community against them.
"There's no way that (sexual assault) will not happen," one city attorney told The Times-Picayune. "No offense to men, but I don't know any man who wants to just snuggle."
With a final Facebook post, The Snuggle House bid adieu: "The pushback and harassment is not worth it, honestly."
Cuddlr, a mobile application billed as "Tindr for cuddling," met a similar demise. Though it experienced initial success — some 240,000 downloads and 10,000 daily users — the app, which used geolocation technology to "match" users with nearby, platonic cuddle mates, was met with widespread criticism. Shortly after a scalding takedown by the Washington Post ("I was severely creeped out," wrote the author), Cuddlr was taken off the market.
For cuddlers, these failures are a sharp reminder that Americans resist platonic touch. Paying for touch is often sexualized and tabooed in our country.
A member of The Snuggle House cuddling team; via The Snuggle House
The cuddling businesses that have thrived have taken great care in self-regulating.
Battling a crippling disability and severe depression, Evan Carp started Snuggle Buddies LLC as a way to help others through similar crises. Today, through his website, he remotely manages a team of 160 women and 7 men in 32 U.S. states, Canada, and Europe. Carp goes to great lengths to assure the public that there is no "funny business" going on — just good old fashioned cuddling. He elaborates:
"A lot of our customers are missing something in their life. Maybe they're married, not in a good relationship with their wife, and want someone else to touch in a platonic way. We get travelling businessmen who are constantly on the road and have that need. We get people who work too much and don't have time to find somebody to cuddle with. We get people who are 65 years old, and just don't want to get into the dating game. And we get people with disabilities — people who've been through trauma and are looking to overcome the their fear of touch."
When hiring a potential cuddler, Carp tells us he looks for someone who "possesses the desire to help" — though, based on the database of his cuddlers' profiles, it seems that being good-looking certainly doesn't hurt.
After recruiting a new cuddler through classified ads, he tasks one of his grizzled veterans with taking her through an 8-page booklet of rules and regulations, which explicitly forbid any type of "sexual activity."
A page from Snuggle Buddies LLC's cuddling handbook admonishes "sexual activity"
Carp, who says his cuddlers pull in an aggregate of "at least 200 hours" of business each month, uses targeted Facebook ads to attract new clients. When a an interested party contacts Snuggle Buddies (usually after browsing through the headshots on the website and finding a woman to his liking), his full name, address, and phone number go into a database for safety purposes.
His cuddlers, who charge $80 an hour (and take home half of that), have the option to either host a client in their home or snuggle on the client's turf. Before and after each session, they check in with Carp to let him know everything is okay; often, they carry a weapon in case things go sour.
"We haven't had a bad incident yet," says Carp. "I've had to call the police twice due to a cuddler not checking in, but both ended up being false alarms."
A typist by day, Rebecca Rodrigues joined Snuggle Buddies about a year ago to supplement her income. She rarely feels unsafe: "You can usually weed people out who aren't interested in cuddling," she contends. "If someone wants something else, you can tell early in the process, by his mannerisms."
"Becoming a cuddler is one of the best things that has ever happened to me," she adds, emphatically. "I mean that."
A few profiles from the Snuggle Buddies database; the site allows potential clients to peruse the head shots and bios of 160 women, before settling on a cuddlemate; via Snuggle Buddies LLC
In Portland, Oregon, another company, Cuddle Up To Me, has thrived.
After marrying her high school sweetheart, owner Samantha Hess realized that she and her husband were on "opposite ends of the touch spectrum." Years of isolation and physical rejection ensued before the two parted ways.
"I had just left my ex-husband, and was figuring out who I was, and what I was doing with my life," she tells us. "I read about another cuddle business, and was enamored by the thought of being paid to have someone hold me. I wanted to nurture through touch, but I also wanted to be nurtured myself."
When she launched in June of 2013, a local news story on her business went viral; as a result, she received more than 6,000 emails from all over the world — some praising her efforts, and others scorning her as a clandestine prostitute. A wealthy man in the Middle East offered her $10,000 a month to join his harem; she politely declined.
Hess has since expanded her team to four cuddlers, including herself, all of whom work out of a security camera-equipped retail space downtown. Cuddling, she sighs, can be "grueling work."
Samantha Hess; via Cuddle Up To Me
Last year, Hess estimates she snuggled 24,000 minutes. She's retained a similar pace in 2015, and averages 80 hour work weeks, sometimes cuddling from noon to 1am. Often, she is overtaken by the emotional toil of what she does and forgets to eat meals in between sessions.
For this work, she is meagerly rewarded: The business makes enough to cover rent ($4,000 per month) and pay employees ($20 per hour). She has not taken a salary since opening, and has opted to live off credit cards to realize her dream. If she fails, she'll lose not just her job, but her car and home.
Unlike other cuddle businesses, Hess has an impressive diversity of clients. Her youngest is 20, her oldest 75; 50% are men, 50% women.
"We have girlfriends who come in to learn to cuddle more comfortably with their boyfriends, and we have a lot of moms (all moms do is give, give, give; they come here, and don't have to feel guilty about being selfish for a minute)," says Hess. "We also have female clients who've been through physical and emotional abuse, and we help build them back up. One of my female clients hadn't touched anyone in 3 years because she had been physically attacked; by the second session, she was spooning with us."
While most members of the burgeoning pay-to-cuddle industry claim that snuggling has psychological and physical benefits, trained professionals are wary to officially deem cuddling as a form of "therapy." Unlike credentialed therapists, cuddlers do not adhere to any regulatory body. Likewise, they do not obtain accredited training or licenses. Much of the scientific research they cite relates to touch therapy, a field that is somewhat controversial.
"Research has shown that touch triggers a cascade of chemical responses, including a decrease in urinary stress hormones (cortisol, catecholamines, norepinephrine, epinephrine), and increased serotonin and dopamine levels," writes Tiffany Field, director of the University of Miami's Touch Research Institute. The shift in these bio-chemicals, she contends, can reduce depression and also enhance the immune system.
Additional psychotherapeutic studies have determined that touch has the ability to decrease anxiety and cortisol levels in sexually and/or physically abused women, decrease diastolic blood pressure, improve body image, and encourage better sleep patterns.
To achieve these benefits, Hess administers over 60 snuggling positions, and uses them based on a client's needs. Sometimes, she says, they can get a bit experimental:
Gummy Bear Mystery Flavor: This is the closest cuddling position you could possibly imagine. We're squished together on our sides. I have my arm up above his, with my head wrapped around his head. My leg is over his hips.

Tarantino: (Named after Quentin Tarantino, who is an introvert with a foot fetish). The client is sitting up against the wall and I sit underneath his knees and put my feet on his chest. Note: we only do this position for people who don't have a sexual fetish with feet.

Mama Bear: One person is in the fetal position up against the wall; the other lays his or her head on them. It's like a giant human pillow.

Cloak: This is a position we use for our autistic clients. The client lies on his stomach with his legs out straight, then we lay directly on top of them, like two pancakes.
A few advanced cuddling techniques; via Wikihow
Ultimately, Hess, like other pay-to-cuddle company owners, has a singular goal: to put herself out of business.
"I want to get our culture to the point where everyone feels like they know how to communicate physically," she says, "and I want them to know that they matter." In an effort to realize this goal, she organized the world's first ever "Cuddle Con" last year, offering consent courses, seminars, and training sessions. More than 200 people attended from all over the world.
Despite her wealth of experience as a cuddler, Hess admits that she's not immune to the occasional awkward moment. After all, she says, it's the awkward moments that contribute to a cuddler's inner growth.
"The other day, I really thought I was going to fart on a client," she admits in a written post. "I was begging my body to hold it in, squeezing with all my might. I finally succeeded — but man, for a minute I thought I was going to commit the ultimate cuddle faux pas."
Our next post poses a question: how many bridesmaids is too many? To get notified when we post it → join our email list.
This post was written by Zachary Crockett. You can follow him on Twitter at @zzcrockett
---
---