"Some girls collect shoes or fancy jewelry; I collect mermaid tails."
— Mermaid Melissa, professional mermaid
As squealing pre-teen girls gather before a large tank at a Florida aquatic park, Mermaid Melissa wriggles into a 60-pound silicone tail and a clamshell bra.
Backstage, the 32-year-old nods to her production team, then, with the free-flowing finesse of a sea creature, careens into the water. Slowly and gracefully, she glides 14 feet below the surface; here, she'll hold her breath for 5 minutes while doing tricks for the crowd on the other side of the glass.
With platinum blonde hair and blue eyes, Melissa looks more like a Barbie doll than Ariel. But for more than a decade, she has made a living in one of America's strangest trades: the "professional mermaid" business.
The life of a mermaid, especially one who makes a living at her craft, is not for the weak-willed. It is a job that requires synchronous expertise in freediving, swimming, marine biology, and CPR — not to mention a superior level of physical fitness and core strength. With nearly a decade of experience as a professional freediver and underwater performer, Melissa fits the bill. But she is also a consummate entrepreneur who has built a thriving business around her mermaid alter-ego.
Under the Sea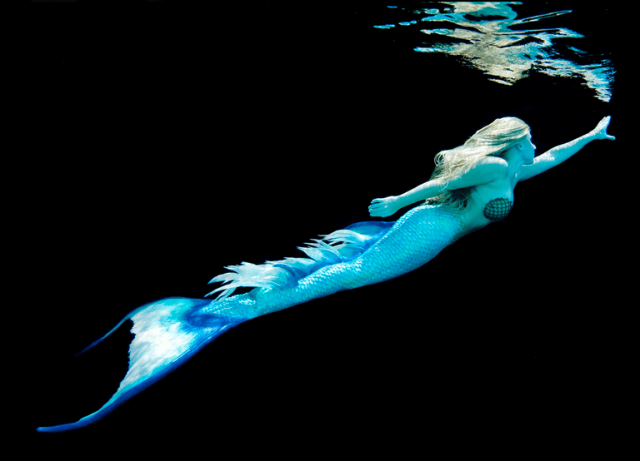 As a child in the coastal town of St. Augustine, Florida, Melissa Dawn spent her early days reading books on marine biology, and exploring the treasures brought in by the tide. She developed a fascination with sea life ("Teachers identified my assignments by the dolphin drawings on them," she says), and eventually sought to connect with them in real life:
"I would often join my older sister and go surfing…I'd place a tape recorder with recordings of dolphin echolocation in a Ziplock bag, and I'd try and play it to the wild pods of dolphins that visited the inlet I swam in. At 12 years old, I was convinced this would work, and was fascinated at the idea of better understanding, or one day cracking, the 'dolphin communication code.'"
In her early teens, Melissa moved with her family to Orlando, and, for the first time, the shy, quiet animal lover "came out of [her] shell." With dreams of someday working with Atlantic bottlenose dolphins, she secured a weekend job as a show attendant in the sea creature stadium; by 16, she'd worked her way up to part-time cage cleaner, and by 18, she was tasked with directly helping the performers.
Eventually, she graduated college with a marine biology degree, became a certified freediver, and was hired by "the largest marine life park in Orlando" to be an underwater performer. For 8 to 12 hours a day, she swam in large aquatic tanks, entertaining thousands of tourists. It was a job that required a unique blend of advanced swimming skill, technical diving know-how, endurance, and extreme breath-holding.
"I worked my way up to where I was holding my breath for four minutes and 32 seconds underwater, and then, five minutes," she says. "It required constant training, and I soon got to the point where swimming was as natural to me as breathing."
Renowned for her breath-holding and underwater tricks, the venue began announcing her to the crowds as "Mermaid Melissa." It wasn't before long that audience members began to ask her where her tail was.
A Business Tail
Melissa has always favored Jacques Cousteau over Ariel: "I didn't grow up obsessed with mermaids," she admits. "I watched The Little Mermaid as a kid, but never thought I'd actually turn into one myself."
Yet after dozens of inquires about her lack of a tail, Melissa realized it was time to suit up; when she did, she figured she'd also spread her new brand name outside of the confines of the Universal theme park.
In 2006, just after YouTube launched, she began posting videos of herself free diving; eventually, she moved onto swimming in full mermaid regalia — clamshell-embossed bra and 60-pound, realistic tail included. "There was nothing like this on the Internet at the time," she says, "and I received a lot of positive feedback from viewers asking to see more content." Very quickly, she became an Internet sensation, sparking long-winded debates among impressionable commenters over whether or not she was a "real-life mermaid."
After a few of her videos went viral, Melissa posted a promotion offering her services as "mermaid for hire" at children's birthday pool parties. The ad generated so much interest that she decided to launch her own professional mermaid service company.
* * *
While Mermaid Melissa may be credited with launching the first online mermaid rental franchise, a long lineage of professional mermaids precedes her.
As early as 1902, Annette Kellerman, an Australian swimmer and high diver, was performing as a mermaid. For several years, she swam twice daily in a large fish-filled tank at Melbourne's Princes Court entertainment centre, and later, for spectators at the Exhibition Aquarium. After finding her way to the United States, she routinely acted out "water ballets" at the New York Hippodrome while dressed in a crude fish-like outfit (for her efforts, some credit her as the founder of synchronized swimming). She'd go on to star in a number of aquatic-themed films, including the likes of The Mermaid (1911) and Queen of the Sea (1918), for which she designed her own specialized mermaid costumes.
In 1946, Newton Perry, a business-savvy ex-Navy SEALS trainer, purchased a junk-filled reservoir on Florida's Gulf Coast called Weeki Wachee Springs. He cleaned it out, and, over the course of a year, rigged a system that allowed divers to breathe underwater using free-flowing air hoses supplied by a compressor. After building a theatre around the springs, he then scouted a group of "pretty girls," trained them to effortlessly swim 20 feet underwater using his breathing apparatus, and marketed them as the "Weeki Wachee mermaids."
A mermaid show at Weeki Wachee Springs (c.1950s)
Weeki Wachee opened in October of 1947, and by 1950, had become one of America's premier tourist hotspots, attracting some 500,000 visitors a years, including Elvis Presley. To be selected as one of the park's 35 full-time mermaids was an honor and a privilege: women came from across the world to audition.
Throughout the 1960s, the nearby Silver Springs resort featured mermaids who swam beneath tourists in glass-bottomed boats (these shows continue to this day, and Mermaid Melissa can often be seen performing there). The park eventually received so much acclaim that it was designated a National Natural Landmark in 1971. At least 20 feature films, including the James Bond flick, Moonraker (1979), were filmed there.
A mermaid performs at Silver Springs in the 1960s
Riding on the success of Splash (1984), and Disney's The Little Mermaid (1989), the 80s saw a rejuvenated interest in, mermaids and sparked a D.I.Y. industry. Independent retailers popped up offering custom-made mermaid tails, and freediving classes were marketed as "mermaid-specific." Increasingly, major theme parks parks hired in-house mermaids to performer in tanks alongside sharks and stingrays.
With the rise of the Internet in the early 2000s, mermaid discussion forums popped up, offering the growing community a place to gather and deliberate over things like swimming techniques and tail construction. Still, little had been done to market the majesty of "mermaiding" to the broader public — that is, until Mermaid Melissa came along.
* * *
Since 2007, Melissa has run her own mermaid mini-empire.
What started as her offering to perform at children's' parties has since expanded into a fully-staffed "mermaiding troupe" that puts on shows all over the world, and an arsenal of five custom-made mermaid performance tanks that are rented out frequently for private parties.
"I identify myself as a businesswoman with a mission statement of promoting ocean education through underwater entertainment," she says. "For me, my mermaid persona is an escape from the norm — it makes me feel like Clark Kent transforming into Superman."
Her performance company, "Mermaid Aquatic Entertainment," is composed of a highly-trained team of merfolk, all of whom she sourced from theme parks in Orlando and Los Angeles. She doesn't just hire any old mermaid: her performers are skilled acrobats, swimmers, and, most importantly, freedivers:
"Freediving is a dangerous skill. It takes a lot of training and it is something you can lose if you do not continuously maintain it. I train my performers how to be the best at mermaiding, but I do not hire those without the skills to be safe and athletic underwater. The people I hire at my company have a strong background in freediving, and most have had experience entertaining in underwater tanks on a single breath."
And who exactly hires a troupe of mermaids?
In the past few years alone, Melissa and her mer-crew have been hired by aquariums, hotels, resorts, movie directors, event planners, corporate companies, photographers, charities, reality shows, fairs, concerts, fashion designers, and corporate events — just to name a few. She's worked every type of event, from lavish VIP parties to Hollywood movie shoots, and her work has taken her across the world: Japan, Dubai, Germany, the Bahamas, Italy, Belgium, France, London, Portugal, Jamaica…the list is exhaustive.
Often, clients request that she wear a tail of a specific color, and she'll have to get it custom-made. For these requests, she turns to Mike Van Daal, a trusted tail maker based in Rochester, Michigan who produces realistic, high-quality wares that retail for upwards of $5,700 and take 3 months to make. But like any good mermaid, Melissa has learned there is much more to the profession than the quality of one's tail: "It is one of many tools," she says, "and, as with any business, no one thing guarantees success."
Melissa has managed to build out an impressive online fan base: her 134,000 YouTube followers has earned her a YouTube silver play button award (her channel has over 102,548,000 views), and her 455,000+ Facebook fans provide her with an endless stream of business.
"My rates vary a lot based on what type of event the client requests," she tells us, "but I will say that I do not get paid in sand dollars."
A Mermaid With a Message
When theme park-goers first gave Melissa the nickname "Mermaid Melissa" ten years ago, she was a bit reticent to accept the title; since then, she's not only launched a thriving business, but has legally changed her name to "Mermaid."
"I guess I just decided to take it to a whole different level than they ever imagined," she admits.
But the name change came with a message: after many years of working at the Orlando marine life park, she became disillusioned by "how captivity really plays a role in our society":
"I have been on both sides of the issue — as a fan of marine parks, and as a trainer of killer whales and dolphins. What once seemed like a good source of education for children to learn more about marine mammals is now out of date. [Keeping these animals in tanks] is not the best way to teach future generations about respecting and protecting animals."
Instead, Melissa advocates using mermaid shows as an alternative form of marine entertainment. "As a mermaid performer, I have the choice to perform, and I can leave the tank at the end of the day," she says. "The mermaid persona has enabled me to be a voice for the animals who can't speak out."
Her company's slogan — "Let's help save the oceans before all creatures become mythical" — voices her vision: a world focused on protecting and saving the sea and its dignified creatures. In a roundabout way, it's a message that harkens back to her dream as a child.
"When I was a kid, I wanted to grow up fast so I could have an adult job, and achieve my dream [of working with marine animals]," she says. "It's pretty ironic how I've come full-circle: now that I'm finally an adult, I'm living out every little girl's childhood fantasy."
This post was written by Zachary Crockett. You can follow him on Twitter here.
To get occasional notifications when we write blog posts, please sign up for our email list.
---
---