About 6 weeks ago, we released Content Tracker, our dashboard for tracking content marketing performance. Tracker is a simple way to see if your content generates inbound links, traffic goal conversions, and social sharing.
We think the most clever part of Tracker is its integration with Slack.
If you make content, it's awesome to get real time notifications when something good happens thanks to your content. When your article hits Reddit, or the New York Times mentions it, Tracker will fire off a notification in Slack so your team can celebrate.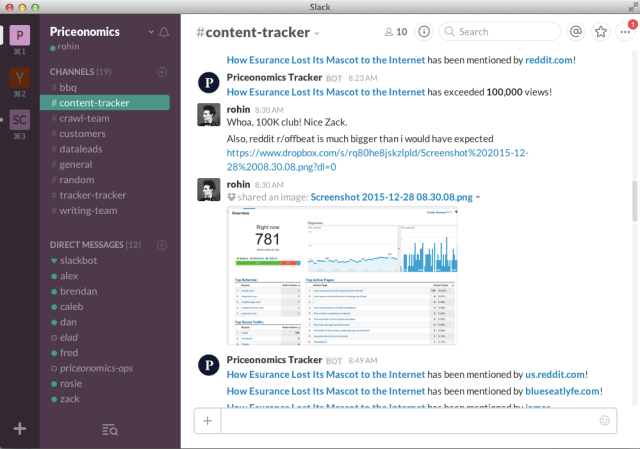 When we learned that Slack had created an "App Directory" to showcase applications that could be used by Slack users, we decided to submit Tracker to the store. After all, here was the beginning of a brand new application platform, and we fortuitously had an app ready to go for it!
We submitted Content Tracker to the Slack App Store, and we're proud that it's now the #5 most popular app in the Marketing category and the #6 most popular app in the Analytics category.
You can check Tracker out in the Slack App Store here or read more about it in our introductory blog post.
Why We Submitted Tracker to Slack's App Store
Based on our experience so far, we think Slack has the chance to be very, very big for people who sell software. Here's why.
First, one of the biggest problems when selling a tool or a SAAS dashboard is adoption by your target users. Will they actually use it if they have to visit another website? Probably not.
With Slack notifications, key information can be delivered to users when they need it. Users won't need to visit your site to benefit from your tools. Software like Tracker, which delivers key information mostly through notifications, is well suited to the Slack Platform. We feel like Slack is a big wave because it drives engagement with business applications.
Second, more people have signed up for Content Tracker since we submitted it to the Slack App Store. Just being in the Slack Store helps with the distribution of your app! While most of our signups come from word of mouth and people encountering our blog posts, the Slack Store definitely increased our rate of daily signups.
Third, it feels like these are just the early days for the Slack App Store. Today, the App Store is a website that's not really integrated with the Slack App, which millions of people use every day for team communications. It seems like only a matter of time before the App Store is more tightly integrated with the App itself.
Our hunch is that for business applications, the Slack App Store could be as seminal a development as the Apple and Google App stores were for mobile applications.
If you're interested, here's the link to sign up for Content Tracker.
We think you'll like getting a notification in Slack whenever your content generates a press mention or hits a traffic or social sharing milestone. Content marketing is more fun when you get to see the results. And if you're a business that make software, now might be a good time to submit your application to the Slack App Store.
This post was written by Rohin Dhar.  You can follow him on Twitter here.
---
---