For the last year, I've been trying to find the perfect lounge chair for my living room. A chair that I can sit on for hours while reading a book. At the same time, I'd like the chair to have a minimal and modern aesthetic and fit in a city apartment. To be honest, the search hasn't been going that well. All the chairs that might fit the bill are extremely expensive! So, I've dutifully been using Priceonomics to monitor the used prices of various lounge chairs, armchairs, and reading chairs. Here are some of the chairs I've been monitoring:
Hans Wegner Papa Bear Chair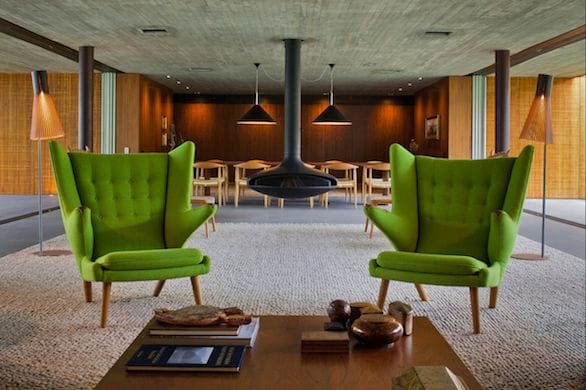 Image credit: Tumblr.
I probably won't get this chair because it's a bit bulky and very expensive, but I love the mid-century modern design. My friend Dan Inamoto introduced me to it when I was in Japan this summer.
Restoration Hardware Copenhagen Chair
Image credit: Restoration Hardware.
Normally, I'm not a fan of leather furniture, but this one is sleek and fairly comfortable. Most likely I'd prefer a fabric lounge chair though.
Room & Board Boden Chair
Image credit: Room & Board.
I almost pulled the trigger on this chair but in the grey color. I went to check it out on Craigslist but the seller and I couldn't agree on the price. The chair would have been a bit big for the space anyways.
Gisele Chair
Image credit: MYD.
I went to check out a pair of these on Craigslist as well. Ultimately the color of the wood and white rope didn't really match the rest of my furniture. For a chair made of rope, it was pretty comfortable but I'm not sure you could cozy up with a book for hours on it.
Room & Board Quinn Chair
Image credit: Apartment Therapy.
Honestly, of all the chairs I've looked at, I'm most likely to purchase this one (but in a different color and fabric). I checked it out new at Room & Board and it was pretty comfortable and minimal looking. If I find it for a good price on Craigslist, I'll probably buy it!
Alpha Shell Egg Chair
We found this chair at furniture store in SOMA. In the future, everyone sits in chairs like this!
The Eames Chair
Image credit: Sky High Lives.
Any discussion of chairs would be remiss without including the Eames Lounge Chair. I don't have the room or budget for one of these, but it sure is nice looking.
Well, those are the chairs I've looked at so far. The lounge chair has turned into my white whale of sorts – hopefully I'll harpoon one soon!
This post was written by Rohin Dhar. Follow him on Twitter here or on Google Plus. Get the latest from Priceonomics on Facebook or Twitter.
---
---