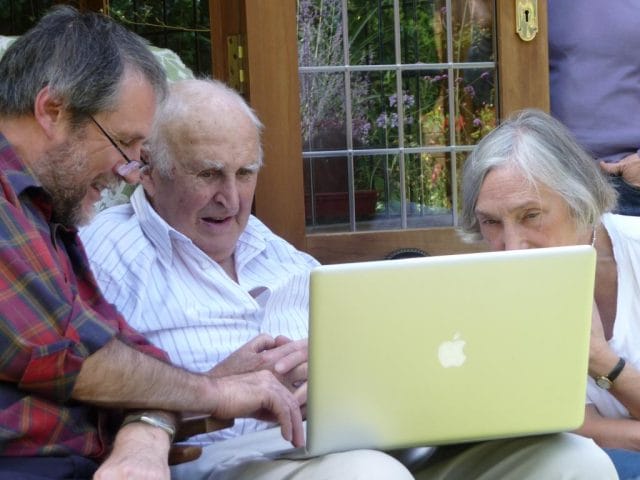 This post is adapted from the blog of Quantcast, a Priceonomics Data Studio customer. Does your company have interesting data? Become a Priceonomics customer.
***
Who else visits your favorite sites?
Just because a website makes content for a specific audience – say women or baby boomers – doesn't mean that other groups won't find and consume it too. If you could walk into a brick-and-mortar version of your favorite news site, what would you see? Mostly women? Millennials? Would you be surprised with what you found?
We analyzed data from Priceonomics customer Quantcast, a company that measures and quantifies web audiences. Quantcast uses a combination of direct measurement and inferential statistical models, we're able to determine the gender, age, income, and education makeup of a website's traffic. We turned to this data set to find out which websites drew the most male, female, millennial, senior, parent, wealthy and educated audiences.
For these rankings, we looked at the top 500 websites in the U.S. analyzed by Quantcast, ranging from 8 million to 3 billion pageviews per month. Companies that use Quantcast Measure – known to us as "quantified" sites – include about half of all major websites, including sites like BuzzFeed, The Onion, Yelp, and Stack Overflow.
Zulily and BlogLovin take home the award for the greatest percentage of female visitors, while New Arena and Covers, sports and sports betting websites, take home the gold for having the most male audience. Gizmodo Media Group – which owns Deadspin, Kotaku, and Jezebel – has the millennial market in hand, while conservative news sites like Conservative 101 and Freedom Daily pull in the most senior citizen web traffic.
USA Team Prep, a homework help site, wins the prize for parents making up the largest portion of web traffic. The Real Deal, a real estate site, takes home the accolade for having the wealthiest audience, and Crunchbase, a company information database and investment reference, draws the most educated (with an honorable mention for second most wealthy) audience.
***
First, we looked at which websites drew the largest percentage of female and male web visitors.
Data source: Quantcast
The number one website with the most female traffic is Zulily, an ecommerce site selling clothing, toys, and home products at deep discounts. Women also made up the majority of traffic at lifestyle sites like extreme couponing blog The Krazy Coupon Lady, do-it-yourself project database Hometalk, and new media site Refinery29.
While women tended to make up the largest portion of web traffic on lifestyle and entertainment websites, men made up the biggest chunks of web traffic on sports and finance websites.
Data source: Quantcast
The award for the largest percent of male web traffic goes to New Arena, a sports and entertainment website, with 98% of visitors being male.
12 of the top 25 websites with the highest percentage of male web traffic were sports websites, ranging from general multi-sport sites like New Arena to sports betting sites like Covers and Scores and Odds, fantasy leagues such as Rotoworld, and sport-specific blogs like 90min or GolfWRX.
Men dominated the traffic on finance websites, such as stock visualizers Finvizand StockCharts, and stock forum StockTwits. They also made up the majority of traffic at ServerFault, the Stack Overflow forum for system and network administrators.
Next, we dug into millennials' browsing habits. For this study, we defined millennials as visitors aged 25-34 years old.

Data source: Quantcast
Overall, millennials made up about 18% of traffic in the top 500 quantified websites we looked. The top two websites with more than double the normal share of millennial visitors were Pinkvilla, a Bollywood and beauty site, and Rajnikant V/S CID Jokes, an Indian viral content producer. Indian Americans are one of the fastest growing ethnic groups in the U.S.; additionally, the Indian population tends to be younger than the U.S., where baby boomers still make up about a quarter of the population.
By and large, entertainment and lifestyle websites drew in the most millennial visitors, specifically the Gizmodo Media Group network of sites, including sports entertainment site Deadspin, gaming entertainment site Kotaku, women's lifestyle site Jezebel, automotive entertainment site Jalopnik, and technology entertainment site Gizmodo.
Clearly, millennials are using the internet for entertainment. Is the same true for older generations? To find out, we looked at which websites had the largest percentage of visitors who are senior citizens.

Data source: Quantcast
Conservative 101, a conservative news and opinion website, wins the gold for largest concentration of senior traffic with nearly 40% of web visitors over the age of 65. Overall, websites with the largest share of senior visitors tended to be news websites, particularly those leaning to the far right, like Freedom Daily and US Herald, or far left, like Truth Examiner. Beyond news, seniors also made up large percentages of web traffic for entertainment websites like TheJigsawPuzzles.comand Viral Kittens, and online gaming site Shockwave.
Do senior citizens share these interests with other age groups? We took a look at the age breakdown of the top 25 sites with the most senior citizen traffic to get a better idea.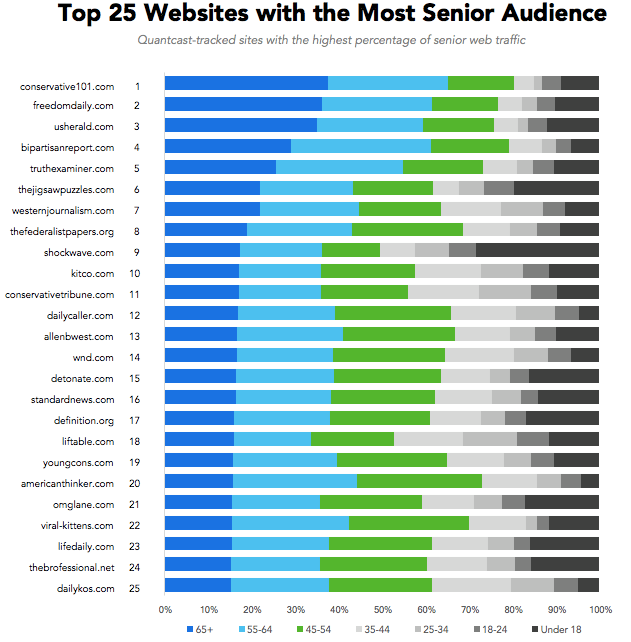 Data source: Quantcast
More or less, seniors shared website interests with their neighboring age brackets, ages 45-54 and 55-64. The exception seems to be in gaming and entertainment websites like TheJigsawPuzzles.com and Shockwave, which have larger than usual percentages of visitors aged 18-13 years old.
What sites do parents tend to visit? We looked at which websites had the biggest percentage of visitors who are parents.

Data source: Quantcast
The number one website reaching a parent audience is USA Test Prep, a curriculum resource and standardized test preparation subscription service.
Parents tend to make up the biggest share of web traffic for education and homework help websites like Grade Saver and Math-Aids. They also made up a large percentage of visitors at little league websites like eTeamz and track and field statistics website MileSplit.
Next up, we wanted to find out where more affluent web traffic congregates.

Data source: Quantcast
The website with the largest percentage of visitors making more than $150,000 annually was The Real Deal, a website with news about the New York City, Los Angeles, and Miami real estate markets.
Finance and investment websites like company information database Crunchbase and stock-focused websites Stockhouse, MarketWatch, and Nasdaq also had audiences with a larger percentages of visitors making more than $150,000 per year.
Beyond trading stocks, this audience also made up a larger than normal percentage of traffic at restaurant reservations site OpenTable, and tennis (USTA) and golf (GolfWRX) websites. They also made up a larger share of the audience at local sites like D.C. news site WTOP, parenting blog D.C. Urban Mom, New Jersey news site NJ.com, and New York City entertainment site Page Six.
Do the sites with the wealthiest audiences also have the most educated audiences? We looked at the percentage of visitors with at least an undergraduate college degree to find out.

Data source: Quantcast
The website with the largest percentage of visitors with a college degree was Crunchbase, which also took second place for wealthiest traffic by composition. There is quite a bit of overlap between the two groups; stock resources FinViz and StockCharts, sports sites USTA (United States Tennis Association) and GolfWRX, home editorial Curbed, and comic strip Dilbert all appear on both rankings.
***
Note: If you're a company that wants to work with Priceonomics to turn your data into great stories, learn more about the Priceonomics Data Studio. Cover photo by flicker users Jody Morris.
---
---