This post was written by Daniel Mrdjenovich. Follow him on Twitter or Google Plus.
If you're in the market for a Specialized road bike, you're probably well aware of the huge investment you're about to make. While $700 might take you a long way with most brands, it certainly won't land much more than the lowest end Specialized bike. At Priceonomics, we consider Specialized the Mercedes Benz of road bikes. To prove our affection, we've lined up our favorite cyclocross, endurance, racing, and track bikes complete with pictures. Enjoy!
10. Allez
Image credit: Bike Forums.
Consider this your entry-level racing bike. Despite an aluminum frame, its handling compares to that of high-end carbon-framed models. Fair used price: $800.
9. Tricross
Image credit: Synergy Cycle.
If you're looking for a ride to explore trails, hit quick sprints, and tackle the daily commute, this your best bet. Pretty much the definition of flexibility. Fair used price: $900.
8. Langster Track Bike
Image credit: My Fixed Gear.
At Priceonomics, we're huge fans of fixie bikes. The Langster resembles a fixie in style but is best suited for the tracks at the local velodrome or outdoor tracks. Fair used price: $500.
6. Roubaix & Ruby
This brother-sister combo stands at the top of endurance road bikes. Both were designed for long distance trails rather than short bursts. Fair used price: $1700 (Roubaix); $1300 (Ruby).
5. CruX
Image credit: Common Hype.
At this point, we've reached the hardcore set of wheels. Take this cyclo-cross ride across any pavement, wooded trails, grass, or steep hills you encounter throughout a competition. Fair used price: $1300.
4. Tarmac
Image credit: Cycling News.
Although the Tarmac isn't necessarily the most badass road bike out there, it makes the most sense economically. Riders won't notice too much of a difference in handling or comfort when compared to the highest end models such as the Shiv and Transition. Fair used price: $1800.
3. Shiv
Image credit: Bike Rumor.
We've finally arrived at Specialized's top line models. The Shiv is designed largely for triathlon events. Critics and riders praise its supreme handling and ability to take corners at any speed. Fair used price: $2500
2. Tandem Bike
Image credit: Bike Rumor.
What could possibly top the Shiv in our books? How about a 2-in-1 Shiv Tandem? This concept bike never made it to mainstream production but we could dream of one day commuting to work as a team!
1. Transition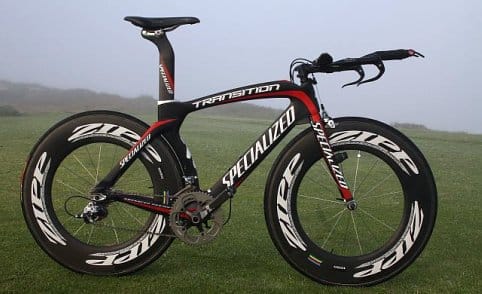 Image credit: The Hub.
Cue the drumroll, we have arrived at our favorite Specialized road bike. No, you don't necessarily need all the Transition offers unless you're extremely serious about racing, But still, sit back and admire the beauty. Fair used price: $2500.
Oh yeah, Priceonomics is hiring engineers!

Get the latest from Priceonomics on Facebook, Twitter, and Pinterest.
---
---