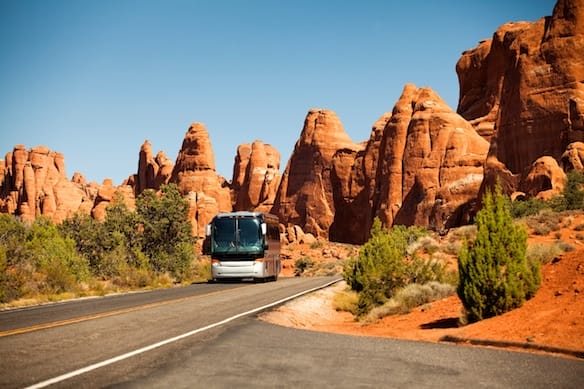 Image credit: JCL Companies.

Adventures on the Open Road: How to Buy an RV
By Valerie Farabee
The mortgage is paid, the kids have families of their own, and it's time to hit the road. Or maybe you're young, and the idea of being saddled down by a mortgage and staying in one place makes you understandably queasy. Either way, the siren song of mobility is calling you and you are ready to go! Read on to find out more about how to buy your first RV.
Live Where You Work
A Recreation Vehicle, or RV, is a motor vehicle with an attached living space and home amenities. They usually come equipped with a kitchen, bathroom, bedroom, and living room/ office; if you are a freelancer or other mobile professional, an RV lets you travel to where the work is! RVs are also commonly known as caravans, camper vans, or motorhomes, so keep that in mind to avail yourself of the broadest possible selection of vehicles when you are doing your research.
Question Everything
An RV is a major purchase, and as such should be treated like any other major investment: carefully, with lots of research and homework to help in the decision-making process. Before doing anything else, ask yourself these questions to prepare you for the research ahead:
Are you a weekend warrior, or are you planning extended trips?

How many people at a time do you anticipate sharing the space?

Do you want an RV with its own motor, or do you plan on towing it?

Where do you plan to keep the vehicle when you aren't using it?

What is your budget?
Having a good idea of what you want is essential to the buying process. It will insure you against costly impulse buys and make sure you don't buy too much – or too little – for your needs. Priceonomics is a great resource for price comparison of new and used RVs!
Important: Factor in the cost of insurance, storage in the off season, park hook ups, and regular maintenance, all of which will be influenced by the size, type, and brand of RV you decide to buy.
Different Strokes for Different Folks
"Recreational Vehicle" is an umbrella term for a number of different vehicles, but what they all have in common are living quarters and amenities for when you're on the road. Let's take a look at the most popular types of motorhomes and travel-trailers.
Class A Motorhomesare the largest of the RVs. They are constructed on a commercial truck or bus chassis and resemble a bus in design, complete with a flat front end and large windows. These come with all the amenities, including a kitchen and bathroom. You can live comfortably full time in one of these, or take extended comfortable vacations.
Bus Conversions are commercial passenger or school buses that have been converted into an RV. These are highly customizable, and luxury add-ons are common. When she's not chartering a 777, this is the kind of bus Rihanna rolls in when on tour. Yes, they are pretty sweet!
A Class B motorhome, or CamperVan, is a an RV built on a van chassis. These are definitely smaller than their Class A counterparts! These are not ideal for extended travel, but still very comfortable for weekend or week-long trips. Other than size, the main difference between these two is that while a campervan might have a rudimentary kitchen, there are no bathroom or shower facilities.
Class C motorhomes are also built on a van chassis, but are usually longer than a Class B, and distinguished by an extended over-cab section which contains an extra bed.
Travelin' and Trailin'
We've looked at the in-motorhomes, now let's look at Towables, a type of RV that uses a tow-vehicle to propel the camper. Towables include travel trailers, fifth wheels, pop-up campers and any other living space that can be towed behind you. For longer trips or full time living, travel trailers and fifth wheels are the most practical option for the majority of RVers.
Travel trailers are living quarters situated in large trailers that are towed behind a vehicle. Like in-motor RVs, they can be simple or lavish, depending on the size and inclinations of the owner. These are great for long term trips and camping where there are no accommodations!
A Fifth Wheel is a type of travel trailer that hitches to the back of a pickup truck instead of a sedan. These models are popular with people who camp for months in one place , and who want to use their trucks for errands. They are more stable than traditional tow trailers because the weight sits directly over the rear tires.
A Pop-up camper is a type of RV that can be collapsed and "popped out" for convenient storage and travel. Basic pop-ups include a variety of amenities, including a folding dinette, water tanks, a sink, a power supply, bunks and a storage cabinet. Luxuries like refrigerators and AC units can be added to this super light, storable, and easy to use RV!
Rent to Own
Once you have narrowed down price, size, style, and type, the next step is to start talking to RV owners and reading up in the RV forums, like the NADA guides, RVTraderOnline or RVSearch. Talking to owners virtually and in person will give you a real life idea of what owning and using the particular RV you're considering is really like, allowing you to get the low-down without first having to buy it.
RV You Gonna Drive That Thing?
So you've figured out the nuts and bolts, the size, length, model and brand you want. Are you ready to buy? Not quite yet! Before you buy anything you want to test it out! And the best way to do that is to rent the model you're intending on purchasing and taking it on a trip! The best way to tell if it will work for you is by using it as you intend to after you buy it. Rent it and go camping! This way you can test the kitchen and the shower and all of the little things you might not think about when at the dealership, but that could be big issues on the road.
The Price Depends On You
The price range for an RV is highly variable and will depend on if you buy new or used, the size you ultimately decide on, and the amenities you purchase to go along with it. The price is also negotiable! Remember to never pay sticker price, and negotiate with the dealer as you would if you were buying a car. The best time to buy is at the end of summer, when dealers are getting rid of summer stock. Important: do not buy a discontinued model! You will have problems with warranties, repairs, and other important maintenance issues that will take away from the joy of RV ownership.
Hit the Road, Jack!
Good luck on your search for the right RV for you and your family! It's a lot of work up front, but you'll know you made the right decision when you're on the open road and heading for your favorite vacation spot. Happy camping!
---
---