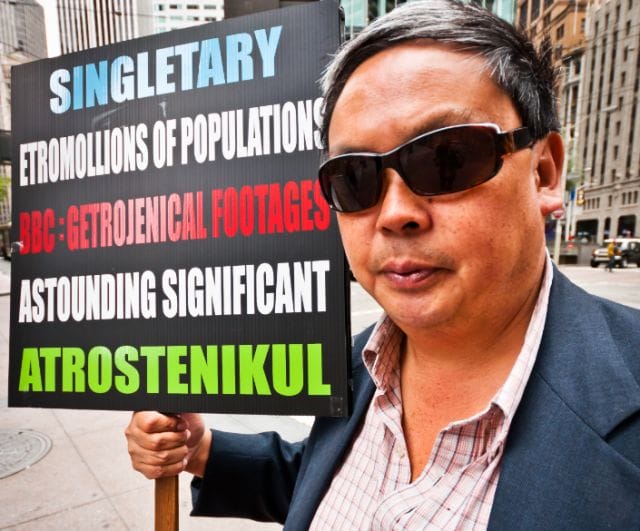 Source: pix.plz (Flickr)
In a city full of eccentrics, one man reigns supreme. He is the only San Franciscan to be named both "best protester" by the SF Bay Guardian and "most pathological citizen" by SF Weekly. His self-coined lexicon — splayed on custom-made signs in neon capitals — piques the interest of even the most incurious passersby. He believes that Ben Franklin has been secretly resurrected by the government. Meet Frank Chu, professional picketer.
Of course, you very well may have encountered him already. Over fifteen years, Frank has cemented himself as a San Francisco legend. He's known for his innocuous demeanor: standing five feet, four inches and eternally sporting a suit jacket and a comb-over, he protests in silence, and doesn't speak unless spoken to. Behind a pair of wrap-around sunglasses, his eyes are unfazed by the madness on Montgomery Street.
He claims to hold a Guinness World Record for "continuous protesting," and says he marches in over one hundred events per year. Some of the biggest media-magnet events of the decade have featured Frank: he can be seen lingering behind newscasters in the Scott Peterson trial, BALCO hearings, and California recall election coverage, always toting his trademark signs, and always leaning slightly to one side, as if balancing the weight of the universe on his shoulder.
A Mission nightclub, 12 Galaxies, was even named in his honor. Before the bar closed in 2008, Frank was a fixture and was gifted nightly "delicious Budweisers" and meals by the owners. Hipsters gathered in droves for the "Frank Chu Experience," a celebration at which Frank would deliver infamous, often undecipherable speeches: "Concubines, second wives, uh, orgies, top secret, Eisenhower, Gerald Ford, 12 galaxies, perverted prejudice, telepathic scientific garble."
Indeed, Frank's motives are a bit difficult to understand, but he took some time to speak with us and here's what we gathered.
Frank reigned as the "Last Emperor of China," before he and his royal family were "exiled by a mistake of Benjamin Franklin." Frank was then reincarnated as the star of a movie and television series called "The Richest Family," but claims he never saw a penny of his royalties; instead, Bill Clinton, George W. Bush, Ronald Reagan, and Grover Cleveland embezzled "twenties of billions" from him with the assistance of the "12 Galaxies" — a group of planets intent on profiteering from his fame:
"The 12 Galaxies, former US Presidents, and the CIA, FBI, and Universal Studios, all conspired to take my royalties, owed to me from my star role since childhood on my television show. Jimmy Carter is innocent."
Frank says he's been filmed since childhood by an intricate network of "top-secret, invisible cameras," and the footage is edited bi-weekly for inter-galactic screenings. The presidents, who exist in duplicate forms in other galaxies, are also responsible for a multitude of war crimes and treasons that span many worlds. He was unaware that he was being filmed until 1998, when he was beamed a telepathic message from a panel of Soviet and UN presidents. Immediately following this, he took to the streets and began to protest.
Before receiving this "life-changing message," Frank was the epitome of normal. After earning a degree in business administration from California State University, Hayward, he went on to study at UC Berkeley. He worked as an accountant for many years, and settled in a one-bedroom Oakland apartment. He continues to live there today, and commutes on BART (a Bay Area train system) to San Francisco every day at 7 AM.
In his apartment, he has hundreds of signs, all custom made over the years at Signographics, an SF-based printer. He had a deal with entertainment site, Laughing Squid: for five years, the website paid him $600 per month to sport their name on the back of his sign. In the past, he's also had "sponsorship deals" with Rasputin Music, and local politicians Chris Daly and Phil Angelides (who were both "endorsed" by the 12 Galaxies). Frank's current advertising rate? $125 per week.
Frank's "12 Galaxies" have exponentially increased. In 2007, the galaxies plotting against him went from 12 to 85, then shot up to 7,645,000. By 2008, this number rose to 75 million, then 785 trillion. In 2011, he had to coin a new number to express the galaxies against him: "deskrothullions;" when we spoke with him, this number had raised to "vitgrorollions of populations." Over time, his iterations have changed drastically:
Source: Nero
Some have considered Frank's posters "enigmatic language poetry:" his protest signs have been featured in exhibits across the US, China, Estonia, and Belgium. There even exists an online "Chu Maker" that allows for the modification of Frank's signs. But Frank seems both unaware and uninterested in artistic recognition. He's devoted to spreading the truths that consume his mind; only in sharing them does he find relief.
We stand at the corner of Market and Kearny in silence. He's given his routine spiel, and is ready to move on. "Uhh, don't worry," he says, slinging a gray blazer over his arm. "Obama is innocent." He glances from side to side, adjusts his grip on the wooden signpost, and meanders off toward second street.
For a moment, he pauses at a crosswalk and seems uncertain of his whereabouts; it is as if his duties lie in two worlds, and he's unable to commit to either. But before I can reach out, he's disappeared in a wave of people, his sign bobbing through the crowds like a buoy lost at sea.
This post was written by Zachary Crockett. Follow him on Twitter here, or Google Plus here.
---
---