It's a Wednesday at Gallileo Lounge, and a small but faithful crowd has gathered for "Countrified Night." A sign by the door cautions that the event is "for hard core country music lovers only," and attendees have not taken this lightly: they don cowboy hats and bandanas, and hum old Western country tunes as they wait for their hero to take the stage.
They've come to see a man named Elvis, who has gained a reputation for his deep, forlorn voice and campy lyrics. Like a true country gentleman, he stands quietly in the shadows, tucking in his checkered shirt while the sound man tests the microphone.
Gallileo's scene tonight could be a snapshot of any small Midwest town, save for one thing: we're not in the United States — we're in Nairobi — and the man on stage is the Kenyan king of country.
Elvis performing on Alfajiri, a Kenyan television program
Elvis Otieno — Sir Elvis, as his fans call him — seems to have lived a childhood quilted from country music lore. He was born in 1977 (the same year Elvis Presley died) near a railroad track in a small shanty town. His father was a Pentecostal preacher who played gospel music on the guitar; his mother collected American records and exposed him to Western country singers: Johnny Cash, Jim Reeves, Charley Pride, and the like.
At age seven, Elvis and his family moved to Norway, where he started his first country band and began playing shows at small clubs. When a school trip in his early teens brought him to the United States, he got the opportunity to see one of his idols, Shania Twain, perform live. It changed his life.
Elvis returned with a conviction: ""what you love most is what you're most likely to succeed in." He left his engineering job in Norway and returned to Kenya in 2003, intent on carving out a career as a country singer. "At the time," he says, "there was a very small country music scene. It was very hard to build an audience."
Kenyans in Nairobi, however, are surprisingly recognizant of Western country music: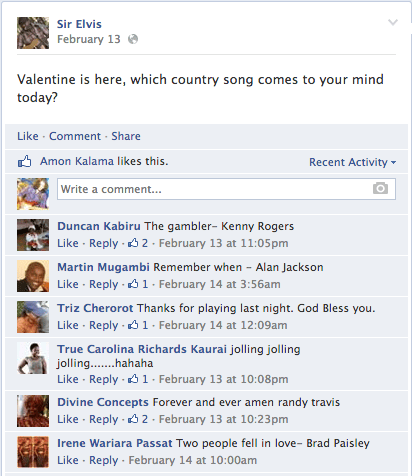 Tom Turino, an ethnomusicologist at University of Illinois, explains that the transgression of Western music into other cultures is quite common — especially in Africa:
"American country music has been popular in Africa since at least the 1940s. The mode of diffusion was through records and movies. In Zimbabwe, I interviewed one acoustic guitarist who said he got interested in the "box" (acoustic) guitar after having watched a Tex Ritter movie. The old "singing cowboy films" of the 1930s and 1940s were one important source of inspiration; I found one guy who was still doing Jimmie Rodgers imitations, and Jimmie Rodgers was a big inspiration in many places in Africa, including West Africa."
Turino also attributes this to the evolution of Mugithi, a style of music originated by the Kikuyu people of Kenya in the 1960s. Mugithi seems to have emerged from Africans' fascination with these records and films; artists wear cowboy hats and sing lyrical songs with twanging guitars.
Guy Morley, a British producer conducting an independent study on the link between Mugithi music and American country music says the similarities are undeniable:
"The Kikuyu were able to create their own brand using ingredients from Western cowboy music; they borrowed the guitar style, but incorporated their own vocal intonation that was drawn from their own traditional music. Like their inspirations, they built their music through good storytelling about life in the countryside.
While American cowboys reminisce about "selling peanuts on the roadside to survive," the Kikuyus voice their own unique struggles, singing about life in an environment "not much different from that of the cowboys."
Popular Mugithi music in Kenya
Turino agrees that it is the storytelling aspect of country music that attracts Kenyan listeners. He tells us that when he was conducting his research in Zimbabwe in 1992, he had access to the sales data of the largest record chain in the country; the information was surprising:
"Dolly Parton, Jim Reeves, and Don Williams were the three largest sellers (of all genres!). I asked people (musicians and listeners alike) what the attraction to country music was, and the main answer I got was that people liked 'story songs,' i.e. the narratives in country."

When Elvis returned to Kenya, he noted the popularity of Mugithi, but wanted to stick to his "roots:" old fashioned, Western country music. He recruited the best like-minded musicians he could find and expanded his band to four members. They play mainly cover songs — "The Gambler" (Kenny Rodgers), "Leaving on a Jet Plane" (John Denver), "I Love You Because" (Jim Reeves) — but Elvis is working hard on original material, both in English and Swahili.
Elvis began by establishing the "Countrified Night" at Gallileo, a small club in Nairobi. "It just started as an experiment and really exploded in our face," he says. "People appreciated the music." This led to gigs at two other prominent Nairobi venues, Reminisce Karen and Reminisce Langata. In recent years, Elvis has modernized: he announces shows on his Facebook page, and engages his fans with country trivia.
In November 2013, a drunk driver collided with Elvis head-on, shattering his right hip bone. He was rushed to the hospital, and had to undergo a surgery to repair his leg. Elvis used social media to market a fundraising concert, where he played music to raise money for his surgery.
Not to worry — he's made a full recovery and is back to playing shows three to four nights per week throughout Nairobi. Now he's got a bigger challenge ahead of him. "There has never been a serious country star in Kenya," he says. "The music industry is very young; even though there is interest, there are few ways to achieve success."
Riding off into the Sunset
So what is Elvis's end goal? His biggest aspiration? He explains:
"I wish to travel to the USA, hook up with good songwriters, great producers who can harness my potential and record a lot of music to share with the world. I haven't got a promoter yet in the USA so I still have no plan on that but I would love to come to USA and share the music any time."
Elvis loves Nairobi but admits that "there are very limited resources to thrive on" as a serious musician. Besides, he says, if you're anyone in country music, you're in Nashville, Tennessee.
There's a great distance between Elvis and his dream — 8,117.4 miles, to be exact. But like any great country star, he's got boots that are made for walking.
This post was written by Zachary Crockett. Follow him on Twitter here, or Google Plus here.
---
---