"My dad bleeds grease, steak, onions, and cheese whiz."
— Frankie Olivieri Jr., co-owner of Pat's King of Steaks
"There's NO debate! Absolutely no debate. Who else made the first cheesesteak? Tell me right now. Who? Who?"
As the words, shouted in a thick, South Philly accent, jump out through the phone, it quickly becomes apparent that Frankie Olivieri Jr. does not tolerate any slanderous talk of his cheesesteaks. And there's a good reason for that: his grandfather, Harry, and great-uncle Pat, are widely credited with inventing the sandwich 84 years ago.
For those not in the know, the Philly cheesesteak is what legends are made of. Thinly-sliced pieces of steak are piled onto an Italian roll, mixed with grilled onions (this is a debatable option), then smothered in any variety of cheeses: American, Provolone, and, most famously, Cheez Whiz. The greasy, considerably unhealthy dining option is to Philadelphia what the lobster roll is to Maine; it is what clam chowder is to Massachusetts, or what the fish taco is the California. Revered not just in the city that gave it birth, but internationally, the cheesesteak is the crown jewel of Philly's culinary legacy.
And it all began with a little hot dog stand in 1930.
***
Pat Olivieri was born in 1907 — "either in America, or on the boat over from Italy," says his great-nephew, Frankie Jr. By the 1920s, he'd settled with his family in Philadelphia, and had begun to help support them financially. During the depression, he worked long hours at a Radio Flyer factory building sleds; his younger brother Harry helped out by cleaning boats in the Navy Yard. Still, the family struggled to make ends meet.
In 1930, the brothers scraped together what little money they had and invested in a hot dog stand. Wasting no time, they set up their wares in the busiest part of town: Philadelphia's open-air Italian marketplace. At the corners of 9th Street, Wharton and Passyunk Avenues, they capitalized on the heavy foot traffic, says Frankie Jr.:
"Nobody had refrigeration, so everybody shopped fresh. If you lived in South Philly in 1930, you were working class, trying to make ends meet. The main trolley stopped at 9th Street Wharton, and all the people would get off to buy fruits, veggies, and meat. Pat situated himself right at that trolly stop."
Here, Pat and Harry dished out their dogs for "a nickel apiece" to hungry shoppers and whining children. To attract attention to their stand in the crowded market, they "got the smell going" by sizzling up fresh onions. "Uncle Pat was bigger than life," recalls Frankie Jr. "He was the beginning and the end. People adored him — and he used that to sell the dogs." Quickly, Harry and Pat established a solid core of customers — mostly taxi drivers who snacked on the hot dogs while waiting on passengers.
Hot dog stands: a typical sight in 1930s Philadelphia
Usually, the brothers would return home for a late dinner with their family; one particularly slow night though, they decided to stay at the stand instead, and try to make a little more cash. Pat, the elder brother, walked down into the market, purchased a hunk of steak from a butcher, and cooked it on the hot dog grill. After picking up a few Italian rolls, he proceeded to make a few steak sandwiches for himself and his brother in lieu of the family dinner. Then, recalls Frankie Jr., the brothers' regular customers grew curious:
"One of the cabdrivers yelled out, 'Hey, what are you guys eating over there?' My grandfather says, 'We're getting sick of eating hot dogs every day.' Then the cabdriver goes, 'Yeah, me too. Let me get one of those sandwiches.'"
Recognizing the cabbie as a regular customer, Pat gave half of a steak sandwich to the man for free. At the time, the creation was novel: to Philadelphians' knowledge, no one had ever made a steak sandwich before. Over time, word spread of the delicious snack, and demand grew.
As winter set in, the brothers bundled up as best they could and battled the elements to sell their sandwiches. At some point, says Frankie Jr., a local bar took pity on them.
"The guy who owned the place next to Pat said, 'Listen, why don't you take the space upstairs, the guys are leaving and its getting cold out — you can make your sandwiches up there.'

Pat said, 'I don't have enough money to pay my rent, let alone pay you for use of this space.' But the guy just said, 'Listen, when you start making money, that's when you'll start paying me.'"
So, Pat and his brother abandoned their trustworthy cart, moved their operations inside the establishment, and, with the luxury of a full kitchen, started pumping out steak sandwiches like never before. Soon, they were selling so many sandwiches that they outgrew the space, and had to find a creative (and jenky) solution:
"More people came into the place to eat Pat's sandwiches then they did to drink! The bartender who owned the bar was frustrated. So, to deal with it, they cut a hole in the wall. People who wanted sandwiches stood outside, so they wouldn't crowd the bar. That's how they did it: they brought sandwiches down from second floor, and served 'em right through the hole in the wall! It wasn't even a window…"
"Eventually," says Frankie Jr., "Pat took over the bar, took over produce stand, then — lo and behold — bought out the owner and made it into his own restaurant."
The result, Pat's King of Steaks, quickly became one of the city's go-to lunch and dinner joints. It was open 24 hours a day — and for 18 of those hours, the brothers could be found in the kitchen, serving up steak sandwiches. They worked relentlessly and tirelessly to garner attention for their restaurant, sometimes conjuring up insanely conniving marketing ploys. Frankie Jr. relates one such tale:
"During the depression, Pat had an inexhaustible supply of meat. Nobody could understand where the hell Pat was getting all his meat from. At the time there were a lot of cavalry horses from first World War that were being slaughtered for food. Well, a rumor started that Pat was selling this horse meat at the store.

So, Pat took a huge ad out in the paper and offered a $10,000 cash reward for anyone who could prove that he sold horse meat. People came from everywhere — California, New York, Texas — to prove that Pat used horse meat. Nobody could ever prove he had horse meat at that store. Do you know why?

Because Uncle pat started the rumor."
Pat's antics worked wonders: the restaurant soon outgrew Philadelphia, and gained national attention. The brothers' were selling more than 1,000 steak sandwiches a day, in addition to hot dogs, and other goods. All this, and still no cheese.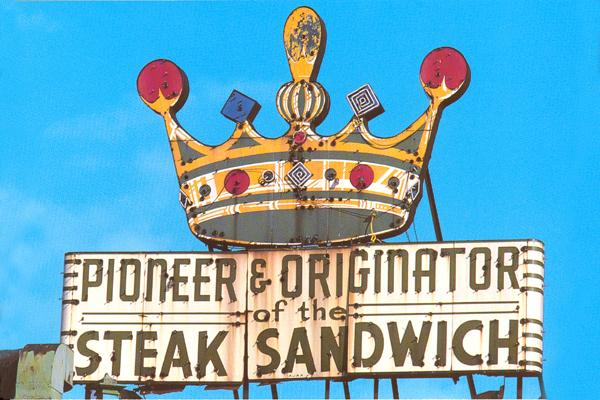 By the early 1940's, Pat's King of Steaks had become so successful, that Pat and Harry opened a few other locations, including a much bigger establishment on Philadelphia's Ridge Avenue.
Here, history was made.
"They had a manager there, 'Cocky' Joe Lorenza," laughs Frankie Jr. "The guy was a complete waste of time. He was always sloshed, real sloppy guy. He was one of those people who liked to give people a hard time, fight, things like that. This was the guy who added the cheese."
As the story goes, Cocky Joe, who was "100% Italian," liked to put provolone cheese on everything he ate — including his steak sandwiches. One day, a customer spotted him eating a steak sandwich with cheese and hollered, 'Hey, make me one of those!' Customers, eager to experience the real deal, increasingly began to request the "cheesesteaks" — but there was a problem with this new innovation, says Frankie:
"My uncle pat had a lof of Jewish friends, and wanted to keep the place Kosher. So, he had two separate grills going — one for the cheesesteaks, the other for the normal steaks."
In 1957, Harry's son, Frankie, graduated high school with an offer to attend the University of Pennsylvania. Instead, he chose to stick around and work with his father at the restaurant. It was only natural: he'd been working there since he was 11 years old, dishing out steak sandwiches to hungry customers.
In 1953, an odd, new invention had hit the shelves: Cheez Whiz, a thick, processed cheese sauce that squirted out of a can. Frankie got to thinking: What if I put this stuff on the cheesesteaks?
He bought a couple cans and secretly hid them on the side of the grill ("my grandfather would've freaked out if he saw the Cheeze Whiz," says Frankie Jr.). Then, he started covertly spraying it on sandwiches and selling them to curious customers.
"People freakin' LOVED the Cheez Whiz," laughs Frankie Jr. "They were like, 'Holy moly…this is great stuff."
Throughout the 1950s, Pat's King of Steaks integrated the Cheez Whiz cheesesteak into their menu; by 1960, it had become their staple, signature item.
***
Like any business, Pat's King of Steaks had its fair share of disputes — some of which nearly broke up the Olivieri family.
In 1965, Pat retired and moved to California. There, according to Frankie Jr., he bought and sold "a lof of real estate," and made a fortune for himself. Years later, Pat tried to open a Pat's franchise in Hollywood, but it never panned out ("I guess the people over there were too into their bean sprouts or whatever," speculates Frankie Jr.).
The legacy Pat left behind in Philadelphia was divided between family members, with the original Pat's King of Steaks going to Harry and Frankie (Frankie Jr.'s father), and the other franchises going to Pat's son, Herbert. What ensued was a multi-decade family dispute so fierce that Frankie Jr. describes it only as "something you wouldn't believe."
"There was all kinds of family drama ," he says. "Contracts out on people, trying to get legs broken…it's like that saying, 'Family is like a treasure' — and you know what you do with treasure right? You bury it where nobody can find it!"
After Harry had a heart attack in 1972, he gradually began to shift operating responsibilities to his son, Frankie (Frankie Jr.'s father). Eventually, Frankie bought out his father, sister, and cousin — and with his newfound power, he made Pat's King of Steaks "ten times as successful."
Frankie Jr. at Pat's King of Steaks, his family business
Today, Frankie Jr. runs his family's business — though his father still plays something of an active role.
"My dad likes to walk around the restaurant making sure people don't take too many napkins, or making sure people are eating fast," he joshes. "He's the controller. It was his passion for so many years. It was what he knew, what he did. My dad bleeds grease, steak, onions, and cheese whiz."
"When my father goes to the big steakhouse in the sky," he adds, "it'll just be me."
Like his father, Frankie Jr. was bred for a life of servitude to Pat's King of Steaks. He started working the kitchen when he was 11 years old, and despite being a self-proclaimed "pizza junkie," he's devoted his life to preserving the sanctity of the cheesesteak.
In 1976, producers for the film, Rocky, approached had approached Frankie about filming a scene with Sylvester Stallone eating a cheesesteak at Pat's. In an archived Philadelphia Magazine article, Frankie Jr. recalls his father's reaction:
"Stallone came down here and spoke to my father and said, 'You know, I'm interested in filming this movie here"' and my father was like, 'Okay,' and Stallone says, 'Well, we're going to close you down.' So my father says, 'Well, if you're going to close us down, you gotta pay us what we normally make.' I guess they arrived at a number. … Stallone was really a nobody at the time."
When Rocky became a huge box office hit, business at Pat's exploded like never before. People from all over the world came by to get a bite of one of Pat's famous sandwiches — including dignitaries, politicians, and Hollywood stars. "You never know who's going to show up," says Frankie Jr., nonchalantly. "Limos pull up full of strippers, President Clinton comes by, Obama….everyone you can think of."
When a high-profile visitor makes a stop by Pat's, Frankie Jr. usually gets a quick courtesy call to "put the guns away and lock the safe." Then, he says, the guest of honor simply walks through the door like any other customer. Frankie Jr. is not one to give special treatment.
One time, he tells us, Al Gore made a special visit for a cheesesteak, and wanted to meet Frankie Jr. in person. "I said, 'Listen, my wife's making macaronis tonight. Tell him I'll talk to him later. The secret service guy looked at me like, 'Are you kidding me?'"
It's this precise attitude that his customers have come to appreciate: he and his 37 employees treat everyone as an equal, and never compromise their honest opinions.
"I can't see myself doing anything other than what I do," says Frankie Jr. "I love dealing with the customers. I love making sandwiches. That's it."
Though Pat's has been through major shifts in power, the restaurant's menu has remained shockingly consistent and simple. Aside from occasionally experimenting with mushrooms and peppers, the classic cheesesteak has been unaltered. "For a short time, we had the steaks with lettuce, mayo, and tomatoes," says Frankie Jr, "but we were throwing out more than we were selling. Philly people don't like their veggies."
A Pat's cheesesteak…WIT onions
Today, Frankie Jr. estimates that about 60% of his customers prefer the cheesesteaks with Cheez Whiz, while the remaining 40% are split between American and Provolone. A few brave souls spring for the 'Heart Attack' — a steak with all three types of cheese. Sales vary based on the seasons, the time of day, and whether school is in session ("college kids like their Whiz," Frankie Jr. adds). Also on the menu at Pat's: the good, old-fashioned hot dogs that started it all nearly 85 years ago — though those don't sell as well as the cheesesteaks.
A sign outside the door informs customers how they should order a cheesesteak: either WIT (with), or WITOUT (without) cheese or onions. "The original way we did it," explans Frankies Jr., "was, 'Gimme a cheese wit,' or 'Gimme a cheese wit-out.' It's just the way we say things in Philly." Out-of-towners are easy to spot, he adds:
"If someone comes up to the window and says 'WITH' (with an h), they're either an English teacher, or they're from out of town. They'll say 'Hello, may I have a cheesesteak with onions?' No. It's, "'Ey, gimme a whiz wit-out!"
"We josh around with a lot of people," Frankie Jr. reasons. "Very few take it to heart. They enjoy the banter back and forth."
***
From his wife's waterfront home in Atlantic City, Frankie Jr. relates these animated stories to us over the phone. As he weaves through the history of Pat's King of Steaks, he laughs, gasps, sighs, and wheezes with delight. As passionate as he is about cheesesteaks, it's family that evokes his brightest memories — or at least, some twisted combo of family and cheesesteaks. After all, for Frankie Jr., the two are one and the same.
"The cheesesteak is Philly," he says. "And Philly is Pat's — it's my grandfather, my Uncle, my father. Nobody does it better than us."
This post was written by Zachary Crockett. Follow him on Twitter.

To get occasional notifications when we write blog posts, sign up for our email list.
---
---