Photo credit: Carstache
The first time Ethan Eyler drove around San Francisco with a giant mustache attached to the grill of his car, the response was immediate. "People freaked out," he tells us. "It was a very visceral reaction."
Pink mustaches are now synonymous with the rideshare service (and taxi business disruptor) Lyft, which gives each of its drivers a pink mustache for their car. But back in 2009, Lyft had not yet been founded and the giant, furry mustache on entrepreneur Ethan Eyler's car was a prototype of what he would dub the carstache. From his website Carstache.com, Eyler has sold thousands of carstaches of various colors to customers ranging from soccer moms to NBA star Lamar Odom.
It wasn't until some 2 years into Eyler's career as an automotive facial hair entrepreneur that Lyft ordered its first pink mustache, soon accounting for the lion's share of his inventory and eventually monopolizing pink carstaches for its own drivers.
Today, carstaches occupy only a fraction of Eyler's time. He has turned over daily responsibilities for Carstache, and he holds the title of Inventor at Lyft, where he works on brand strategy. But when he started, as Eyler recalls over lunch in San Francisco's SOMA district, he just wanted to make an income doing something fun.
—–
In his pre-carstache days, Eyler commuted daily to his job marketing mobile games in Palo Alto. During his commute, an idea popped into his head. The front of a car already looks like a face, why not put a mustache on it?
"It's like Mr. Potato Head," Eyler explains. "People like personification." When he got home, a frenzy of Googling failed to reveal any hint that car mustaches existed. So he set out to build a prototype.
The former English major lacked formal design experience. But he had a secret weapon: a willingness to reveal his own ignorance and ask for help. Eyler didn't know what material to use, and he first visited a synthetic hair store in the Mission. "I knew nothing," he says. "I went to the biggest fur store and asked, 'Do you know people who sew?'" Luckily his sister could sew and help out.
The reaction from Eyler driving his first mustachioed car convinced him that he was on to something. It was not the most scientific proof of market demand, but he could tell that people clearly liked the carstache. He quit his job to enter the automotive facial hair business full-time. "To the chagrin of my in-laws," Eyler tells us before qualifying, "No. It wasn't too bad."
The benefit of selling a giant car mustache is that it can market itself, but on the day he launched Carstache.com, Eyler hustled to create a spark. He worked some connections and got Khloé Kardashian — of the reality TV show Keeping Up With The Kardashians — to blog and tweet about the carstache. "I think I'm going to get one for Lamar haha," she wrote, referencing her husband at the time, Lakers forward Lamar Odom. "Check out www.carstache.com to get your very own. Can we please make this the next big thing?!"
Ahhhhh I was featured on the carstache website!!!! http://bit.ly/d06Lkp Haha I feel so cool LOL.

— Khloé (@khloekardashian) April 13, 2010
Eyler responded by sending her several custom carstaches in Laker purple and gold. He also teamed up with Khloé for a Laker carstache sweepstakes. All his marketing hustle paid off. The carstache went viral, and Eyler and the carstache were featured everywhere from Fox Morning News to radio shows in Australia. Eyler sold hundreds all over the world in his first day and quickly sold out.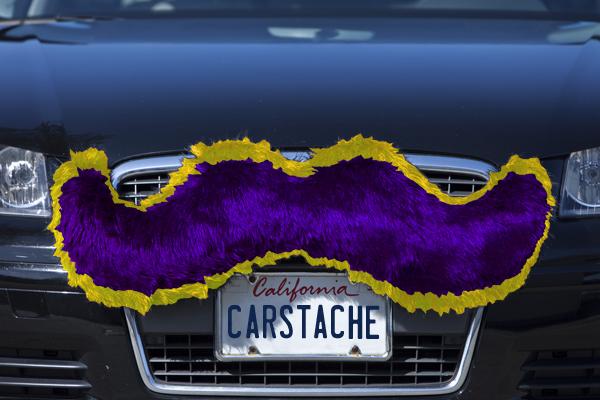 The custom Laker's carstache. Source: Ethan Eyler
Demand for carstaches didn't sizzle out after the first rush of media. It continued to be "a super good business," in Eyler's words. (In 2012, he told AllThingsD that the $40 a pop carstaches accounted for a "six-figure business.") He kept receiving orders — from Paris to Kuwait — and a few stores including Urban Outfitters began to sell Eyler's creations.
So who orders giant furry mustaches for their cars?
"It's not really hipsters," Eyler tells us thoughtfully. "That's the easy stereotype. But no true hipster wants that on their car." He marks off a few common customers: soccer moms ("kids love it"), teenage girls buying them from Hot Topic, and sports fans. Eyler still thinks there is a big market for carstaches in team colors, and his website advises visitors that "When you drive into a tailgate with a Carstache you get free beer, hot dogs, and high fives." It also informs customers that "Some of you will rock Carstaches on a day to day basis, and for that you are awesome. For most the Carstache is a sensational flare piece for events and special occasions."
The least popular mustache is the blond color. "Except in Nordic countries," Eyler tells us. "Blond is popular there."
—–
Eyler didn't take funding or loans to start his project, and he didn't hire employees. "I'm really into outsourcing everything," he tells us. It was just him and his wife putting mustaches into packages and taking them to the postal service. In one case, they received an order from a house 4 doors down. Eyler grabbed the right color mustache, ran to the house, rang the doorbell and left — delivering the stache within a few minutes of the order.
After a while, however, Eyler asked himself, "Is this what I do?" Drawing on his background in gaming, he raised money and founded a mobile games company called RunWilder.
The first product allowed gamers to control a puppet named Ozgood. This was no cutesy children's character. Runwilder describes Ozgood as a belligerent barfing party monster. "By this point people knew I could take a crazy idea and make it real," Eyler recalls. "We partnered with the guys who made the Crank Yankers puppets. I said 'I need a puppet that can barf…'"
Compared to the enthusiastic early success of the carstache, Runwilder proved more challenging. After some challenges getting the game approved for the app store, the game ranked highly but "didn't monetize like it needed to." At the time, Zynga's status dropped from blue chip to crash and burn, so no one in Silicon Valley wanted to put money into mobile games. Eyler is still involved with Runwilder, which has 7 employees and is working on a new game.
While Runwilder dealt with the challenges of startup life, manna was about to rain down from heaven onto Carstache. Lyft co-founder John Zimmer (the startup was still called Zimride at the time) had bought 20 orange carstaches as gag gifts for investors. "So he had driven around with one and knew," Eyler tells us. "Literally, before [the carstaches] were everywhere, it's like you're an instant celebrity" when you drive with one.
Zimmer ordered 25 pink mustaches, then 50 pink mustaches, then one hundred pink mustaches. "The story goes that he told the team that they were going to put one on the front of every car, and people were skeptical," says Eyler. Zimmer told TechCrunch that they chose pink because "We originally thought of doing this just for women, as a safety kind of service and a very particular clientele. It's partially because of that." It also fit perfectly with Lyft's friendly image that contrasts with the sleek professionalism of Uber — Lyft instructs drivers to fistbumb customers and advises passengers to sit in the front seat. "Your friend with a car" is its motto. "The pink mustache is a smile," the Lyft website declares.
It is also simply unmistakable. Lyft has now launched in 60 cities, and the pink mustache has announced its arrival in every one. San Francisco residents may be used to them, but for the uninitiated, seeing the giant pink mustaches is like spotting a UFO. Everyone wants to know what they mean. "It's the brand. It's our icon," Eyler tells us. He mentions a marketing campaign Uber ran called "Shave the stache," suggesting that if your marketing strategy is to reference your competitors imagery, you've probably lost the branding battle.
As the orders from Lyft flooded in, Eyler couldn't keep up. He usually sent a Task Rabbit to deliver the staches to Lyft HQ. One day when he delivered a batch himself, he received a standing ovation from the staff. He realized that his delivery of pink mustaches meant Lyft could onboard more drivers. "I was the bottleneck there for awhile," he says with a smile.
With Lyft growing like gangbusters, Zimmer and Lyft reached out to formalize its pink mustache pipeline. Eyler turned down an acquisition offer, instead agreeing to a "kind of co-ownership" in which Lyft received exclusive rights to pink carstaches and Carstache remained the exclusive provider to Lyft. It was an unusual agreement that also brought Eyler onto the Lyft team under the title of "Inventor." His first assignment: experimenting with new faux furs to make sure that the gloss of Lyft's pink mustaches keep their gloss mile after mile. He and Lyft are calling it "superfur."
—–
"I didn't see Lyft coming," Ethan Eyler admits as we wind up our interview.
He'd hoped that carstaches would provide a "fun side income," and while Lyft's orders quickly became an overwhelming share of his automotive facial hair business, he maintains that Carstache did well financially sans Lyft and has room to grow. Today, however, Eyler has limited involvement, having handed off most responsibilities to a company that pays him royalties in return.
Eyler originally imagined running several fun businesses like Carstache — a vision that led him to co-found Oddfort. Eyler thought that by outsourcing much of a business like Carstache, "you can build multiple. You don't need to be the biggest business in the world. Businesses fall apart, but you can have a bunch of fun things." Oddfort's projects include Carstache and Runwilder, as well as an offbeat Wine Label called Bad Vine (think a "Tyrannosaurus Wrecked" Pinot Noir with a picture of a drunk dinosaur) and Wonderbund (for those weddings when you want your cummerbund to have a brightly-decorated reverse side). Six months into his corporate job, Eyler has been able to maintain involvement with the help of his business partner Rick Davis, who works full-time on Oddfort.
Eyler describes his motivation in creating products like a barfing puppet and a giant car mustache as a desire to create "moments of delight." After burning out working with virtual currencies and games, where marketing meant tweaking an algorithm or "changing the color of a cow," he wanted to work on something that delighted people in "those first 5 seconds."
With an assist from Lyft, his giant, furry mustaches are now causing moments of delight all over the world.
This post was written by Alex Mayyasi. Follow him on Twitter here or Google Plus. To get occasional notifications when we write blog posts, sign up for our email list.
---
---