EDITOR'S NOTE:
On January 28th, 2015, at approximately 6:45pm, a fire broke out in a residential-commercial building at Mission and 22nd Streets in San Francisco. In the aftermath, one man is dead, three are injured, and some 64 individuals (including 16 children), are left without a home. They lost everything — valuables, documents, cash savings, quinciñera dresses, family heirlooms.
This feature is the second of a series of these residents' stories we've told. You can find part one HERE. Our hope is to put faces behind this tragedy, and to raise money for a fire relief fund started by the author, who is a writer for this blog.
San Francisco's skyline came into Lauren Silverman's view just after 7PM on January 28th. She'd been driving for two days — more than 18 hours on the road — from Boulder, Colorado. After months of discussions, this was the night she'd move in with her boyfriend, Christopher "Topher" LaFata.
And then, Lauren received a phone call. It was Topher: his apartment was on fire.
As she drove across the bridge and navigated through the busy streets of the city, Lauren's excitement segued to dread; by the time she arrived at Topher's Mission and 22nd Street residence, the neighborhood was a grid of flashing red lights, smoke, and broken windows. In a car packed with her belongings — the promise of a new life in the city — Lauren watched the building burn.
***
Growing up in Reading, Pennsylvania, Topher fell in with the skatboarding and hard-core punk crowds. He was drawn to music, and by age 14, he'd formed his first band. A dedicated scholar with a gifted mental capacity, he continued on to Trinity College in Connecticut, and earned a degree in cognitive neuroscience. At the same time, he became deeply involved with the music scene.
When one of his bandmates moved out to San Francisco in 1995, Topher decided to go along for the ride. Together, the two settled in a place at 18th and Guerrero in the Mission District, where they shared a room, took turns sleeping on the bed, and each paid $150 a month in rent. By day, Topher would work as a dishwasher for $7 an hour; by night, he'd work on his music and play shows with his band.
Topher had always been into electronic music production and computers, and around this time, he started teaching himself how to code. In early 1997, right at the onset of San Francisco's first "tech boom," he landed an entry-level job "working with computers and HTML stuff." His salary: $24,000 a year.
A few months later, he moved into the place he'd call home for the next 18 years: a huge, 1,200 square-foot 2-bedroom apartment at the intersection of 22nd and Mission Streets. His new space, apartment #314, set him back $850 a month — nearly half his paycheck.
"It was a great deal, but the Mission was different back then" he recalls. "When I first moved in, there was a gang at 24th street, and another gang at 19th street. I was right in the middle of all that." In his first few years there, he was mugged multiple times — once for a six-pack of beer, and another time for a cheeseburger. One afternoon, while looking out of his window onto 22nd Street, he saw a guy get shot in the stomach multiple times.
For the next several years, Topher hunkered down in this apartment and invested the remainder of his salary in putting together a home recording studio, complete with dozens of rare synthesizers and instruments. Soon, he got deep into San Francisco's emerging "laptop techno" scene and, under the moniker "Gold Chains," he began to make a name for himself as "a hip hop hooligan for the indie rock crowd."
In 2001, he released Gold Chains EP, and was brought on to support rising San Francisco acts Kit Clayton and Kid606; an explosion of publicity ensued, and Topher was soon signed to a record label and touring internationally. "Luxembourg, Paris, London — I played pretty much everywhere in Europe," he says. "In France, all the chefs sit down with you before the show and eat a meal. That's a special thing."
From 2001-2003, Topher traveled extensively — at one point doing four European tours in a six-month period. He was hailed by the Chronicle for "leading the Bay Area laptop techno scene into a brave new world," and cemented himself as a local celebrity with hits like "I Come From San Francisco" and "Rock the Parti." But better than any press or notoriety, says Topher, was the ability to come home to his supportive community of neighbors at 22nd Street.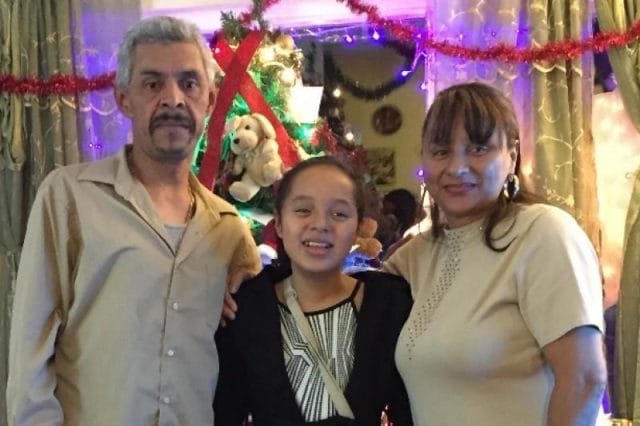 The Funez family (left to right: Ysidro, Andreina, Sandra)
Around the time that Topher began touring, the Funez family — a husband, wife, and two young children — moved into apartment #310, a few doors down the hall.
Like many Central Americans in San Francisco's Mission District, Ysidro Funez fled Honduras in the early 1990s. While working at a bar, he met Sandra, who'd recently come over from Ecuador. The two married and eventually settled in a house in "near the Cow Palace, in the projects."
Ysidro eventually found his way into a career in construction and maintenance odd-jobs. Sandra worked in a drapery factory in Richmond. "She was in one of those big warehouses," says her son, Christian Tigua. "She used to sew them, do manufacturing and stuff. And then, she lost her job and started taking care of kids."
In the early 2000s, the Funez family sold their home and moved into their Mission/22nd Street apartment. Until recently, they lived there with their 11-year-old daughter, Andreina.
Christian, now 23 years-old, moved out of his parents' apartment two years ago to start his own family, but fondly remembers his time there:
"I was 11 or 12 when I moved in there…I would always run and play in the hallway with these kids in here [motions to other children in the Red Cross shelter, where we talk]. Everybody knows everybody. We used to play soccer, camp together…if anything ever happened, we knew we could count on each other for help. You could go to your neighbor."
Christian also did the best he could to support his family. "They had a little trouble trying to live there financially," he adds. "There were times they'd call me asking to borrow money to pay off things."
When the fire broke out, it devastated them.
***
On January 28th, Topher was was walking home from the Embarcadero. As he rounded the corner onto 22nd Street, he was confused by what he saw: flashing lights, sirens, smoke, crowds gathered on the sidewalks. And as he came closer, he was hit with the reality that his building was on fire.
"My first thought was that it was fine," he recalls. "My apartment was all the way in the corner of the building, so I thought the fire would be contained." He called his girlfriend Lauren, then near the tail end of her drive from Colorado, and told her the news.
A few hours in, the fire still raged and Topher braced himself for the worst. "The only thing helping me," he says, "is that I'd started taking these Buddhism classes, meditation. That helped me cope with the loss."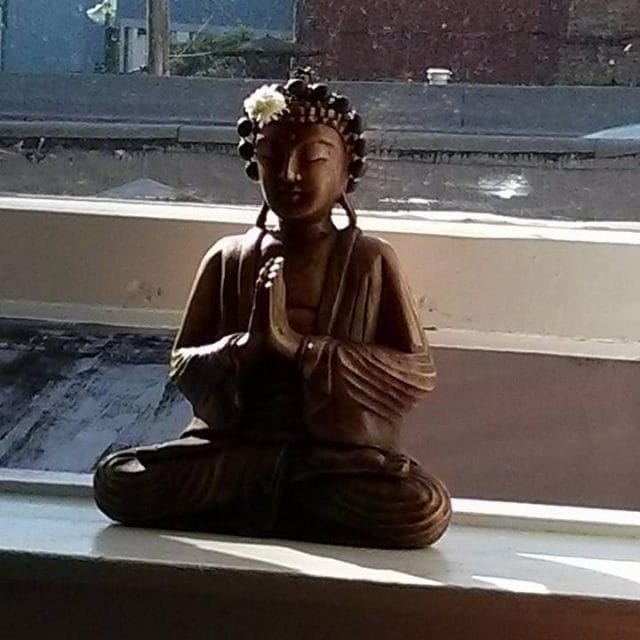 Topher's Bhudda statue — one of his most prized possessions — was lost in the fire
But as the flames reached toward Topher's unit — his home of 18 years — he couldn't help but think of the contents inside:
"Years…YEARS of collecting music stuff. I had rare synths — Roland 909s, 606s, Farfisas. I had one custom made in Australia. There are things that aren't replaceable. I had a 1967 Jazzmaster guitar, amps, computers, hard drives…"
When Lauren arrived, the two booked a hotel for the night. Topher knew he'd just lost everything he owned, but tried not to dwell on things too much. "What can you do?" he asks. "You just have to stay positive."
Today, he and Lauren are crashing at a friend's place, and are on the hunt for an affordable apartment in Oakland. "I don't want to leave the Mission," he says. "But it's like, how do we stay here now? We'll just have to wait to see what happens with the building."
***
As his wife and 11-year-old daughter were out shopping for groceries to make dinner, Ysidro Funez was home alone washing the dishes. He paused, turned off the water, and walked out of the kitchen to use the bathroom — and he was greeted by a "strong light coming from the closet." He opened the door, and flames licked out.
Immediately, Ysidro ran down the hall, knocking on his neighbors' doors — including then-absent Topher's — alerting them of the fire. Just as Ysidro descended the stairs, his wife and daughter returned from their errands; together, the family attempted to use the building's fire extinguishers, but, according to Ysidro, none of them worked and they ran from the building.
Christian Tigua, Ysidro's son, had just returned home from his shift as a security guard when his little sister called him, crying. He bolted out of his wife's place — just two blocks away — and realized, with horror, that his family's unit was engulfed in flames.
Christian Tigua with his daughter. His mother, father, and 11-year-old sister were displaced by the fire
"My mom was standing outside shaking really bad, crying," he recalls. "She couldn't even talk she was so scared."
That night, the family gathered with most others in the building at a Red Cross shelter set up at CCSF. After a few nights in a hotel, they were moved to another Red Cross shelter at the Salvation Army; they've remained here since.
"They're treating them well here — they get breakfast, snacks, juice, drinks," says Christian, sitting beside his family at the shelter. "They're doing their best with what they can. It's a lot of families, a lot of people to look out for."
The Funez family's loss was extensive: clothes, furniture, jewelry, documents, car keys. In the past several weeks, they've been slowly piecing their physical lives back together — but the process of emotional repair has been much more difficult, and Christian is concerned for their well-being:
"My mom has lost a lot of weight, you can tell in her face. As soon as she hears a siren, she gets nervous. She shakes. She's traumatized. Every time I come to visit my little sister, she's crying, tearing up about something. My dad — he's probably hurt too, but guys don't really show anything, so it's hard to tell."
"I haven't been able to talk to them about [the fire]," he adds. "They've been really private. I don't even bring it up."
Christian is supporting his parents with whatever he can, but it's not much. "I can only do so much," he admits, nodding to his wife, who stands at his side. "I have my own kid I'm supporting, and bills to pay off." Ultimately, his main objective is to get a roof over his little sister's head — and that's a bigger issue than he can approach.
"It's a long process," he says. "And honestly, I don't know if they'll be staying in the Mission."
___________________________
Last week, after witnessing the fire while biking home, I set up a GoFundMe page for the families affected by this fire, with the goal of raising $2,000. So far, the community has come together to raise more than $175,000. I'm currently working with MEDA, a local non-profit, to make sure these funds are distributed to ALL affected families in cash payments by the end of this month. If you'd like to help Topher, the Funez family, and others get back on their feet while they await relocation, please consider donating. Anything helps.
In addition to my fund, Topher's friends have started a fund for him, and the Funez family (Ysidro, Sandra, and Andreina) is raising money as well.
This post was written by Zachary Crockett. You can follow him on Twitter here.

To get occasional notifications when we write blog posts, please sign up for our email list.
---
---