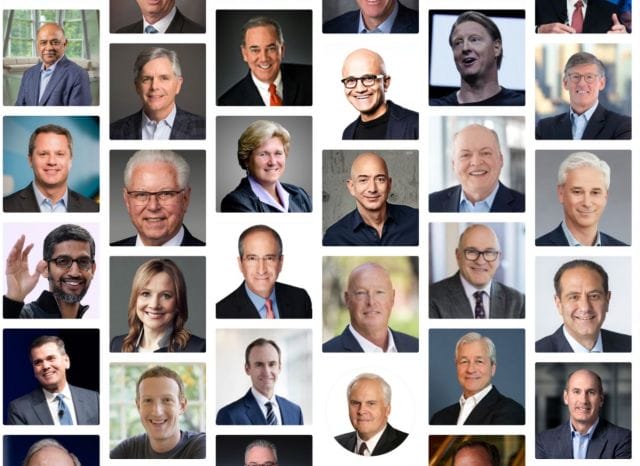 This post is from Snappr, a Priceonomics Data Studio customer. Does your company have interesting data? Become a Priceonomics customer.
***
The value of a good photo is immeasurable. A good dating photo can help you find love, a spectacular real estate photo can help you sell your house, and a great professional headshot may help find your dream job.
Snappr provides on-demand photography services, from portraits for families to national campaigns for large brands. Headshots are a specialty. Snappr has undertaken tens of thousands of portrait shoots, capturing hundreds of thousands of individuals. Many of these have been corporate headshots for business executives.
Snappr is also the maker of the Photo Analyzer – a tool that uses AI to instantly rate the quality of a headshot – which has been used more than a million times. Using the Photo Analyzer, we conducted a study of which leading CEOs have the best and worst corporate headshots, as well as which are the most likely to smile (or not). For each of the 2020 Fortune 500 companies, we ran the CEO's headshot through the Photo Analyzer tool to rate their quality, including their smile.
We found that the Fortune 500 CEO with the best corporate headshot was Stephen Boyle of TD Ameritrade and the one with the worst quality photo was Robert thomson of News Corp. The CEO with the best smile is a tie between Mark Zuckerberg of Facebook and Bryan DeBoer of Lithia Motors.
Additionally, we found that male and female Fortune 500 CEOs had very similar headshot quality, but female CEOs had better smiles according to the Photo Analyzer algorithm. Ironically, entertainment CEOs had the lowest quality photos and the worst smiles.
A relationship was also found between CEO smiles and company performance.
***
Before diving into the results, it is worth spending a moment on the methodology. For this study, we downloaded the best available corporate headshot from an official source (starting with LinkedIn) for each of the companies in the most recent Fortune 500 list. Those headshots were then fed into the Snappr Photo Analyzer and analyzed on eleven quality attributes. One of those attributes is smile score, which in turn is based on two things – the curvature of the lips (more is better), and how open the mouth is (showing teeth is good, but an open mouth or laughing smile is bad). Based on the results across the eleven dimensions, an overall score was generated from 0 (poor quality) to 100 (highest quality). 37 of the CEOs analyzed were female and 467 were male (which adds to 504 due to a number of co-CEOs).
To start, let's look at the CEOs with the best (and worst) rated photos in the Fortune 500.
Source: Snappr
Stephen Boyle of TD Ameritrade has the top Fortune 500 CEO headshot, narrowly beating out Antonio Neri of Hewlett Packard Enterprises. Robert Thomson, CEO of News Corp has the lowest rated headshot, followed by Lachlan Murdoch of Fox.
What's the difference between a great corporate headshot and a dismal one? Below is the best ranked photo (CEO of Ameritrade) versus worst (CEO of News Corp).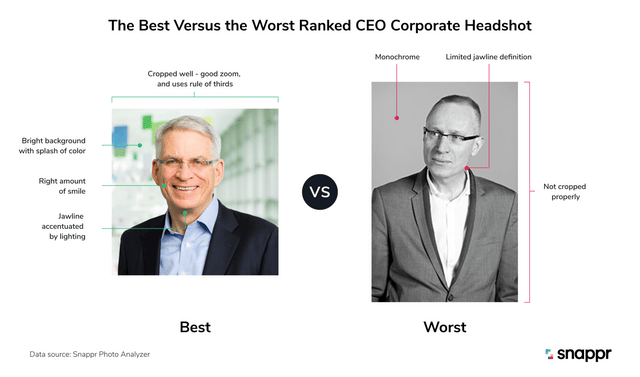 Source: Snappr
The winning photo is well-cropped to the face, shows the right amount of smile, has lighting that accentuates the jawline, has a bright but non-distracting background with a splash of color, and has a natural color balance. On the other hand, the worst photo is cropped awkwardly to the CEO's belly button, shows no hint of a smile, lacks definition around the jawline, and worst of all is in black and white.
You might be wondering who wins out among the titans of 'big tech'. Sundar Pichai from Alphabet (Google) takes the cake with a score of 85. Jeff Bezos of Amazon will be disappointed to know he is bottom of the 'big six', being narrowly beaten out by his arch-rival Elon Musk.
Now let's look at the smile scores of the Fortune 500 CEOs.
Mark Zuckerburg ties for the best-smiling CEO, which is perhaps not surprising because his headshot is his Facebook profile. Zuck's smile scores high because his lips are curved upwards and his mouth is open just the right amount (neither gaping nor closed).
There are a bunch of 25 serious-looking CEOs with a smile score of zero. They might do well to take a look at some of the research on professional portraits that underlies the Photo Analyzer's AI, which shows that smiles create a favorable impression of kindness and approachability.
Next, let's examine whether there are any differences in photo score by gender. The following chart shows the average headshot quality score of the 37 female CEOs and 467 male CEOs in the Fortune 500.
Female and male CEOs have very similar overall quality scores, with both genders scoring around 70. However, female CEO headshots had smiles that were rated substantially higher by the Photo Analyzer.
The smile scores of female Fortune 500 CEOs were 33% better than their male counterparts, corroborating our past research where women were also found to smile more often in headshots. On average, male CEOs have more of an opportunity to improve their headshot quality by smiling more.
Next let's look at which industries have the best CEO headshots. The two charts below show the industries with the best and worst scores for overall quality and for smiles.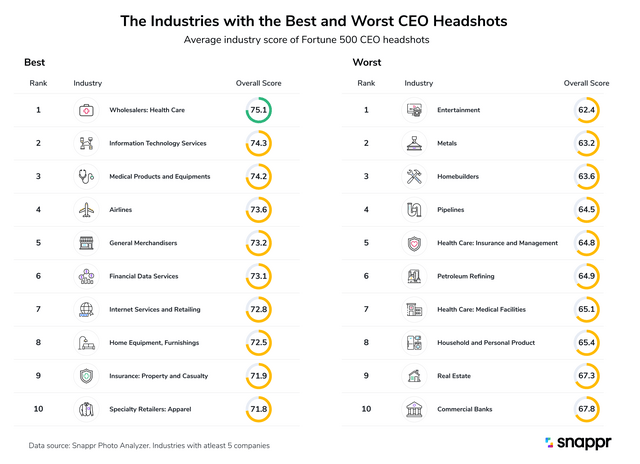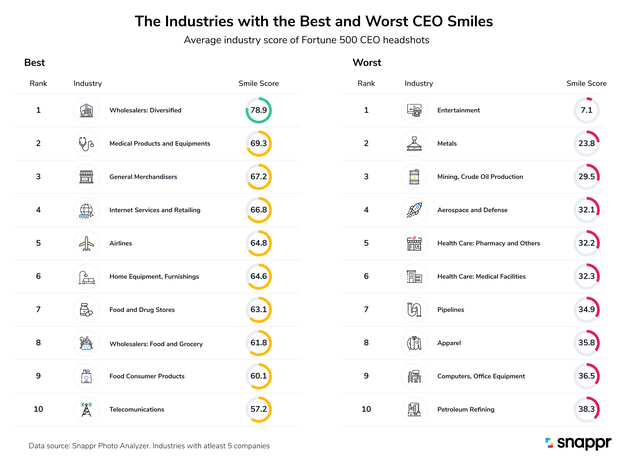 Healthcare Wholesales CEOs have the best CEO headshots on average, while Diversified Wholesales have the highest smile scores. CEOs in the entertainment industry fare poorly: they have the lowest overall quality and the worst smiles. For an industry that revolves around images, entertainment CEOs are surprisingly shy!
Snappr also looked to see if there is any relationship between company performance and the quality of the CEO headshot. Do quality headshots correlate with quality companies?
The average headshot quality of companies with positive revenue or profit growth for the year was virtually identical to that of companies with negative growth. We found little correlation between the quality of a CEO's headshot and the performance of their company. But we did find that CEOs were more likely to have a better smile if their company was growing in revenue or profits!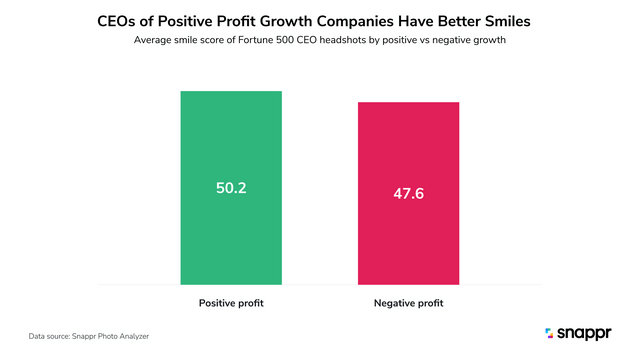 CEOs with positive revenue growth year on year have smile scores 8% higher than those with negative or no revenue growth.
Similarly, CEOs with positive profit growth year on year had 6% higher smiles scores compared to their profit-shrinking counterparts. Perhaps investors should make more bets on CEOs with big smiles!
***
In this study, we learned that corporate headshots vary considerably in quality across the Fortune 500. Some headshots are inexplicably bad for 'captains of industry' while others are picture perfect! 53% of the Fortune 500 companies have used Snappr's product. For any CEO of a Fortune 500 company, please consider this an open invitation to use Snappr's services to get a better headshot.
***
Note: If you're a company that wants to work with Priceonomics to turn your data into great stories, learn more about the Priceonomics Data Studio.
---
---