"I had to push and push and push. Sometimes they try to sneak past you and you look them in the eye and make them feel guilty."
— Elizabeth Brinton, 13, on selling Girl Scout Cookies (1985)
Every year in the United States, Girl Scouts of the USA sells 175 million boxes of cookies. In a mere seven weeks, the program nets $700 to 800 million in revenue, making it the third largest cookie company in the country.
But the Girl Scouts' salesforce differs from that of its competitors; clad in iron-patched uniforms and toting wagons full of Thin Mints and Samoas, 2.3 million girls aged 5-18 take to the streets to peddle their products.
Recently, some of these youngsters have made national headlines: one girl sold 117 boxes in less than an hour by parking a small booth in front of a San Francisco medical marijuana dispensary; others have been caught selling cookies though online markets like eBay and Craigslist, which the Girl Scouts organization strictly prohibits. Most impressively, last month an 11-year-old from Oklahoma broke the single-season cookie selling record of 18,000 boxes (the average scout sells between 150 and 200 boxes per season).
This last one got us curious: how on earth does one Girl Scout sell 18,000 boxes of cookies? The answer took us back nearly three decades, to a small Virginia suburb, where a teenage "Cookie Queen" re-imagined the way the organization's crunchy treats were sold. The little huckster was so successful that she sold to two U.S. Presidents, and was hired to give speeches to salesmen five times her age.
This is the story of Elizabeth Brinton, the greatest Girl Scout cookie salesperson ever.
One Smart Cookie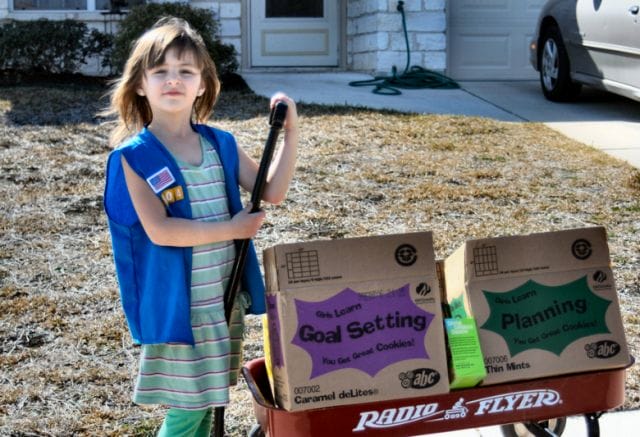 Photo: Paula
From 1978 to 1990, Elizabeth Brinton sold 100,000 boxes of Girl scout cookies — a feat that, to this day, has never been replicated. During her peak season, she doled out baked goods to clients like Richard Nixon, George H.W. Bush, and Sandra Day O'Connor, graced the pages of The Los Angeles Times and The Washington Post, and was such a cultural staple that Jeopardy made her into a question.
As a descendant of George Brinton McCellaland (an American Civil War general, and early presidential nominee), and John Chambers (CEO of Cisco), Elizabeth's bloodline coursed with the art of negotiation. The Fairfax, Virginia tyke, born in 1971, was soon to leave her own legacy.
In 1978, at age six, she joined her local Girl Scouts troop. Her mother, a real estate agent and scout leader, encouraged her early door-to-door cookie selling efforts and the two made a formidable team. During this first year, Elizabeth's tenacity shone: when one neighbor said he'd already purchased some cookies from another scout, the pint-sized sweet-talker responded, "Why don't you eat some of mine while you wait for your other order?"
Over the next few years, her numbers gradually increased into the low thousands as she devoted more time to selling each season — sometimes up to 40 hours per week. Then, in 1985, Elizabeth inadvertently revolutionized the way cookies were sold.
"I remember seeing all this traffic flowing into the metro stations in the mornings and thinking, gee — why sell door-to-door when I can sell to thousands down there?" she recalls. "There had also been an overall decline in door-to-door scout sales due to safety concerns."
That same year, the Girl Scouts organization had announced that the top salesgirl would take home a grand prize: a highly desirable Tandy Radio Shack personal computer. With her mother, Elizabeth set up her first booth in the metro during rush hour; customers were thrilled to see her, and she sold hundreds of boxes the first day.
Photo: Michele Catalano
The scout worked tirelessly — every day after school from 3 to 8 p.m., every Saturday from 8 a.m. to 8 p.m. and every Sunday from 11 a.m. to 8 p.m. — and had a knack for the hard sell.
"I do pretty outrageous things. I make weird comments," Elizabeth told the LA Times in 1985. "I push a lot, and I'm not quiet."
"They're tax deductible!" she'd yell out to passersby. "We take checks!" When a buyer would pull out a checkbook, she'd bat her doe eyes and counter, "Why not just buy a whole case? You can always freeze them." For other sales, she'd capitalize on the situation:
"If a man was walking with a lady, I'd say, 'Show you care! Buy Girl Scout cookies.' To the Army or the Navy I'd say, 'Fly with Girl Scout cookies' or 'Bring some back for your shipmates.'

A man from the USO bought four cases. But another lady, I had to push and push and push. Sometimes they try to sneak past you and you look them in the eye and make them feel guilty."
By the end of her first season in the metro, Elizabeth had sold 11,200 boxes; she not only handily won the computer, but utterly destroyed her "arch-nemesis," a ten-yea-old from New York who sold a mere 4,500 boxes. She also garnered national attention: after landing on CBS morning news, one host dubbed her "The Cookie Queen," and the nickname stuck.
In "cookie circles" across the nation, she became an overnight celebrity. Mail addressed to "Elizabeth Brinton, Cookie Queen, Falls Church, Va.," was so common, that it was delivered directly to her parents' house. When the media dubbed Elizabeth "the greatest Girl Scout cookie seller of all time," she responded, "I don't want to brag — but it's true."
But the youngster had a bigger goal in mind: she wanted to sell a box of cookies to her hero, President Ronald Reagan.
Presidential Munchies
President Ronald Reagan hugs Elizabeth at the White House; File: Ronald Reagan Library
Due to her proximity to Washington and her exceptional sales records, Elizabeth had been to the White House before — once for a ceremonial Christmas tree lighting, and another time for a St. Patricks' Day celebration, where she had stirred some controversy.
At the celebration, she'd found herself standing next to Secretary of State George P. Shultz and White House Chief of Staff Donald T. Regan, and the two commented about her many Girl Scout merit badges. "I sell cookies," she'd replied, to the horror of her etiquette-minded superiors. "You want to buy some?"
Regan had chuckled and responded, "Mr. Shultz has to watch his health."
Inspired by these visits, Elizabeth wrote a letter to her congressman, Rep. Frank Wolf, asking for his help in selling cookies to President Ronald Reagan. "I had became the ultimate Reagan poster child," she recalls, "optimism, patriotism, capitalism — I had all the trademarks of his national message at the time." After some finagling, her request was accepted.
"I walked into the White House, boxes of cookies in my arms, and just remember going through about five metal detectors, having dogs sniffing me — then, a door opened, and I was in the Oval Office staring at Ronald Reagan."
"The nation's waiting to see what your favorite cookie is," she told him. But the diplomatic leader, not wanting to offend any of his cookie-minded constituents, purchased one of each seven boxes.
When word got around the White House that cookies were abound, others wanted a piece of the action.
"George Bush had no qualms about cookie favoritism," she jokes. "He went straight for the Do-Si-Dos — seven boxes." In the same trip, she also dealt cookies to Treasury Secretary James Baker and Supreme Court Justice Sandra Day O'Connor (a Thin Mint enthusiast), who called her a "little huckster."
President Reagan later chronicled the meeting in his diary. "She really was a delight and I can see why she sells," he wrote. "You can't turn her down".
By the end of 1986, building on the success of her previous season, Elizabeth sold 18,000 boxes of cookies. At $2.25 per box, she generated more than $40,000 in revenue for her troop ($86,000 in 2014 dollars).
Cookie Cred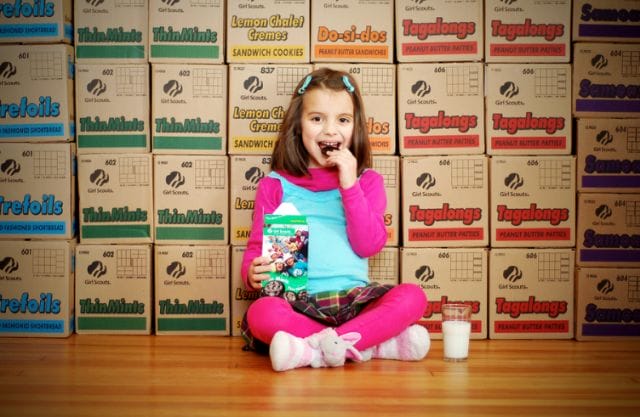 Photo: Melissa Ross
Elizabeth's success began to garner attention in outside circles: by the late 1980s, she was being booked to give speeches to grown men at sales conferences.
In one speech, at a Sandler Foods convention in Virginia Beach, she revealed her keys to success" to a skeptical crowd:
"For many years, I have sold a lot of Girl Scout cookies. I believe that my success can be attributed to the five basic traits of the professional seller. Number one: set high goals; Number two: sell yourself and your products; Number three, know your product well and believe that your product is best; Number four: know your territory and customers; And five: accept the fact that some people will still say no."
By speech's end, she'd won over the room of pouty-faced salesmen. "At first, my sales people were wondering what a poster-girl type Girl Scout could tell me about my job," one of them told the Virginia Pilot in 1987. "Eight minutes later they changed their mind."
By the time she "retired" from the Girl Scouts, Elizabeth Brinton had sold over 100,000 boxes of cookies — a feat that went on to influence Elizabeth's collegiate future. Christoph Guttentag, director of staff for undergraduate admissions at The University of Pennsylvania in 1994, called her application one of the "most memorable" of the school's accepted applicants.
"The fact that Brinton sold cookies to these customers showed that she had a knack for persistence," Guttentag wrote. "There's absolutely no question that [she is] completely qualified to do the work."
Elizabeth went on to complete her Bachelors in American History at Penn, then "headed out west" after graduation to "join the grunge revolution." She ended up in Eugene, Oregon, worked at an NPR affiliate for a while, and eventually made her way back in the D.C. area, where she settled into a public relations and media role for the National Wildlife Federation.
"The Girl Scout days gave me my first glimpse of the macro," she recalls. "That revelation — this is how the world works. Everything I learned is still applicable today."
Every Cookie Crumbles
Girl Scout Katie Francis parodies her sales tactics.
Last month, Brinton's 30-year "single-season record" of 18,000 boxes was dismantled by Katie Francis, an 11-year old cookie mogul from Oklahoma City. In an eight-week period, the tiny tot unloaded 21,477 boxes — 384 boxes per day. At $5 per box, she raised $107,385 for her Girl Scout troop.
"There are three ingredients to my sale," the industrious sixth grader told a news reporter. "Time, commitment, and asking everybody I see."
To achieve this, Katie enlisted the help of one of her heroes: Elizabeth Brinton. She called the title-holder asking for sales advice, and Elizabeth "dug out the old boxes" from her scouting days to help mentor the determined newcomer.
It took a lot: 13-hour days selling cookies — sometimes trudging her wagon through six inches of snow — and plenty of persistence. "You just can't take no for an answer," she told a Fox News reporter, echoing the words spoken by her cookie-slinging contemporary three decades earlier.
She's got a long way to go before selling 100,000 boxes, but with her new mentor anything is possible.
Today, Elizabeth has settled in an Alabama suburb with two kids of her own. She's happy Katie has taken her "crown," and looks forward to seeing what the pre-teen can do in the years to come. Her 11-year old daughter is involved in Girl Scouts, and is an average cookie seller — at least, for now.
And though she did purchase a box of thin mints from Katie, Elizabeth generally avoids the crumbly treats today.
"Honestly," she says, with a laugh, "I'm not a big cookie person in general…I can't eat one without a flashback."
This post was written by Zachary Crockett. Follow him on Twitter here, or Google Plus here.
---
---