This post is adapted from the blog of oh my green, a Priceonomics Data Studio customer. Does your company have interesting data? Become a Priceonomics customer.
***
America is a nation of snackers. Ninety-four percent of Americans report snacking at least once per day, and 50% say they snack two to three times per day.
In the workplace (especially in Silicon Valley), millions of workers rely on their employers' snack arsenal to get them through the day. At typical tech company in San Francisco, stacks of Kind bars and cases of LaCroix water are more often than not in the kitchen.
But what exactly are workers snacking on? Is LaCroix water is a popular as it seems to be? Do people eat healthy food or junk food at work?
We analyzed data from Priceonomics customer oh my green, a company that provides snacks to offices. We've collected sales data on each brand and every individual snack we provide. The company focuses mostly on healthy snacks, so if there is any bias in the data, its on the healthy side (and toward tech companies in Silicon Valley and New York that tend to offer these kinds of snacks disproptionately.
So, which snacks have increased the most in popularity in the workplace in the past year? Which have fallen out of favor? And where does the market seem to be heading?
According to our analysis, the most popular snack in the office is LaCroix sparking water. In general, we found that organic-branded items, protein-based snacks, and sparkling water are hot commodities in the workplace, while energy-branded products and less healthy options (sodas, chips) have declined.
Snacks in the Workplace: A Snapshot
Before we get into the more granular data, let's take a look at the most popular snacks we sell, as well as those which have seen the largest increase and decrease in sales in the past year. Our data covers a year-long period, from March 2016 to March 2017, and the numbers below represent each item's percentage of our overall snack sales.
Data source: oh my green
As of March 2017, the "snack" which holds the largest share of our overall sales is LaCroix brand flavored sparkling water, at 3.7%. This is closely followed by another sparkling water brand, Hint (2.3%). LaCroix's unflavored version (1%) also cracks the top 20.
Other popular items include fresh produce (avocados, blueberries, bananas, raspberries), several coffee brands (Philz, Verve), and items high in protein (eggs, protein bars, beef jerky).
Between March 2016 and 2017, RxBar protein bars experienced a sizeable increase in sales, jumping from virtually 0% to over 1%.
Data source: oh my green
This list is abound with "organic" products, as well as biodegradable plates, bowls, and utensils (which we also sell). Increasingly, companies seem to be opting for products that are healthy and eco-friendly.
Contrarily, bottled coffees (as opposed to whole or ground beans) seem to be declining. Big container beverages, like Jittery John's 5-gallon keg, Health Ade's 5-gallon kombucha keg, and Boxed Water, saw drops of nearly 1%.
Data source: oh my green
Less healthy treats like chocolate (Tcho chocolate bars), Pirate's Booty, and Starbucks iced coffee drinks, have also declined in the past year.
What American Workers Are Snacking On
Next, let's take a closer look at some of these trends, starting with beverages.
Data source: oh my green
We went through our data and consolidated snacks into categories (ie. "coffee" = all Starbucks, Philz, Verve, etc. products). Let's start with how beverages stack up.
No office beverage is more quintessential than coffee — and of course, it takes the top spot among all beverages, representing 7.3% of all snack sales. That far outranks the niche industry of kombucha (1.6%), and the less healthy markets of juice (0.6%), and soda (0.3%).
Data source: oh my green
Among coffee brands, Philz reigns supreme, with 2.3% of all sales (about one-third of coffee sales) through oh my green. Verve experienced quite a surge this year, while Tico products tanked.
But at 7.1% of sales, sparkling water — which we mentioned earlier — seems poised to soon surpass coffee. This is mostly thanks to LaCroix, which experienced something of a renaissance in 2016.
Data source: oh my green
Moving to foods, the fresh produce market seemed quite lively in the workplace in 2016.
Data source: oh my green
In this sphere, avocados are the snack of choice, followed distantly by blueberries, apples, and bananas. Evidently, 2016 was not a good year for plums: they dropped off the face of the workplace snack ecosystem in March, and nobody has heard from them since.
One of the more popular office snack options is a bag of chips, in any variety: potato, corn, veggie, or bean-based. The classic potato chip (2% total sales) is still the most-purchased of these — though veggie- and fruit-based chips are not far behind. The two seem to share something of a converse relationship.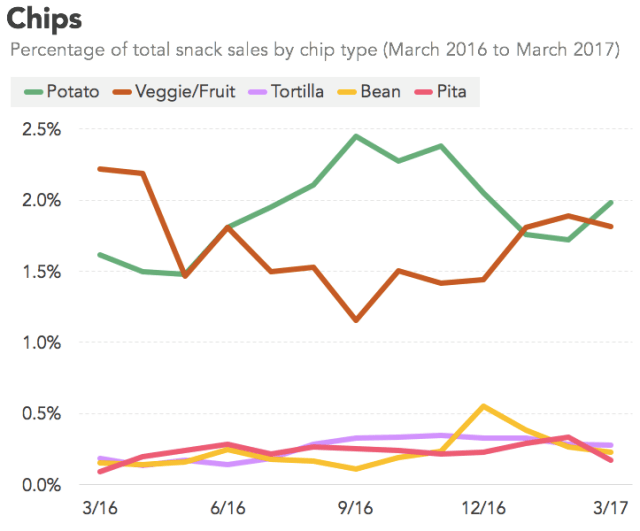 Data source: oh my green
Another popular submarket in office snacks is the bar, which often promises high nutrients, energy, and protein packed into a single, tiny lump of chewiness.
Data source: oh my green
"Energy" branded bars (like Clif) continue to be the most popular in the workplace. But in the past year, they've experienced a bit of a decline.
Data source: oh my green
Bars advertised as high-protein have seemed to fare a bit better — especially the RxBar brand, which experienced a massive 35,000% surge in sales growth this past year.
Data source: oh my green
Other protein-based snacks have performed similarly well since March of last year.
Nuts, beloved by at-desk snackers for their ease and mess-free consumability, have always been a popular office snack offering. But one nut in particular has outshined the rest: the almond.
Almonds of various brands and offerings (chocolate-covered, yogurt-covered, salted, unsalted) have experienced a combined 458% growth in sales in the past year, putting mixed varieties, cashews, pistachios, walnuts, and peanuts to shame.
***
Note: If you're a company that wants to work with Priceonomics to turn your data into great stories, learn more about the Priceonomics Data Studio.
---
---