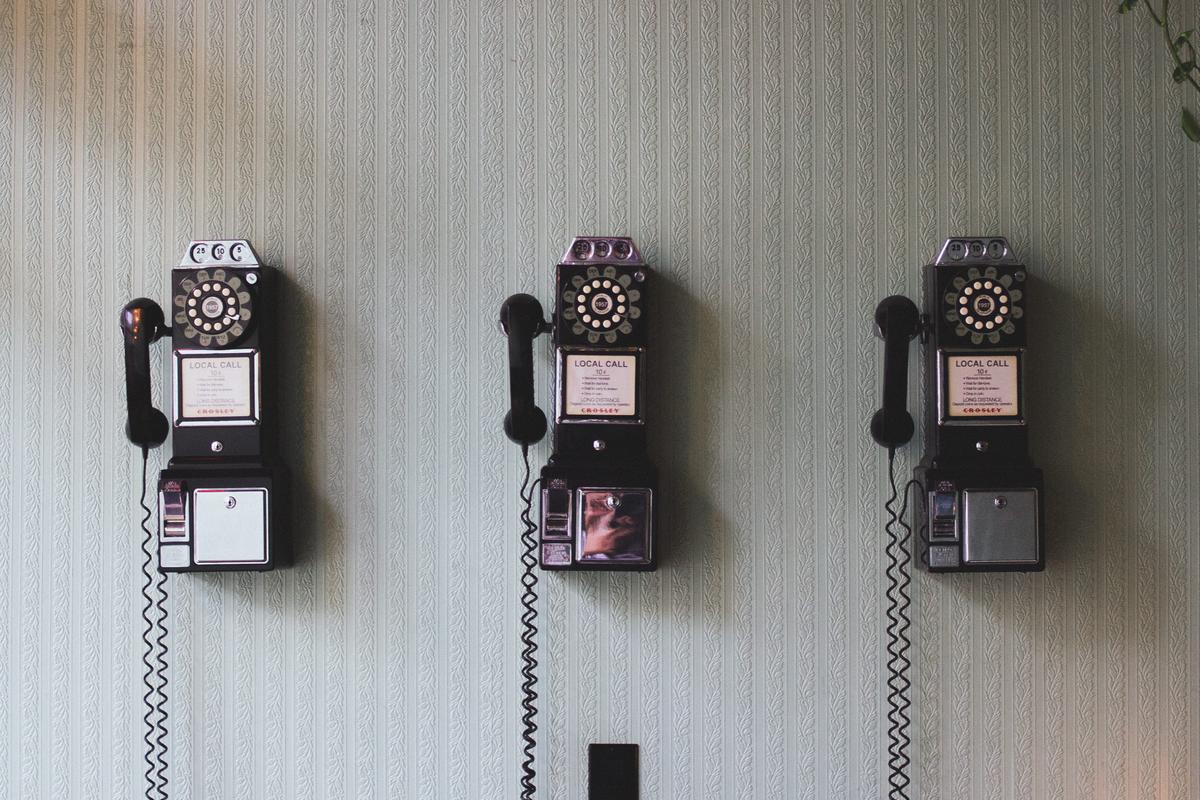 On the first night that Anton had professional phone sex, he gathered several sex toys, a deck of cards, a pair of sandals, and a rubber band ball.
Anton, a transgender man transitioning from female to male, had delayed this moment for a month. He felt ashamed about doing sex work and too introverted to speak intimately with strangers. So, to make the task more familiar, the movie geek and former thespian built a sound effects kit. The sandals made a spanking sound; snapping a rubber band sounded like a small slap.
Working from home, Anton slept with his headphones on. When he received a call through his laptop, it woke him up, and he'd try to satisfy callers. Some men wanted Anton, whose voice sounds feminine, to feel scared as they acted out a sexual fantasy. Some men just wanted to talk. Some men wanted to tell Anton that they were wearing women's clothes and "being naughty."
Over his first weeks, Anton made around $200. It wasn't a lot. But it meant Anton could pay the next month's bills, and it was better than the $1.35 he earned by clicking online ads for hours. Anton says he suffers from mental health problems, which make him anxious, and a severe case of scoliosis that makes it increasingly painful to move. He recently had to quit his job at a domestic violence shelter, and he'd turned to phone sex work because his disability check could not cover all his bills.
Anton's case is not unique. We spoke with eight phone sex operators (PSOs), as well as a representative of a large phone sex website, the former owner of a phone sex business, and a woman who advises PSOs. While many phone sex operators choose their profession out of personal preference, a picture emerged of an industry with particular appeal to individuals (mainly women) who can't access the traditional job market.
For women with physical disabilities, people with mental health problems, and mothers with young children, the flexibility, low barriers to entry, and high-earning potential all make phone sex a practical choice. Where the safety net of government assistance, charity, and family support falls short, phone sex—and sex work in general—can fill in the gaps.
***
Today, free pornography is ubiquitous online, and anyone willing to pay for virtual sex can watch performers live over a webcam. Many of the sex magazines that advertised phone sex numbers have disappeared. For this reason, phone sex can seem as outdated as a VCR. Even sex work researchers express surprise at the industry's continued existence.
But phone sex still exists.
Its origins date to the 1980s, when American telephone companies introduced dedicated "dial-a-porn" phone numbers. The service complemented other paid phone lines that connected callers with vendors who quoted stock prices, told jokes, or reported sports scores. Dial-a-porn was a hit, attracting 19 million calls during its New York debut. A Supreme Court decision helped it survive the attacks of outraged parents and conservative legislators.
PSOs credit the industry's continued existence to the aspects that differentiate it from pornography.
"Many men experience pleasure listening to the sound of a woman's voice without looking at a bright computer screen," explains Isabella Valentine, a full-time PSO. (The vast majority of phone sex operators are women, and the majority of callers are men.) In fact, people found hearing a voice over the phone alluring long before phone sex existed—articles published in the early 1900s describe female telephone operators receiving marriage proposals from strangers.
"Phone sex is quite liberating," adds Lynn, who works in phone sex and advises PSOs. Callers can imagine that they are "six foot seven and hung like a stallion if they want." And a surprising amount of phone sex has nothing to do with sex. Lynn talks with callers she's known for years about their days and consoles them if a loved one has died.
Phone sex offers something different from porn and webcams. So, while there are no market industry reports on the size of the business, phone sex seems to have adapted to the Internet rather than fallen victim to it. Instead of finding a phone number in a smut magazine, men now go to phone sex websites like Niteflirt. Erin M., head of customer relations at Niteflirt, says that the website's phone sex business grows at the same steady rate as their secondary camming offerings, and that Niteflirt has tens of thousands of active PSO accounts.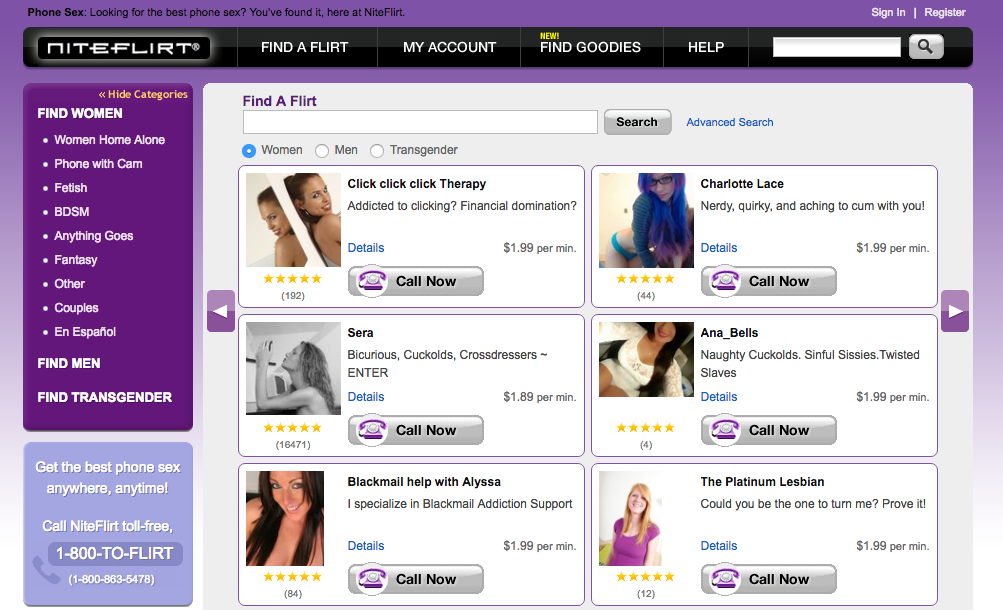 A recent screenshot of the Niteflirt listings of independent phone sex operators.
One of the bigger changes brought about by the Internet is that it's now easier for people to freelance as phone sex operators. While some women installed special home lines for phone sex in the nineties, more commonly they worked out of cubicles as employees of phone sex companies.
In contrast, websites like Niteflirt are platforms connecting callers and operators. All that a PSO needs to receive a call is an Internet connection.
For women who can't work a traditional job and need a quick source of income, that makes phone sex work appealing.
***
"These conversations happen," Anton explains. "You ask your friends, 'What would you do if you were in a pinch?' Sex work comes up."
Anton felt that pinch in March, when he realized he'd have to leave his job working a night shift at a domestic violence center. His employers had bent over backwards for him, and most nights, he could lay down while answering the hotline. But sometimes a crisis—like an abusive husband showing up at the shelter—would send him running, unleashing waves of anxiety and back pain. With his spine curvature worsening, he couldn't do the job anymore.
Some Internet browsing led Anton to Lynn, an escort turned phone sex operator who also advises aspiring PSOs through her website and personal consulting sessions. Lynn has loyal callers who she expects to send her anniversary presents, and she enjoys her work. Most of the women who seek her out, though, are simply "desperate for money."
"Single mothers or divorce situations or a husband laid off," Lynn says, "those situations come up quite a bit."
Lynn begins her sessions by talking with women about whether they should do phone sex at all. The resume gap of years spent as a PSO can't easily be explained to employers, and Lynn has heard of ex-husbands weaponizing a woman's phone sex work in court cases over child custody.
She also cautions women that the money isn't easy. PSO work is more like starting a small business: Marketing is important, and the big paydays are down the road. The people who succeed tend to either enjoy the work or feel that failing is not an option. "Having a hungry child is a huge motivator," Lynn says.
Anton does not have children, but that is how he felt. He'd trained to be an art teacher, and he'd prefer to do freelance writing or editing. "The first person I told about doing [phone sex], I cried and said 'don't judge me,'" he says. So he created a Niteflirt profile, a website, and a Twitter account for his PSO persona. He used a picture he took with his face half covered by a wig, and he photoshopped out identifying features. It's a woman's wig, and Anton sounds feminine, but he decided to be honest that he identifies as a man and that his voice may drop.
Each night, after doctor appointments about pain management or his gender transition, he sits in a chair or lies on a cinderblock shelf with his laptop, headphones, and sound effects kit. Sometimes a pleasant chime wakes him up for a call. But usually the only sound is the fan that Anton leaves on to mask any noises that may trigger his anxiety.
"I'll just sit here for hours," he reported in late April. "Sometimes for days."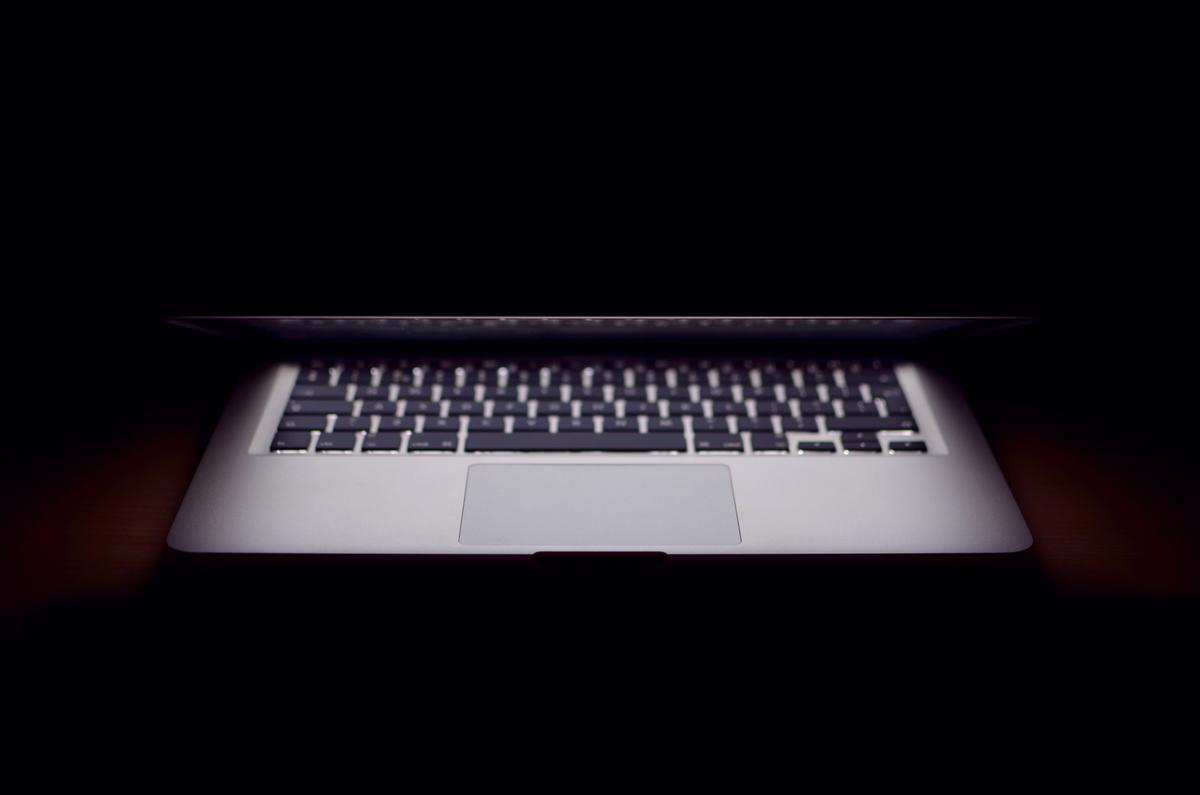 ***
Although little hard data exists about sex workers due to criminalization and stigma, people like Kate D'Adamo, a National Policy Advocate at the Sex Workers Project, say that sex work often serves as an important source of income for people struggling with formal employment or sudden financial hardships.
"It's definitely not uncommon for folks who are dealing with disability to enter sex work," she says. "The underlying theme is [people find sex work when they] have a financial situation that has to be met in some informal way. They're downsizing; their hours are cut back; they're going to school again; they're a mom. That's always going to be—although not for everyone—pretty much the common theme."
Many of these people receive assistance from government programs. But many don't, and there's no bright line between college students stripping to cover their bills and someone who "has no other option."
Compared to prostitution, stripping, pornography, and other forms of sex work, though, several attributes of phone sex make it particularly practical for people, like Anton, who can't access formal employment.
The most obvious advantage is the ability to work from home. Phone sex gives Anton an income that doesn't require physical exertion. Another phone sex operator—a young woman who says she was sexually assaulted, has PTSD, and is stalked by her assailant—appreciates being able to stay home and interact with people on her own terms.
While this benefit is obvious for people with physical disabilities, mental health advocates stress the difficulty of focusing and managing anxiety for people with conditions like depression. "Doing phone calls from the house, or doing things from a safe space, those are great [ways] to make money" for people in recovery, says Theresa Nguyen of Mental Health America.
Similarly, the flexibility of phone sex appeals to women taking care of children or sick parents, as well as PSOs with disabilities. Although peak phone sex hours are evenings and nights, time zones increase the number of profitable hours, and for people exhausted by physical or mental health challenges, choosing how much to work is helpful.
Phone sex is also rare in that age and appearance are almost a non-issue. Lynn says she knows PSOs making over $100,000 a year in their sixties. Unlike other sex work, where women earn less as they age, phone sex operators can earn more by building a brand over time. Lynn even suspects that PSOs in their twenties are disadvantaged by having less experience reading men.
Most importantly, it's possible to get started immediately in phone sex. That's helpful for anyone with a disability who keeps hearing "No" from hiring managers, or anyone with a sudden budget shortfall. Although it also means more competition that lowers prices.
Saying how much the average PSO makes is difficult. Time on the phone is lucrative: By the minute, newbies might charge under a dollar; a typical PSO might charge two dollars; and the rare star with a strong brand might charge $50.
But this doesn't account for the time PSOs spend on marketing or the cut (around 30% to 50%) taken by sites like Niteflirt, and it's impossible to schedule calls one after the other. Many operators spend time watching Netflix or doing chores between calls.
Then again, PSOs can also sell extras like audio recordings, video clips, or used underwear, and some phone sex operators do additional sex work like meeting clients for escorting or sex.
Although the work can be lucrative, it appears that only a minority make a full-time living from phone sex. Erin M. of Niteflirt says the site has tens of thousands of active accounts, but fewer than 2,000 make over $10,000 a year. Niteflirt users who earn that much, Erin says, tend to devote 40-hour weeks to their business. For most PSOs, phone sex supplements other income or fills a small budget deficit.
Not every PSO turns to phone sex as a last resort. Nancy Ava Miller started a BDSM phone sex company as an extension of her work creating support groups for people interested in stigmatized fetishes. Lynn once left sex work, but returned to it because she missed connecting with clients. Dahlia Raine, a PSO and sex worker, likes both the money (she previously made $80 a day as an administrative assistant with a college degree) and the kink lifestyle.
The fact that many sex workers enjoy and value the services they provide is a driving force behind the movement to legalize and de-stigmatize sex work.
Still, for many individuals, phone sex is a necessity for when formal employment fails. We spoke to or learned about single mothers who work as PSOs while their young children sleep; people like Anton, whose physical or mental health problems pushed them to look into phone sex work; and women for whom taking care of sick, aging parents is a full-time endeavor.
Erin, the Niteflirt representative, says that around half of the PSOs who post on internal forums or contact customer support bring up that they appreciate the flexibility of phone sex work for these reasons. Lynn links some of the practicality of PSO work to the fact that women tend to earn less than men while bearing childcare responsibilities that can make leaving the house a problem. There is a troubling symmetry to the fact that women hurt by gender norms may feel compelled to rely on those same gender norms in the phone sex business.
Katherine Koster of the Sex Workers Outreach Project also sees sex work fitting into the gig economy: In the same way that the middle class is reacting to a poor economy by renting out rooms on Airbnb and driving for Uber, they are taking up phone sex.
In many ways, the stability required to be a PSO—in the form of an Internet connection and quiet, personal space—make it a more middle class form of hustling than the alternatives (prostitution or illegal drug sales) available to the destitute.
***
The United States has innumerable laws and programs to help people who might turn to phone sex in desperation.
Welfare, food stamps, unemployment insurance, Social Security, Medicare, and the earned income tax credit all devote billions and billions of dollars to helping Americans in poverty.
For the one in five Americans with disabilities, the Americans with Disabilities Act requires that employers make "reasonable accommodations." Other programs offer insurance payments to workers who have become disabled and supported employment to help people with disabilities join the workforce. While we typically link disabilities with physical injuries, mental illness is the leading and fastest growing condition among beneficiaries of federal disability benefits.
How generously the American government should help vulnerable or struggling citizens is a question of values. But a recurring theme of statistical reviews of government poverty and disability programs is that they reduce poverty and unemployment rates without providing enough aid to eliminate economic anxiety.
"The perception that there are people living extravagant lifestyles is so wrong," says Theresa Nguyen of Mental Health America, as she explains that people with mental illnesses who successfully navigate the benefits process might receive $800 a month. "It's hard. You have to live within your means and budget, and sometimes it takes all your time to figure out how to get food and basic necessities."
This has been the case for Anton, who receives disability assistance, subsidized health care (due to his low income), and had help finding an apartment from a nonprofit. Yet it's still not enough for his spartan lifestyle in a neighborhood where he keeps the lights on 24/7 to feel safe.
Anton has now been taking phone sex calls most every night for three months. He faces long stretches of silence, but he does have a few regulars who help him earn $200 a month. He says that's just enough to allow him to afford rent, food, medications, electricity, Internet, and gas. His next goal is to make enough from phone sex to buy a bed or a second chair.
"When my friends come over," Anton says, "there's no place to sit." That said, between interrupting his sleep for phone sex and getting himself to doctor appointments, Anton doesn't have much energy for social visits.
Over time, Anton has learned how to market himself as a sweet, romantic PSO with an unusual voice. He's learned to say "no" to men who want an experience he doesn't want to provide, and to attract callers who he'll enjoy talking to.
"I'm glad for the experience, all in all," he says. "But if I could do something else, I definitely would."
Our next article investigates why the price of gas is so damn high in California. To get notified when we post it → join our email list.

Want to write for Priceonomics? We are looking for freelance contributors.
---
---