This post is from Wikileaf, a Priceonomics Data Studio customer. Does your company have interesting data? Become a Priceonomics customer.
***
With the coronavirus pandemic and related shutdown, 2020 was the year that many Americas discovered delivery services for their essentials. E-commerce, grocery delivery, and food delivery have all seen ​unprecedented growth ​in usage this year.
For cannabis consumers, delivery has long been a popular service, but coronavirus has made this method more important than ever. In an era where cannabis distribution has been ​deemed an "essential service" by most local governments, marijuana sales have skyrocketed.
At Wikileaf, we help consumers track the prices of cannabis through delivery services and dispensaries across America. Using our data, we thought we'd analyze which cities had the highest priced cannabis sold through their delivery services and how that compared to dispensary prices.
Among the cities we track, we found that San Francisco, CA had the most expensive cannabis in the nation at $47.37 per eighth of an ounce. In contrast, Salem, OR had the least expensive cannabis at $28.24 per eighth.
In some cities you pay a premium for the convenience of cannabis delivery compared to picking it up yourself at the dispensary. At other cities, however, dispensary costs are significantly higher than delivery, perhaps accounting for the real estate and staffing costs associated with running a physical location.
Before diving into the results, let's spend a moment reviewing the dataset and methodology. For this analysis, we looked at the average price of an eighth of an ounce of cannabis during August 2020 in 13 large cities in the United States where we track prices. Average prices are segmented by delivery versus dispensary.
The chart below shows the average price of an eighth of an ounce of cannabis in each of the thirteen cities we examined, sorted from most to least expensive:
Source: Wikileaf
San Francisco, a city that often ranks at the top of various "most expensive lists" has the most expensive cannabis delivery prices of any city we track. An eight of an ounce of cannabis delivered in San Francisco is almost $20 more expensive than in Salem, OR the least expensive city in our rankings. The second most expensive city in the rankings is Ann Arbor, Michigan a college town that is home to the University of Michigan. Rounding out the top three is Las Vegas, the destination catering to famously price-insensitive tourists.
Two of the least expensive cities for cannabis delivery are located in Oregon. Consumers in both Portland and Salem benefit from the ​large supply of cannabis growers ​in the state which keeps prices down.
Next, let's look at the price of an eighth of an ounce of cannabis at dispensaries. The chart below shows the same sample of cities ranked from most to least expensive brick and mortar prices: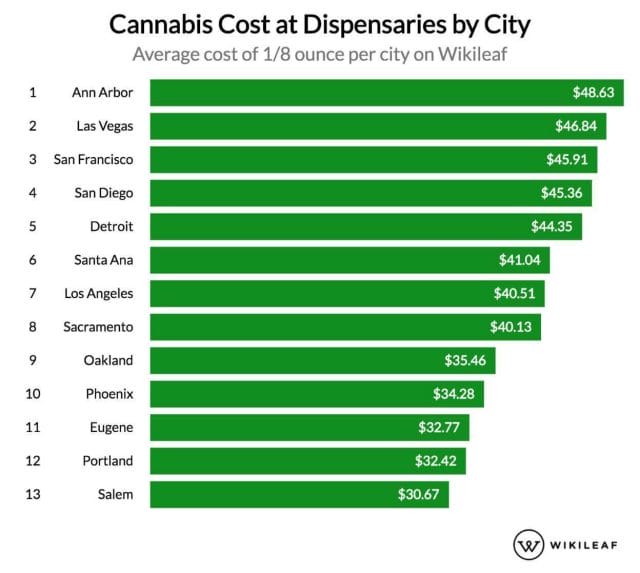 Source: Wikileaf
The three most expensive cities for buying cannabis in dispensaries are also the same ones that are most expensive for delivery, just in slightly different order. Ann Arbor, Michigan is the most expensive place to purchase cannabis at a dispensary, followed by Las Vegas and San Francisco.
All three of the least expensive cities for purchasing cannabis are located in Oregon. The state's high supply of marijuana growers contributes to affordable prices for both dispensary and delivery consumers. The level of supply and low prices can make it ​challenging to run a cannabis business ​in the state, but benefits consumers.
Lastly, let's look at whether there is any "delivery premium" for having cannabis delivered to you rather than going to the dispensary on your own. The following chart shows a comparison of dispensary versus deliver prices, sorted by cities that have the highest delivery premium.
Source: Wikileaf
By a significant margin, consumers in Phoenix, Arizona pay the highest premium for delivery. An eighth of an ounce of cannabis costs $9.22 more via delivery than at a dispensary in Phoenix, more than two dollars higher than Oakland, CA, the city with the second highest delivery premium. Detroit and Los Angeles standout as cities where it's significantly cheaper to purchase cannabis via delivery than at a dispensary. For most cities, the price of cannabis is comparable between dispensaries and deliveries.
During the pandemic, delivery services have become essential and cannabis delivery is no different. In this article, we've shown that San Francisco, Ann Arbor, and Las Vegas have the most expensive cannabis delivery in the cities we track. However, these cities also tend to have high prices for cannabis in general, including at dispensaries.
For others, going to the dispensary and marveling at the selection may be the preferred method of purchase. In some cities like Phoenix and Oakland, you can save quite a bit of money by shopping on your own at dispensaries rather than opting for deliveries. However, for most cities, the prices of delivery and dispensaries are comparable and consumers can opt for whichever option they prefer.
***
Note: If you're a company that wants to work with Priceonomics to turn your data into great stories, learn more about the Priceonomics Data Studio.
---
---