"No idea's original, there's nothing new under the sun
It's never what you do, but how it's done." – Nas
Source: Heinrich Klaffs
Do you like rap? Chances are that some of your favorite tracks contain barely-recognizable bits and pieces of other songs. For example, Kid Cudi sampled Lady Gaga's voice in "Make Her Say." And Dr. Dre has made a career out of flipping vintage soul and funk tracks from the '60s and '70s. This author particularly enjoys Kanye West's sampled guitar riff in "No Church for the Wild."
Hip-hop music culture thrives off of recycling, simultaneously paying homage to the old while creating something new in the process. "Crate digging" is a hobby of countless producers and hip-hop heads, who go to record stores and unearth long-forgotten artists on vinyl. They load up groovy tunes onto turntables and MPCs, slice them up, slow them down, or otherwise change them. In the process, these songs arguably become new pieces of music.
And whose music has been subject to the most repurposing and reuse? According to WhoSampled, it's James Brown:
Data from WhoSampled
WhoSampled's database covers over 200,000 songs, keeping track of who's sampling whom. They have found that James Brown (the Godfather of Soul) has been sampled 2x more than the second most sampled artist. Artists like Marvin Gaye and Isaac Hayes have also been frequently sampled, but no one compares to the influence of James Brown on rap music. According to Rolling Stone:
"His polyrhythmic funk vamps virtually reshaped dance music, and his impact on hip-hop, in particular, was huge; in the music's early years, Brown was by far the most sampled artist."
James Brown is the only artist to have more than one song appear on WhoSampled's list of top 20 most sampled songs:
Top 20 Most Sampled Songs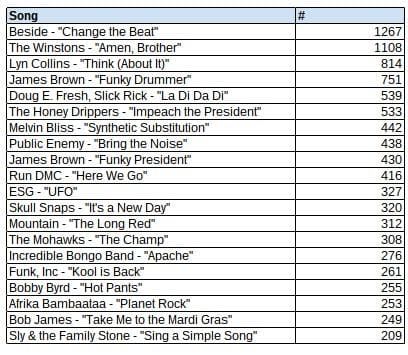 Data from WhoSampled
In fact, you might have heard of his most sampled song. In 1969, James Brown recorded "Funky Drummer," which featured an iconic drum break by Clyde Stubblefield and punctuated by Brown's trademark grunts. These drums and barks have been reused by everyone from Boogie Down Productions to Nicki Minaj.
Sampling can take many different forms. While many rap producers lean to the old and obscure, mashup artists like Girl Talk usually sample the new and popular. And we can't forget to mention Matthew Herbert, who once made an entire album using pig oinks and squeals.
The sample's (some say more "authentic") cousin is the cover — when an artist takes an old track and sings or re-orchestrates it with a new twist. While James Brown is the most sampled artist, The Beatles are the most covered:
Data from WhoSampled
The Beatles handily beat out some other big names like Bob Dylan and Frank Sinatra. These British rock stars were no strangers to covers themselves– you can find their numerous renditions of Buddy Holly and Chuck Berry songs on their studio albums.
Six Beatles songs appear on the top-20 list of most covered songs:
Top 20 Most Covered Songs
Data from WhoSampled
Despite their widespread use, samples and covers are not without controversy. Issues of derivative work royalties and copyright infringement may deserve a post of its own.
To get occasional notifications when we write blog posts, sign up for our email list.
---
---