This post is from Triplemint, a Priceonomics Data Studio customer. Does your company have interesting data? Become a Priceonomics customer.
***
When the pandemic first hit, it felt as if the real estate market was in free fall. Home sales ground to a halt as showings were cancelled during the lockdown and people just went inside.
But then something remarkable happened, the real estate market roared back to life, at least for certain segments of the market. As interest rates plummeted and people were forced to spend more time in their homes, the value of having a home you loved increased tremendously. And with many urban amenities shut down, suburban amenities like space and yards took on a new importance.
In many ways New Jersey has seen a perfect storm of factors driving up the prices of single family homes. An urban exodus from New York City combined with more affordable financing options has led to record home prices in northern New Jersey where Triplemint has brokerage operations.
In this article, we review the data in the four counties of Northern New Jersey where Triplemint helps people buy and sell homes: Bergen, Passaic, Hudson and Essex. In these New Jersey suburbs of New York City, single family homes are up 18.3% in the third quarter of 2020 compared to 6.9% for condos and townhouses. During this time Northern New Jersey rents have stayed flat at a median price of $2,150 per month.
Some cities in Northern New Jersey have seen absolutely stratospheric increases in home prices. For the cities we looked at, Little Ferry has the highest home price growth with a 42% appreciation in a single year. Three other cities saw appreciation over 30% this year and most cities we examined had very strong price growth during the pandemic.
***
Before we begin, let's review this data and methodology that will be used in this analysis. The data is sourced from the most recent update to the Northern New Jersey MLS that covers Bergen, Passaic, Hudson and Essex countries. The timeline we looked at was the 3rd quarter of 2020 versus the 3rd quarter of 2019, well before the pandemic.
To begin, let's look at the change in home prices in Northern New Jersey in aggregate for all types of properties (single family homes as well as condos/townhomes). The following chart shows the median price of homes sold in the area this year versus last:
Chart via Triplement
Overall, the Northern New Jersey market has seen price appreciation of 16.2% as prices have risen from $413K to $480K in just one year. When you consider that many home buyers put just 20% down to buy a place, the home owners have already been paid back completely in equity appreciation for their initial payment!
How does this startling increase in home prices breakdown between single family homes versus condos and townhomes?

Chart via Triplement
While condos and townhouses have risen a respectable 6.9% in a year, single family homes in Northern New Jersey have increased 18.3%. The typical single family home in the area costs $520K, which is $80K more than a year prior.
If an urban exodus is underway from New York to New Jersey, how is that affecting rents? The chart below shows median rents in Northern New Jersey, this year compared to last.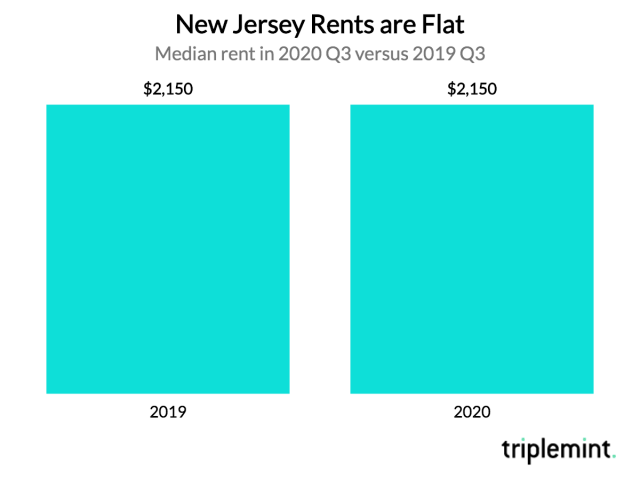 Chart via Triplement
In aggregate, rents have been flat this year in Northern New Jersey. Considering the decline in rents in New York City, flat rents is probably a good sign of the desirability of the area. However, given the absence of rent increases in the area, it's likely that people are moving to Northern New Jersey out of the desire to own a single family home and also due to low interest rates.
Next, let's start diving into the housing market data by county and then later further by city. The chart below shows annual price appreciation for the four counties in the Northern New Jersey MLS.


Chart via Triplement
Bergen County has the highest price growth this year at 20.8% for single family homes and 14.1% for condos and townhouses. Essex and Passaic also have high appreciation rates for single family homes at 20.0% and 17.1% respectively. With the exception of Bergen County, however, all other counties we examined have negative or low appreciation rates for condos and townhomes. The real estate "gold rush" in Northern New Jersey is aimed squarely at single homes.
Next, let's drill down even further to see which towns in the area are experiencing the highest runup in prices for single family homes. The following chart shows all cities in the Northern New Jersey MLS with at least five quarterly transactions, ranked from highest to lowest single family home price appreciation.

Chart via Triplement
Homes in Little Ferry increased in price by a whopping 42% in just one year as the median price rose from $338K to $480K. Irvington, Englewood and Little Falls also saw prices increase more than 30% in just a year for single family homes. Of the 100 towns we examined, 77 of them had positive price appreciation.
Hudson County, where Triplemint has agents, has been praised by the New York Times this summer as being reasonably priced and possessing a short commute to the city. While many of the towns have limited single family home transactions, the chart below shows that prices in this area have not skyrocketed as much as in other locations in the state.

***
The Coronavirus pandemic has meant that we spend more time than ever at home. At the same time, office buildings and city amenities are closed, causing people to re-evaluate where they want to live. And as if this wasn't enough, record low interest rates are making buying a home more affordable. These combined factors have created a perfect storm driving up property values for single family homes in places like Northern New Jersey.
***
Note: If you're a company that wants to work with Priceonomics to turn your data into great stories, learn more about the Priceonomics Data Studio.
---
---