Last week we looked at the rise of online dating and noted that the share of Americans who have used a dating site increased from 3% in 2008 to 11% today. Among Americans in their mid twenties to thirties, nearly a quarter have done so.
Those online daters seem to be getting married as well. A recent study of married couples found that almost one third of couples who married between 2005 and 2012 met online. That exceeded our expectations. But what is even more surprising is where exactly they met.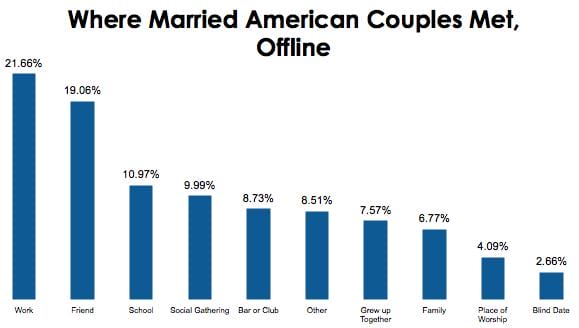 Data Source: PNAS
Among the offline meeting places where Americans met their spouses during this time period, we see the usual suspects. The television comedy The Office is vindicated in having all its characters shack up. Friends, schools, and parties all hold top spots, as do bars. Despite daters' increasing willingness to allow an algorithm and website to set up their dates, they still don't trust their friends to set them up on blind dates.
Online daters meet mostly on sites like Match.com and eHarmony. But dating sites are not the entire story.
Data Source: PNAS
We are not surprised to see dating sates and social networks dominating the rankings. Although a selection bias could be at work here since participants elected to participate in the survey via an email invitation, what surprises us is that chat rooms, instant messaging, and email have been the first point of contact for so many couples. Multi-player games like World of Warcraft and virtual worlds like Second Life account for 4.7% of all romances that began online – nearly 2% of all marriages in the US. That's still small, but it's a number that could grow as more daters move online. In the future, Priceonomics's break down of online dating data may look something like this:
Source: Author's imagination
To get occasional notifications when we write blog posts, sign up for our email list. Data is from the paper "Marital Satisfaction and Break-ups Differ Across Online and Offline Meeting Venues."
---
---