Photo by Evan Swigart
***
When the owners of the Old Fashioned Tavern and Restaurant received a cease and desist letter demanding they stop holding Taco Tuesdays, they thought it was a joke.
For almost a decade, the restaurant had sold $2 tacos on Tuesday night. Other restaurants and bars in the area had similar promotions, and in cities like San Francisco and Los Angeles, Taco Tuesday specials are as plentiful as yoga classes.
But the author of the letter claimed that "Taco Tuesday" was a federally registered trademark that belonged to Taco John's, a chain of around 400 Mexican-style fast food restaurants. And as Old Fashioned manager Jennifer DeBolt told the local Cap Times, they quickly realized that "the law firm is completely legit."
So, like hundreds of restaurant owners and managers who have received letters from Taco John's lawyers in the last two decades, they stopped using the term Taco Tuesday.
"Over the years we've certainly asserted our trademark against national companies, restaurants big and small, and even pharmaceutical companies," says Billie Jo Waara, the chief marketing officer at Taco John's. (Waara can't reveal details, but we suspect the pharmaceutical company used "Taco Tuesday" in a drug ad.) "We also recognize that the unauthorized use [of Taco Tuesday] is prolific, and we do our best to communicate ownership. It's a challenge for sure."
In other words, Waara and Taco John's executives would really like you to stop using the phrase Taco Tuesday, if you please. Because by some ungodly power of alliteration, nothing sells tacos like Taco Tuesday, and Taco John's executives desperately want to hold on to their invention.
But did they invent it?
What's in a Name?
According to Taco John's lore, David Olsen, the owner of a Taco John's in Minnesota, coined the term in the early 1980s.
"He was just trying to drive sales on a slow day," says Waara. "He called it 'Taco Twosday.' He sold two tacos for 99 cents. It was a twofer deal."
At that point, Taco John's had been around for over a decade, having expanded from one taco stand at a rodeo in Cheyenne, Wyoming, into a franchise in several states. Taco Tuesday turned Olsen's slowest day into a busy one, so Taco John's executives made it the centerpiece of the company's first national advertising campaign. They created radio spots, Waara says, that "stuck and were used for almost a decade."
In 1989, Taco John's applied to trademark Taco Tuesday with the U.S. government, and that trademark has become a sacred possession. During our phone call, unprompted, Waara recited the trademark registration number for Taco Tuesday: 1,572,589.
But can you really trademark Taco Tuesday?
That's often the first question that restaurant owners ask after receiving cease and desist letters from Taco John's. The United States Patent and Trademark Office, though, did grant Taco John's the trademark in 1989, and attorneys say it's eligible for protection.
"I always think of Saturday Night Live in connection with the Taco Tuesday trademark," says William Levin, a partner at the Laguna Intellectual Property Law Group. (Saturday Night Live and SNL are registered trademarks of NBC.) "Common words can be protectable when they're used for a specific purpose."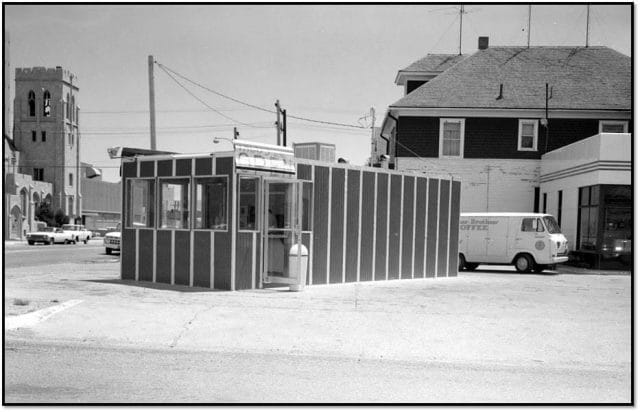 The first Taco John's Restaurant in Cheyenne, Wyoming (July 1969). ©2016 Taco John's International, Inc.
But according to trademark attorney Nikki Siesel, Taco Tuesday is the kind of trademark she advises clients to avoid.
The strongest trademarks are either fanciful (like Starbucks or Rolex) or arbitrary (like Apple Computers). No coffee shop owner could argue that she just happened to sell coffee named after Starbuck, the chief mate in Moby Dick, without knowing about Starbucks. But the U.S. Patent and Trademark Office rejects purely descriptive trademarks like "Fruity Yogurt" or "World's Best Bagels."
"Taco Tuesday" is eligible for trademark protection, since "Tuesday" doesn't describe tacos. (It's a suggestive trademark.) But attorney Nikki Siesel says that a trademark like Taco Tuesday, which is fairly descriptive and not clearly coined by a company, is not a strong trademark.
"Out of the gate, people want to choose something descriptive because it's easy to market," she says. "We have to explain the downsides. The United States Patent and Trademark Office will allow more use of trademarks with descriptive elements by third parties. The company will have to spend more money to defend it. It's a constant, ongoing battle."
And for Taco John's, it's a battle they are losing.
The Battle for Taco Tuesday
The U.S. government has granted Taco John's a trademark for the phrase Taco Tuesday. But it's up to Taco John's to defend it.
"If Taco John's is not doing a good job policing its trademark rights," says Siesel, "it can be challenged that the mark has become generic."
This is what happened to trademarks like kleenex and xerox, says attorney William Levin. "A trademark has to signify a single source. When everyone thinks of Taco Tuesday, they need to think a single company is behind it." If everyone uses the phrase Taco Tuesday without realizing it refers to Taco John's, a competitor can challenge the company's claim to the trademark.
For this reason, Taco John's lawyers have taken legal action against organizations using the phrase Taco Tuesday for over two decades. (Billie Jo Waara of Taco John's did not elaborate on their legal strategy: Do they prioritize areas near their franchises? How much do they spend on lawyers given that they could spend their entire budget on cease and desist letters?)
It doesn't always go over well. In the case of the Old Fashioned Restaurant, when the owners held a competition to choose a new name for their Tuesday taco special, the submissions included "Corporate-free Taco Night" and "Drive Taco John's Out Of Business Tuesday."
"We know that in these conversations around Taco Tuesdays," says Waara, "that Taco John's is portrayed as large out-of-state company attacking a small, local business. But we're not an international conglomerate. We were built in small towns."
It's a fair point that Taco John's, with roughly 400 locations in 25 states, is a "small brand." (McDonald's has over 36,000 stores in 100 countries.) But that's not a distinction recognized by locals losing their beloved Taco Tuesday, and the underdog vibe Waara describes is undercut by Taco John's requirement that new franchise owners have "at least $350,000 in liquid assets."
A Taco John's restaurant today. You should, in theory, only ever see Taco Tuesday promotions here and at one restaurant in New Jersey. ©2016 Taco John's International, Inc.
The biggest threat to Taco John's ownership over Taco Tuesday, however, is not a populist backlash. It's that so few people know about its claim. When the Los Angeles Times asked a waitress at a Mexican restaurant about the trademark issue, she responded, "Give me a break. Everybody has Taco Tuesdays." And that was twenty years ago.
This confusion is the danger—described by attorney Nikki Siesel—of trying to trademark a fairly descriptive phrase. A related problem is that someone else may already be using it. Because with Taco Tuesday, at least two other restaurants can make a credible claim to having coined the term before David Olsen and Taco John's.
The first is Steve Levinson, the former owner of the Tortilla Flats restaurant in Laguna Beach, California. According to a 1997 LA Times article, Levinson first held a Taco Tuesday in the early eighties and applied for a (state) trademark in 1984.
Levinson is now retired, Tortilla Flats is closed, and the trademark is expired, so we could not verify the year he applied for it. But law partner William Levin represented Levinson in the late 1990s, and he says he successfully took legal action against over a dozen nearby restaurants on the basis of the state trademark.
It may seem odd that Taco John's managed to get a federal trademark if Tortilla Flats already had a state trademark. But William Levin says this is typical of America's "hybrid" trademark laws. Since Taco John's does business across state lines, it could apply for a national trademark. But in trademark cases, if a competitor like Tortilla Flats can prove that it was already using the term, it can (at any time) challenge the trademark or even prevent Taco John's from doing business in the state.
Which is why the Taco John's trademark over Taco Tuesday doesn't extend into New Jersey.
In 1978, Greg Gregory went to a food court in Philadelphia to do some market research before joining the family business: Gregory's Restaurant and Bar in Somers Point, New Jersey. "I saw a big line for some Mexican food I'd never had before," he says. "A guy in line told me they were 'tacos.'"
Gregory tried and failed to get his family to put tacos on the menu. As a compromise, they let him sell tacos on Tuesday. After his idea for a "Margarita Thriller Night" got shot down, he settled on the name Taco Tuesday. "It's got a nice ring to it," he says.
The first night, he made his own taco shells and sold six orders. The next week, "we finally found taco shells, and it took off." His college professor came one night and advised Gregory to trademark "Taco Tuesday," which he did, with the U.S. government, in 1982. Decades of phone calls and legal letters by his family to competing restaurants, Gregory says, have kept Taco Tuesday unique to Gregory's Restaurant and Bar in their area.
So when Taco John's applied for a federal trademark seven years later, they got it in every state… except New Jersey.
***
From our perspective, it seems like Taco John's lost the battle to keep Taco Tuesday in its private domain long ago. The use of the phrase is ubiquitous, the majority of Americans have no idea it's linked to Taco John's, and the executives face a potential backlash each time they enforce the trademark.
So why keep fighting?
"It's just unfathomable to us not to protect it," says chief marketing officer Billie Jo Waara. "It's part of our DNA. Taco Tuesday is this American institution. Not to take the chance to talk about it and our story, that would go against who we are."
"We understand that it's prolific and shareable. But that's why it's great."
Unfortunately for Taco John's, that's also why Taco Tuesday seems impossible to keep trademarked and out of the public domain.
Taco Tuesday inspires crazy enthusiasm, but Taco John's did not create that enthusiasm the same way companies created enthusiasm for trademarks like iPhones, Starbucks coffee, and Marvel comics.
Instead, the enthusiasm exists in the phrase Taco Tuesday itself. The catchy phrase sticks in people's minds and is unreasonably useful for selling tacos.
When Steve Levinson started Taco Tuesdays at his Laguna Beach restaurant, he told the LA Times that Tuesday went from his "slowest night of the week [to] our biggest night of the week by 40%."
When Greg Gregory held Taco Tuesdays in his family's New Jersey restaurant, both Ron Jaworski, the Eagles' star quarterback, and Marla Maples, the model and actress who later married Donald Trump, showed up.
"We have Taco Tuesday and Taco Thursday," Greg Gregory says. "Taco Thursday does good, but Taco Tuesday does better."
Our next article investigates why transgender Americans join the military at disproportionately high rates. To get notified when we post it → join our email list.
Note: We corrected this article on September 23, 2016. A previous version said "Taco Tuesday" belonged to the weakest category of trademarks (descriptive trademarks). But it is actually a slightly stronger (suggestive) trademark.
Announcement: The Priceonomics Content Marketing Conference is on November 1 in San Francisco. Get your early bird ticket now.
---
Published September 23, 2016 by Alex Mayyasi
---