David MacDonald's path to becoming the president of Flamingo Air, an airline that offers private flights for people who want to join the mile high club, began with a bet.
After 20 years of owning a large security firm, MacDonald, who introduces himself as "MacDonald - like 'Old MacDonald had a farm,'" had sold his company to "go play with airplanes." As he said, you're not in aviation very long before the topic of romance (a.k.a. the mile high club) comes up. As he sat with a group of buddies discussing it, his entrepreneurial instincts kicked in.
"I could sell that!" he told the group. As they all lived on the edge of the Bible Belt in Cincinnati, Ohio, some of them protested that Ohio was too conservative to palate Mile High Club Air. But MacDonald would not be talked down.
Almost two decades later, he is the longtime President and CEO of Flamingo Air. Although it originally offered regional charter service, it now exclusively offers "romantic flights." Despite his friends' predictions, the service is popular. The decision to offer only romantic flights was "purely a business decision," MacDonald told us. Charter flights became unprofitable, but demand to enter the mile high club remains strong.
Today Flamingo Air runs 4-5 flights a week. The pilot sits up front wearing headphones ("He's busy flying the plane," MacDonald assured us) while the couple enjoys the back of the plane, where the center row of seats has been removed and replaced with a big pile of cushions. Customers from around the US and abroad pay $425 for a 1 hour flight. "This lends itself so well to publicity," MacDonald told us, beaming through the phone. "We were even on Letterman!"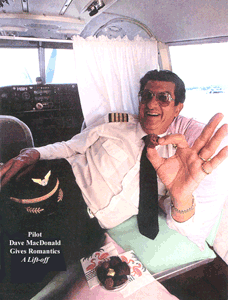 When we talked with MacDonald about Flamingo Air, he told his story with the cadence of someone who has told it many times before. But big genuine laughs still punctuated each story. "It's really fun," he told us. "We get to make people happy. My wife and I, we've been through the ringer and we decided if it's not fun, we won't do it."
David MacDonald did not fit our expected profile for the president of America's only airline devoted to fulfilling a sexual fantasy, but it made sense when we learned about his customers.
"This will be a shocker for you," he began when we asked who booked the flights. "It's a strictly female market. Over thousands of flights, only a dozen men have ever booked them." Even more surprising to us, he reported the age range of his customers as 35 to 85.
But we making the same mistake as the buddies who dared MacDonald to start a mile high club business in one of the more conservative parts of the country.
To MacDonald's knowledge, Flamingo Air is unique. (Although our later research found at least one abroad - a UK based airline that seems to have recovered from a certification problem related to the nature of its business.) He knows of a few attempts, but they all shut down. Why?
I can only speculate, but they all tried to sell sex, not the sizzle. They all came at it from the mile high club angle and it didn't work. You've gotta think romance, not sex.
The Flamingo Air website describes themselves as "Cincinnati's most outrageous airline." But it calls its offerings "romantic flights" or "flights of fancy." Macdonald stressed that "Nowhere on our site does it say mile high club." Although every flight is for a couple, only women book the flights and they "take it very seriously and they're all about the romance."
Every flight of fancy includes chocolates and champagne. On Valentines Day, demand skyrockets and Flamingo books 8 flights a day as the date nears. Flamingo has done several weddings in the air ("They weren't consummated," MacDonald added hurriedly. "The priest was in the airplane!") and 60th anniversaries ("Yes they did, to answer your question!").
Whether it's because Flamingo is located in Cincinnati or because we overestimate the "sex sells" mantra, MacDonald has found that the key to selling an experience associated with slipping into a tiny lavatory with a stranger has been to make it classy. "These people will show up and you think they showed up from the Young Republicans Club," MacDonald reiterated. "Very straight laced."
But that doesn't mean that bringing the mile high club to the public has been boring. MacDonald radiates a good mood, and when we demanded stories, he alluded to being "shot in the back of the head with a champagne cork" and taking "the back of a high heel to the head."
But in the interest of telling us a story we could print, he told us about an unusual couple that showed up for a flight of fancy. Although the flight only lasts an hour and includes complimentary chocolate and champagne, they arrived with a large picnic basket. More puzzling, they asked the crew if they could remove the cushions from the back of the plane. "This couple had 8 children and just wanted an hour alone without the kids!" MacDonald told us with a chuckle. "So we took off and they had a nice, quiet time. They were as happy as you could be."
This post was written by Alex Mayyasi. Follow him on Twitter here or Google Plus. To get occasional notifications when we write blog posts, sign up for our email list.
---
Published Aug 14, 2013
---