Priceonomics originated from the desire of one of the founders to build a price guide for bikes. This founder (Rohin – author of this very post) bought a Trek 5000 on Craigslist for $300. He used it for about a week, but it wasn't the right bike for cruising around amidst the potholes of San Francisco. So, he re-listed the bike on Craigslist and sold it for $900. While the $600 profit after a week was great for the author of this article, it didn't make any rational economic sense. The bike was identical the day it was bought for $300 and the day it was bought for $900 – it should be selling for the same price!
And so we set out to build a price guide for bicycles. While we were at it, we decided to build one for everything else too. Despite our broader ambitions, bicycle prices will always remain close to our hearts. Hopefully our price guide will prevent cyclists from getting ripped off, even if this author is no longer able to make money from bicycle arbitrage.
An Overview of the Used Bicycle Market
We built our bicycle pricing data by analyzing secondary markets for used bike sales. Basically, how much are people out there selling their old bikes for? We then analyze and clean that data to figure out the median bike price by model to get a sense of the "fair price" for all bikes ever made.
On the right hand side you can see the some of the most popular bicycle brands and models. Click through this table of contents or use our search bar at the top to explore our bicycle pricing guides.
By analyzing this data, we also can pull out some interesting insights that we like to publish on our blog. For example, we can see what popular brands are most popular on the secondary market and use that to build a ranking of most popular bicycle brands:
According to our data, Schwinn is the most popular bicycle brand in a America on the secondary markets by quite a bit. They are followed by Trek, Specialized, then Mongoose.
What bicycle brands are most popular where?
Diving deeper, we can examine which cities these bikes are most popular. In our previous analysis, The Fixie Bike Index, we show which cities have the largest markets for used bicycle sales. Here, we investigate which cities have the most used bikes for sale by brand to build a ranking of bike brand affinity by city.
First off, we start with the most popular bicycle brand in America, Schwinn:
Low and behold, the top city for Scwhinn bicycles is Minneapolis. This might be considered surprising given it's not a very large city and extremely cold at times, but Minneapolis is considered one of the top biking cities in America.
As we analyze other bike brands, patterns emerge regarding what cities favor the most popular bike brands. For example, Denver, Colorado is the top city in America for both Trek and Giant bikes.
In both cases, San Francisco comes in second place. San Francisco ranks first in popularity for Specialized and Bianchi bikes.
As a full disclosure, this author lives in San Francisco and rides a 2009 Bianchi Imola so he may be influencing these results! Here he is: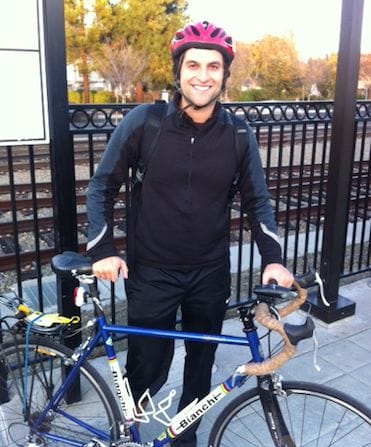 The final bike brands we analyzed by city are Cannondale, Mongoose, and Huffy, which are led by Miami, Phoenix, and Orange County respectively.
Conclusion
We hope you find our data on used bike prices useful and valuable next time you're looking to buy or sell a previously owned bicycle. We wanted to see a definite bicycle price guide exist so we built it. Hopefully we are making bike prices more transparent and that will let the market for used bikes operate more efficiently. Happy riding!
Oh yeah, Priceonomics is hiring engineers!
This post was written by Rohin Dhar. Follow him on Twitter here or on Google Plus. Get the latest from Priceonomics on Facebook or Twitter.
---
---